Dr Pepper Snapple (NYSE:DPS) has been on my radar for quite some time, and its recent correction continues to propel it towards a more favorable valuation than its peers, Coca-Cola (NYSE:KO) and Pepsi (NYSE:PEP), which haven't taken nearly a beating this year.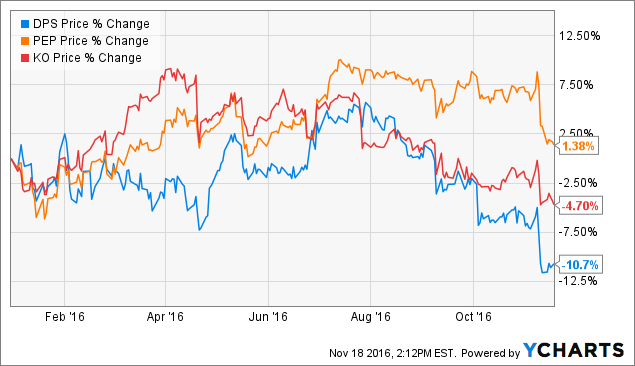 A Trump presidency is another issue that could bring both positive and/or negative consequences for the company's fundamentals going forward, which I'd like to examine further.
Lower taxes would be better for Dr Pepper
Lower taxes are usually good for everyone, right? I'd argue that they're disproportionately better for Dr Pepper than Coke and Pepsi, however. The reason largely rests on Dr Pepper's reliance on North American markets. The company's 10-K states that in fiscal 2015, 89% of overall net sales came from the U.S., 8% from Mexico and the Caribbean, and 3% from Canada.
We can conclude that the firm is largely U.S.-centric sales-wise, therefore. This compares favorably in relation to Coke and Pepsi - which get most of their sales from abroad. This is favorable for one reason now, and potentially favorable for another reason under Trump.
1.) The current positive relates to currency. Grabbing most of its sales from domestic markets and operating primarily in the same domestic market should positively shield it from negative currency fluctuations. This will become especially true in an environment where the Dollar continues to rise, although it's not 100% immune. Negative Forex issues still managed to shave roughly 1% off its topline during its most recent quarter. Pepsi took a 3% haircut during its most recent quarter, however, while Coca-Cola's Q3 sales were negatively impacted by roughly 2% due to currency movements.
2.) Coming back around to taxes, being heavily reliant on the U.S. for sales also has its share of negatives - mostly due to the (currently) highest tax rate in the world weighing down on results. Under Trump, however, this could be turned into a positive.
Taken from a previous article I wrote about Pepsi, I will recycle a comparison chart I created to compare the return on equities of DPS, PEP, and KO. I also have previous (and more in depth) analysis on Coca-Cola and Dr Pepper as well, so feel free to click on the links if you would like a more detailed look at each firm's return on equity broken down with a DuPont analysis, as well as each firm's return on invested capital with (and without) off-balance sheet leases factored in.

So, if a President Trump really does find a way to lower the corporate tax rate, we can see that it will likely lead to a higher return on equity for Dr Pepper, mostly because of an improved tax burden (net income divided by pretax income). This is a cherry on top of higher profits (due to less taxes being paid) as well.
I think Dr Pepper's ROE would increase by roughly 5% or more if it maintained the same tax burden as Pepsi (and held everything else like margins and asset turnover constant), and this would be even higher if taxes were even lower. It's all speculation of course, but I don't think it's entirely out of the range of possibilities. Right now, I think Dr Pepper's higher tax structure is a disadvantage when stacked up against Coke and Pepsi, but this could change with significantly lower taxes here in the States.
But there's a catch...
Despite Dr Pepper's current and potential benefits from being primarily "American" in relation to its much larger peers, there's a downside to its foreign exposure, which is largely concentrated in Mexico. This is where a Trump presidency could hurt the business, especially if the Peso continues to crater and/or there's a recession or consumer backlash in relation to American products being sold in Mexico.
Once again, this is all speculation, but I think these are possible scenarios. The company also has production facilities and distribution hubs located in Mexico. It also employs roughly 3,000 workers in Mexico and the Caribbean, versus 16,000 in the U.S., according to its recent Q3 overview presentation.
Conclusion
When it comes down to it, I think Dr Pepper's heavy reliance on North America could end up being a blessing, curse, or a mix of both - depending on how things play out. Lower taxes would likely boost profits and return on equity, and I would hope shareholder returns would follow the same path alongside these improving fundamentals.
On the flip-side, any backlash in Mexico and/or further damage to the Peso could also be a detriment to the company. If this scenario doesn't play out, and Dr Pepper Snapple does get a big-time tax relief from the new administration, I think there's a decent amount of value here with shares trading below 20 times earnings (and significantly cheaper than KO and PEP shares).
The company just raised guidance - with core EPS expected to be in the $4.32 to $4.40 range - which puts DPS shares at roughly 19 times earnings, and yielding 2.54%. It doesn't have the multi-decade record of dividend increases that KO and PEP shareholders can boast about, but I wouldn't be surprised if DPS obtained an enviable multi-decade track record going forward itself, either. It gushes cash flow and maintains healthy margins. Valuations for DPS shares aren't too bad in my opinion, especially considering the elevated levels of the overall market, but certainly not trading at a great price either. I still hold the 16-17 times earnings range as my personal "buy" zone at this point.
If you enjoyed this article and would like to receive further updates and articles in the future, please feel free to hit the "Follow" button at the top of the page next to the author's name.
Disclosure: I am/we are long KO.
I wrote this article myself, and it expresses my own opinions. I am not receiving compensation for it (other than from Seeking Alpha). I have no business relationship with any company whose stock is mentioned in this article.
Additional disclosure: I am also considering buying shares in DPS over the next 72 hours. Articles I write for Seeking Alpha represent my own personal opinion and should not be taken as professional investment advice. I am not a registered financial adviser. Due diligence and/or consultation with your investment adviser should be undertaken before making any financial decisions, as these decisions are an individual's personal responsibility.