By Parke Shall
Now is not the time to go chasing shipping stocks. We believe this rally, which lasted about a week and actually had real legs for several days, is likely going to be over, dampened by these companies now using their inflated equity prices to perform secondary stock offerings.
The rally in shippers has been absolutely unbelievable. Companies that provide dry shipping and companies that provide any type of service to dry shipping have all seen their stocks take off in a blind panic buying euphoric spree over the last two weeks.
Here are a couple of the names that we are talking about: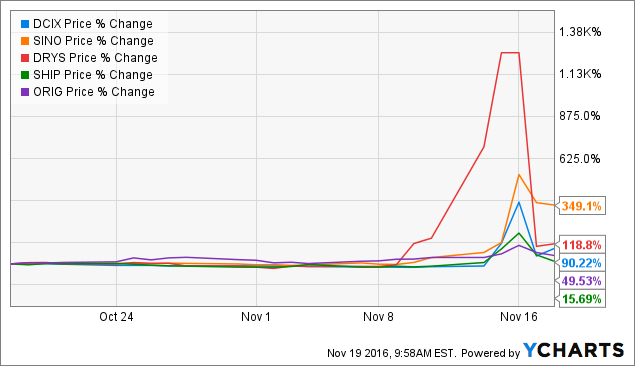 As you can see, many of these companies have already gone much higher, but are still at multiples of where they were just weeks ago. The entire sector rose after the election on hopes that new trade policies implemented by the Trump administration would give a boost to the sector.
Dry shipping has been in a horrible rut since the 2008 financial crisis. The Baltic Dry Index, which is "an assessment" of the price of moving major raw materials by sea, had been sitting on its lows for years. It had driven companies like DryShips (NASDAQ:DRYS) to bankruptcy style scenarios. Many other dry shippers were also losing money and in precarious financial positions.
Over the last couple of weeks, we have seen the index rise relatively significantly and it's been a legitimate fundamental tailwind for a lot of dry shippers.
However, we think this rally is going to end just as quickly as it started.
Because this rally was based so much on momentum and so little on fundamentals, many companies wound up with equity prices that were or are significantly inflated. Because many of these companies were already in precarious financial positions to begin with, the rise in equity price gives them an opportunity to go out and sell stock at inflated prices in order to raise proceeds for the company.
DryShips did this last week, in a highly toxic dilutive offering that will definitely help keep the company alive, but certainly won't help those who own stock as of right now.
To end the week last week, we saw another company, Seanergy Maritime Holdings Corp. (NASDAQ:SHIP), perform a similar dilutive offering. The terms of the offering were also dilutive and caused a sharp fall in shares, as reported by Reuters:
Shares of many shipping companies dropped in volatile trading, retracing more of their post-U.S. election gains after Seanergy Maritime Holdings on Friday became the latest shipper this week to announce a direct share offer pricing.

Seanergy shares were down 28.2 percent at $2.80 after the $3.6 million offering, while shares of Top Ships were down 13.5 percent and shares of Globus Maritime lost 8.9 percent.

The losses extend Thursday's decline in many of the shares after DryShips' announcement of a share sale that would give it proceeds of $20 million initially.
As more and more of these companies consider performing secondary offerings or do perform secondary offerings, excitement is going to leave the sector relatively quickly. Investors should know that at most companies that are in a cash crunch that have inflated prices, a secondary is likely going to be on its way.
This coming dilution that will be somewhat sector-wide will likely put a damper on any future excitement that could cause a rally in the dry shipping space. From a logistical standpoint, the addition of many shares to each company that is performing a secondary offering will make it far more difficult for them to run the same way that they did in the future. Part of the reason DRYS ran so hard to begin with was its float that was under a half million shares.
While it was a great week and while many people made money as others learned difficult lessons, we think that the dry shipping sector should eventually revert back to somewhat normal here and we would not come out swinging in dry shipping stocks until the sector has a chance to settle and until we get to see exactly how many companies perform offerings going forward.
Be cautious as we think the dry shipping rally has seen its best days.
Disclosure: I/we have no positions in any stocks mentioned, and no plans to initiate any positions within the next 72 hours.
I wrote this article myself, and it expresses my own opinions. I am not receiving compensation for it (other than from Seeking Alpha). I have no business relationship with any company whose stock is mentioned in this article.
Editor's Note: This article covers one or more stocks trading at less than $1 per share and/or with less than a $100 million market cap. Please be aware of the risks associated with these stocks.