El Dorado Gold: Time to Buy?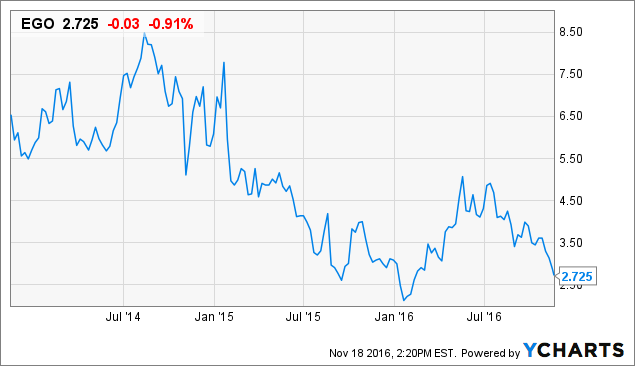 El Dorado Gold (NYSE:EGO) stock is a buy here, plain and simple. Shares have declined a bit since my last article, partly due to a drop in gold prices from $1,300 to $1,210 per ounce, but I believe the dip has presented investors with a pretty good long-term buying opportunity.
First off, the gold miner recently reported its third-quarter 2016 financial results, and I thought it had a decent quarter. In Q3, gold production fell to 117,782 ounces, however, all-in sustaining costs averaged $890 per ounce; with an average realized gold price of $1,335, this resulted in strong margins of $445 per ounce.
2016 guidance is now 495,000 ounces of gold at all-in sustaining costs of $915 per ounce; this lower guidance reflects the completed sale of the Jinfeng mine in September and the planned completion of the sale of the White Mountain and Tanjianshan mines. So while production is expected to be lower going forward, cash costs will remain low and El Dorado's balance sheet will be much improved.
Operating cash flow was strong at $40.5 million, while net profit to shareholders was $20.7 million, or $.03 per share. The balance sheet is very strong: following the sale of its 82%-owned Jinfeng mine in China, for a total of $300 million in cash, El Dorado ended the quarter with $412.4 million in cash, cash equivalents and deposits, and it has $240 million available in undrawn lines of credit.
The company ended the quarter with $591 million in long-term debt. However, it's important to note that El Dorado's cash balance does not include the sale of its Chinese White Mountain and Tanhianshan mines and the Eastern Dragon development project; this is expected to close by the end of the year and net El Dorado another $600 million in cash.
So, by the end of the year, El Dorado should have $1 billion in cash and equivalents and $409 million in net cash. This will give the gold miner one of the strongest balance sheets in the industry (if not the strongest).
El Dorado is going to need to invest this cash somewhere, and thankfully, the company has a pipeline of projects. The most important project is El Dorado's Skouries mine in Greece, which achieved a huge milestone Friday as it received permission to build the mine by the government; development was previously suspended in January, so this is a big win for El Dorado as it can proceed with development of the mine.
Skouries is certainly a huge asset for El Dorado. Phase I production will begin in 2019 and is a combination of open pit and underground mining over 9 years, producing a total of 1.4 million ounces of gold and 620 million pounds of copper at average cash operating costs of -$225 (given the copper by-product credits). Development capital over Phase I is budgeted at $710 million, and El Dorado should have no problem funding this capital requirement. The mine will then transition into underground mining in 2028, producing 1.7 million ounces of gold and 850 million pounds of copper over a 15 year period, at cash operating costs of $165 per ounce.
Meanwhile, El Dorado is aiming for phase II production at its Olympias mine by Q1 2017; this is a smaller mine as it will produce 72,000 ounces of gold annually at AISC between $410-$660.
I believe the sale of El Dorado's Chinese assets was the smart move as it sold some higher cost assets and gives the company enough cash to advance its core projects, and sets up the company for future success.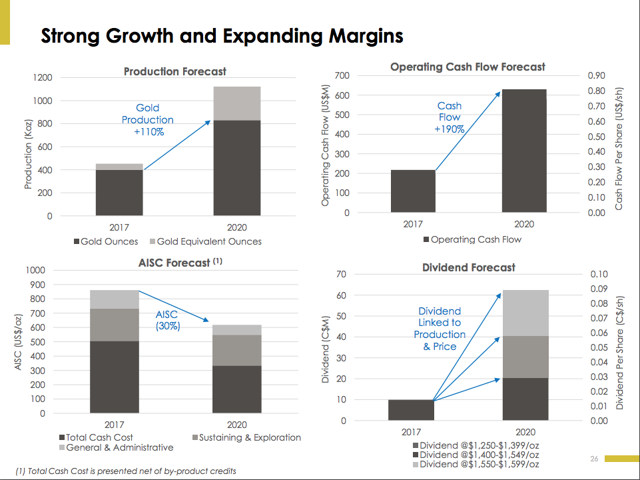 (Credit: El Dorado Gold)
From 2017 to 2020, El Dorado is forecasting a 110% jump in production, a 30% decline in all-in sustaining costs (to $600 per ounce), a 190% increase in operating cash flow to $600+ million, according to its corporate presentation. Of course, this assumes a successful ramp-up of production at both Skouries and Olympias Phase II.
I continue to believe El Dorado stock is a buy. Along with Barrick Gold (NYSE:ABX), it is currently one of my favorite gold miners with a market cap greater than $1 billion. I think the company made the right move by selling its Chinese assets, as it is in a much greater position to move forward with its development assets, including Skouries, where it just received its permits. It will likely be one of the lowest-cost gold producers by the year 2020.
The stock looks undervalued here, so I plan on buying shares in the coming weeks.
Disclosure: I/we have no positions in any stocks mentioned, but may initiate a long position in EGO over the next 72 hours.
I wrote this article myself, and it expresses my own opinions. I am not receiving compensation for it (other than from Seeking Alpha). I have no business relationship with any company whose stock is mentioned in this article.