A little more than three months ago (108 days exactly) I suggested this pair trade: long Nike (NYSE:NKE), short Under Armour (NYSE:UA) - please see the article here. The investment rationale was a combination of a sky-rocket 67x P/E valuation for UA, while NKE was trading at a more reasonable (though still high) 32x, and some signs that the UA's stellar growth figures were not sustainable at those same levels. Now that UA is down by 22% and NKE is down by 7% as I write this article at this Friday night, I suggest taking profits and closing this trade.
Trade Performance and a Quick Recap
The 14.6% total return on this trade is close to my "safe" 15% objective, so as I'm not sure if I'll be able to write an article when the exact 15% is actually achieved, I'm already anticipating the closure of this trade (in fact, this trade yielded 15.6% as of October 28). I'm not going to repeat the specific reasons I saw to justify this trade as you can check the previous article. It is true that there were much greater growth expectations on UA, which helped explain its premium valuation. In fact this trade was quite controversial, as UA had many fans due to its strong branding and spectacular growth track record. But with some clear signs that its growth outlook was way riskier than Nike's (specially in terms of bottom line), and with signs of an imminent slowdown, it seemed to me that relative valuation was a clear distortion at that time.
Figure 1: Long NKE, Short UA Trade Performance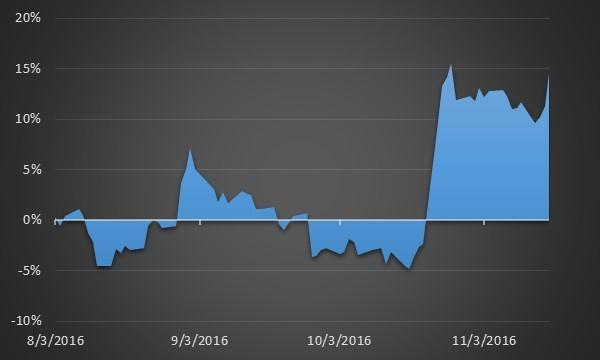 Source: YCharts and Author
Since then, NKE's future orders disappointed, which made people use that as a selling point for the opposite trade (UA over NKE). However, we must bear in mind that NKE is a much larger and more diversified company than UA, which means that its sales figure should better reflect the overall market performance. So if there is an across-the-board slowdown in sporting goods sales, it would likely impact UA as well. In my opinion, this is what explains the slowdown in UA's top-line growth as reported in the last quarter, besides the hard-to-beat comps of the past quarters.
Figure 1: NKE and UA Quarterly YoY Revenue Growth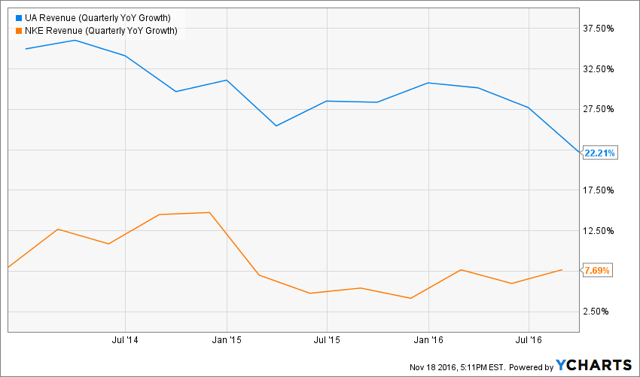 Source: YCharts
UA Has De-Rated And Drove the Trade's Performance, Although It Remains Expensive
Now UA has de-rated a bit as seen in Figure 2 below. It remains expensive at ~50x forward earnings, while NKE also de-rated to ~20x. One may argue that NKE is now even more attractive on a relative basis. Well, that might be true. At 20x I wouldn't be too upset to buy NKE for a long-term portfolio, but at 50x I still don't think it's worth buying UA. The problem is that UA is seen as a potential acquisition target, which makes a lot of sense by the way, and I don't want to be carrying this risk in my hands right now. Moreover, UA could have a slowdown in its top-line growth followed by a substantial improvement in operating margins (less pains of growth), which could boost profitability and change dramatically its multiples.
Figure 2: NKE and UA Forward P/E Ratios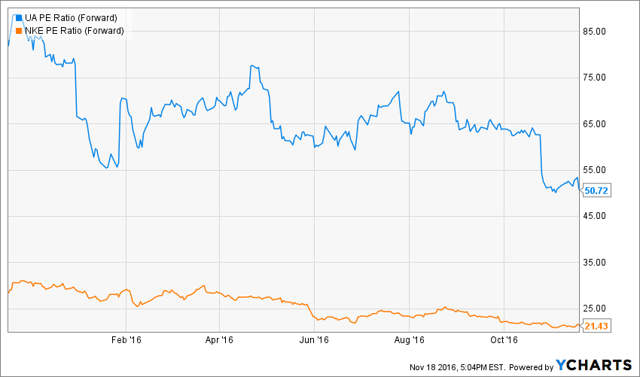 Source: YCharts
I hope this little series of articles on NKE and UA has helped you make some money! Here are my concluding remarks for now:
- If you are on the long NKE, short UA trade, I recommend taking profits for now.
- I still prefer NKE over UA as a long-term investment as the former is much more diversified, has more firepower and already yields very good returns while UA still has a promising growth outlook, but involves much greater risks and is on a decelerating trend.
Disclosure: I/we have no positions in any stocks mentioned, and no plans to initiate any positions within the next 72 hours.
I wrote this article myself, and it expresses my own opinions. I am not receiving compensation for it (other than from Seeking Alpha). I have no business relationship with any company whose stock is mentioned in this article.