Previously, I had somewhat mixed feelings about Microsoft (NASDAQ:MSFT). I had acknowledged that while cloud was proving an area of strength for the company, it still remained to be seen as to whether the company could sufficiently drive earnings higher.
My previous article, titled "Microsoft: Investors Are Betting On The Cloud: Can The Stock Reach The Stars?", illustrated my sentiment that Microsoft's future growth potential rested heavily on how well the company can monetize cloud services going forward.
However, after a period of falling earnings which were in part due to a strong dollar and declining hardware sales depressing EPS growth, earnings have since rebounded very nicely, after the company's cloud annualised run rate hit $13 billion for its first quarter: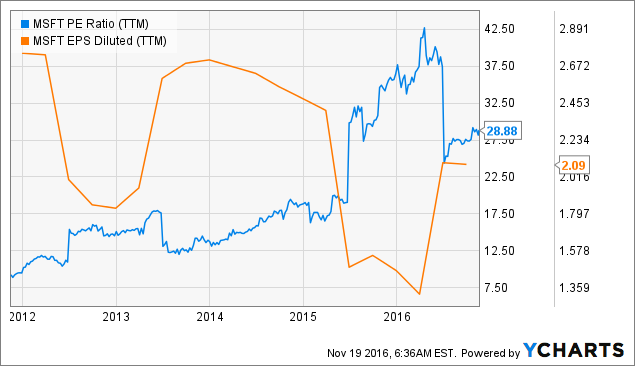 Additionally, Microsoft's rate of earnings growth has allowed the company to significantly exceed my prior price target of $53 for the company.
Dividend per Share Forecast (2014-2018)
2014E
2015E
2016E
2017E
2018E
Projected 10% dividend growth
1.12
1.23
1.36
1.49
1.64
7% discount rate
1.05
1.08
1.11
1.14
1.17
Earnings per Share Forecast (2014-2018)
2014E
2015E
2016E
2017E
2018E
Projected 10% EPS growth
2.92
3.21
3.53
3.88
4.27
7% discount rate
2.72
2.8
2.88
2.96
3.04
As seen above, Microsoft (at the time of my initial forecast in 2014) had been trading at a PE ratio of 15.80. The stock currently trades at a ratio of 28.88 at the time of writing. I had anticipated that at a 10 percent growth rate in earnings, Microsoft would be set to see $3.53 in earnings for the year 2016. Instead, while earnings have beat expectations, EPS for 2016 has come in at $2.79. Dividends per share were slightly above the projected target at $1.47.
If it is assumed that EPS would grow at 10 percent per year for the next two years (while actual dividends were higher than forecast, I leave projected dividends unchanged to allow for potentially lower dividend growth in the following two years), then the EPS for Microsoft in two years time would stand at $3.37, which at a 7% discount rate in the terminal year (discounting for two years instead of five) would come to $2.94. On this basis (assuming a terminal P/E of 22 as a more conservative estimate):
Current P/E Ratio: 22
Terminal P/E * Estimated 2018 EPS: 22*2.94 = $64.68
Present Value of Dividends per Share Through to 2018: $5.54
Target Price in year 2018: $70.22
While the boost in target price has resulted from increased earnings expectations on the part of investors (due to a higher P/E ratio), I expect that should Microsoft maintain sufficient earnings growth of an average 10 percent or greater, then it is likely that we could see the company maintain a P/E ratio of around 22-28 and a target price between $70-80.
Needless to say, cloud is what is propelling this company forward. The unique draw of Azure lies in its compatibility with different applications such as the .Net programming language and ability to develop hybrid apps. While Amazon Web Services technically has the largest server capacity in the cloud space, Azure has become renowned for its compatibility and flexibility with existing Microsoft customers. As a result, Azure is used by more than 80 percent of the world's largest banks, along with 70 percent of Fortune 500 companies using at least two different cloud offerings by Microsoft.
In this regard, I expect that while competition for cloud services with Google (NASDAQ:GOOG), Amazon (NASDAQ:AMZN) and IBM (NYSE:IBM) continues, I do not expect that this will pose a significant threat to Azure, owing not only to the compatibility aspect of Azure but also that enterprises have already negotiated significant contracts with Microsoft allowing for lower pricing options than can be obtained from competitors.
Previously, I was somewhat skeptical as to whether Microsoft's cloud initiative would ultimately lift the business as a whole. However, it is now clear that the company's efforts are beginning to bear fruit, and I expect further upside from here.
Disclosure: I/we have no positions in any stocks mentioned, and no plans to initiate any positions within the next 72 hours.
I wrote this article myself, and it expresses my own opinions. I am not receiving compensation for it (other than from Seeking Alpha). I have no business relationship with any company whose stock is mentioned in this article.
Additional disclosure: I/we have no positions in any stocks mentioned, but may initiate a long position in Microsoft Corporation (MSFT) over the next few months.