Life for Wal-Mart (NYSE:WMT) shareholders has not been in a walk in the park recently. Legendary investor Warren Buffett has now trimmed his stake to 25% of its size 5-years ago, selling 68% of his position in Q3. Following news that Buffett sold, the company reported revenue growth of just 0.7% y/y that was about $490 million short of expectations. EPS beat expectations by $0.02 at $0.98 per share, but that figure was a 5% y/y decline - even worse when considering Wal-Mart's share count was 3.7% lower than a year ago.
Sentiment is poor, and I have even heard rumblings of people comparing Wal-Mart to Sears (NASDAQ:SHLD) in the 1990's - a dominant giant on the precipice of an inevitable decline. The company wears its confusion on its sleeve: Wal-Mart paid $3 billion for unprofitable e-commerce retailer Jet.com to compete against Amazon (NASDAQ:AMZN). We'll address this later, but it seems like a more allocation of capital.
Let's take a look behind the curtains at Wal-Mart's financials, the Jet.com acquisition, and valuation to determine whether or not investors should double down on shares of Wal-Mart or move on to the next generation of retailers.
Behind the numbers
Headline numbers don't ever tell the full story. As my readers know, same-store sales is one of the most important metrics to evaluate a retailer's performance, and, frankly, Wal-Mart's comps were not that bad. In fact, Wal-Mart's 1.2% comp growth rate was 140 basis points higher than rival Target's (NYSE:TGT) decline of 0.2%. Yet, Target shares rallied 7% on reporting earnings and Wal-Mart's share price declined. Given their relative sizes, it appears that Wal-Mart gained market share in the past two quarters.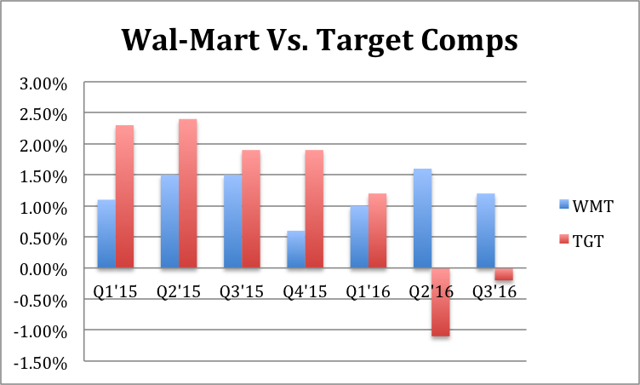 Source: WMT & TGT SEC Filings
With the benefit of a positive comp, Wal-Mart was able to leverage occupancy expenses, driving gross margins up 34 basis points y/y to 26% of sales. This will be a big focus for Wal-Mart. Given the labor headwinds on the SG&A front, keeping margins stable will require either lower COGS or higher prices. Wal-Mart's positioning doesn't translate to price increases, so the focus will be on cost reduction.
SG&A jumped 5.5% y/y to $25.6 billion, up 100 basis points as a percentage of sales to 21.6%. The increase is driven by higher wages and increased investments in technology and e-commerce. This is a margin headwind that will not subside any time soon. On the positive side, I think Wal-Mart employees earning higher wages will be positive for sales, particularly if inflation remains low. Inflation remaining low is a big if and highly contingent on macro forces that appear more likely now to drive inflation than in the previous administration.
Overall, the large increase in opex weighed on operating margins, which declined about 55 basis points y/y to 4.33% of sales. This is the cause for concern at Wal-Mart. Sales is not suffering as much as one might think, but there is no obvious floor for margins. Could Wal-Mart's operating margin decline by another 20-30%? That seems possible.
Unlike the P&L, cash flow improved in Q3. A sign of a mature company is a tighter focus on working capital, and it appears Wal-Mart is doing just that. Free cash flow YTD of roughly $12 billion is much higher than the $6.8 billion in free cash flow Wal-Mart generated over the first 9 months of its 2016 fiscal year. TTM Free cash flow is sitting at a very robust $21 billion. If Wal-Mart is able to maintain this level of free cash flow generation, the company's current EV/FCF of about 11.5x looks reasonably cheap. However, I believe there is some downside from current FCF levels.
Jet.com and Trump Trade War Risk
Jet.com seems like a large waste of capital, in my view. Jet.com focuses on a slightly higher-end consumer than Amazon and competes exclusively on price. There's no reason to try to compete against Amazon on price-the company has built a massive network of stores, and the Prime membership is so incredibly valuable, that I think this is a losing bet. Without question, Wal-Mart improves Jet.com's distribution capabilities, but it also will slow decision-making and stifle innovation. Plus, Amazon paid 30x sales for the unprofitable marketplace. In my view, Jet.com is the quintessential acquisition that will be written down to very little in a few years.
In general, I look for businesses with low-to-moderate levels of political risk. Unfortunately for Wal-Mart shareholders, I think the election of Donald Trump greatly increases Wal-Mart's risk profile. No, I don't think Trump will attack the company, but I do think the risk of trade wars remains incredibly high, and I think a trade war would lead to high levels of price inflation. Further, I think Wal-Mart could have trouble procuring goods from low cost regions like Mexico and China. This risk appears to be increasing by the day, and it would be a net-negative for retailers, the US consumer, and the US economy in general. On the other hand, Wal-Mart may be able to capture market share in an inflationary environment that causes consumers to be increasingly price sensitive. It is an interesting question to ponder, and because the impact on Wal-Mart is so high, it almost puts Wal-Mart into the too hard bucket.
Valuation
Wal-Mart is going to earn between $4.20-4.35 on an adjusted EPS basis. This is a decline from last year's $4.59 per share, and the figure is obviously a bit worse when you account for stock buybacks. The mid-point of this guidance range would imply a current PE of 16x earnings. This is about what the company has traded at over the past 5 years, and given the outlook for negative earnings growth, I think this multiple is generous.
Wal-Mart has a highly uncertain outlook as it grapples with higher labor costs, an uncertain inflation outlook, and vicious competition from Amazon. That said, comp data has actually been relatively positive the past two quarters. I think investors are slightly exaggerating Wal-Mart's demise at the moment, but I also see earnings declining again in FY18 and potentially FY19.
Given the risk/reward profile, I would stay away from shares at the moment. Target looks poised to trade higher on a decent holiday season, and unlike Wal-Mart, operating margins are heading in the right direction.
Disclosure: I am/we are long AMZN.
I wrote this article myself, and it expresses my own opinions. I am not receiving compensation for it (other than from Seeking Alpha). I have no business relationship with any company whose stock is mentioned in this article.