Shares of Hibbett Sports (NASDAQ:HIBB) dropped 10% after the company reported poor third quarter results. Although the company seems focused on improving its product mix, it looks like going up the value chain has actually negatively impacted Hibbett's margins. With a weak comp and no real drivers to improve the comp going into Q4, I do not think investors should buy the pullback.
Q3: Key numbers show a lagging company
Unlike Foot Locker (NYSE:FL), which just posted a robust 4.7% comp, same-store sales at Hibbett grew only 0.7% y/y, which led to aggregate revenue growth of only 3.8% y/y. Hibbett does not have the excuse of a difficult comparison as Q3 2016 sales were up an anemic 0.6% y/y. This translates to a two-year stacked comp of just 1.3%, and it is not a formula to boost profitability.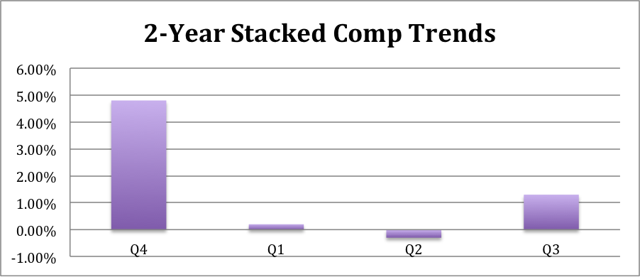 Source: HIBB SEC Filings
I didn't receive a satisfactory answer for the problem on the call. It looks like traffic declined, and this might be as a result of Wal-Mart's (NYSE:WMT) weakness. Hibbett stores are generally situated near a Wal-Mart, and Wal-Mart's traffic was up 0.7%. Hibbett is focusing a bit more on footwear and premium lifestyle, but I think Foot Locker is in a much better position to satisfy this customer.
Management noted that it is working on improving the merchandise mix and providing sales incentives to employees to boost sales, but I'm not optimistic.
Gross margins are also moving in the wrong direction. Gross margin declined by a whopping 70 basis points y/y to 35.4% of sales, driven largely by a change in product mix towards footwear and away from apparel. The company also didn't receive any occupancy leverage with sales failing to grow fast enough.
On the opex front, SG&A jumped a whopping 250 basis points y/y to 23.6% of sales. The company cited its investment in omni-channel (online), employee benefits, credit card fees, and store maintenance. Management claims some of these costs are one-off, but I doubt that will be the case. Further, I think higher wage expenses will be a headwind that the company is not well positioned to mitigate.
Capital Allocation
Hibbett's capital allocation is fairly straightforward at this juncture. The company has consistently bought back stock, though the cadence slowed a bit in Q3. Hibbett repurchased only $1.9 million in stock during Q3. Otherwise, the majority of cash is being spent on expansion. The company thinks it can add about 500 stores to its total store count, and it looks like growth in California will be one of the primary drivers. Hibbett's first California store opened this quarter, and there is a noticeable void in the California market in light of The Sports Authority and Sports Chalet bankruptcies. Still, I'm conflicted about this decision. Although there's a void to be filled, I think Hibbett could struggle to find its footing. Dick's Sporting Goods (NYSE:DKS) will also be adding stores in the region, and given its new positioning, Hibbett will have to compete with Foot Locker and Finish Line (NASDAQ:FINL)-not an easy proposition.
Given Hibbett's fiscal year guidance of EPS of $2.82-2.88, the stock may seem relatively inexpensive at ~14x earnings. However, investors are able to purchase shares of Foot Locker or Finish Line to gain retail exposure at just 1-turn higher. I think either company is a superior investment opportunity. I also believe that the Hibbett rally in the wake of the election was irrational, so the correction that Hibbett just experienced is completely justified.
Disclosure: I/we have no positions in any stocks mentioned, but may initiate a long position in FL over the next 72 hours.
I wrote this article myself, and it expresses my own opinions. I am not receiving compensation for it (other than from Seeking Alpha). I have no business relationship with any company whose stock is mentioned in this article.