Business Inventories
Total business inventories, which include those of retailers, wholesalers and manufacturers, rose 0.1% in September. Total business sales were up 0.7% for the month, and last month's 0.2% increase was revised to a 0.3% increase. As a result, the inventory-to-sales ratio declined to 1.38 from 1.39, which is flat on a year-over-year basis. We are clearly seeing some improvement in this indicator, but inventories remain bloated, largely due to motor vehicles and auto parts. It is hard to believe that auto sales can continue to increase from current levels with financial conditions beginning to tighten measurably.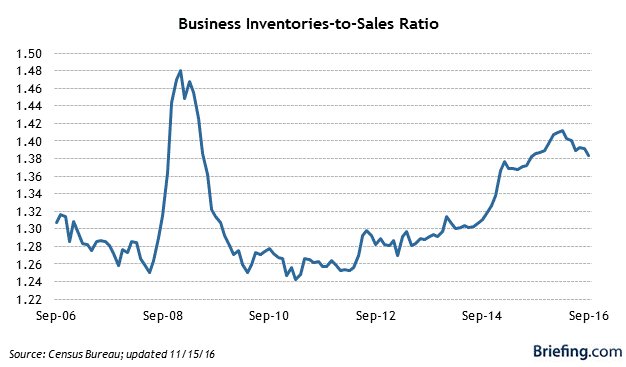 Retail Sales
Retail sales rose a solid 0.8% in October, which is particularly impressive considering the revised 1% monthly increase in September. The year-over-year growth rate is now up a robust 4.3%, which was 2.6% in the prior month and just 1.9% in the month prior to that. Can this continue?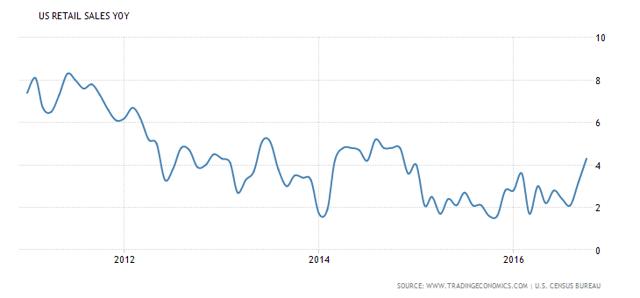 The strength in retail sales continues to be led by autos, so if auto sales can continue to climb from current record levels, then so will the rate of retail sales growth. The year-to-date retail sales total, when we exclude autos, is at a run rate that is 2.8% above the level we realized in 2015. It is no coincidence that this is the same rate of growth for average hourly earnings in 2016. Auto sales are not dependent on wage growth, as the majority of the purchase is financed. Continued growth in retail sales will be a function of a continued growth in average hourly earnings, while sentiment is more likely to be a function of real (inflation-adjusted) average hourly earnings growth. That figure continues to move in the wrong direction.
Industrial Production
Industrial production was unchanged on a month-over-month basis in October, while September's increase of 0.1% was revised to a decline of 0.2%. The year-over-year rate of industrial production, which was down 0.9%, has now declined for 14 consecutive months. Last month's decline was due entirely to a 2.6% decline in utility output, as warmer weather blanketed the US. Manufacturing rose for a second consecutive month due to continued strength in auto production, but we are leery of how much longer this can last.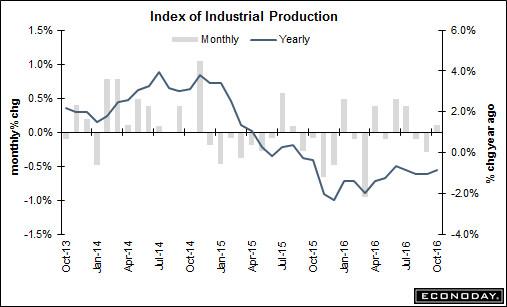 Overall, there is no growth in industrial production to help contribute to the overall rate of economic growth, and with capacity utilization falling again to what is now 75.3%, which is 4.7% below its long-run average, there is little need to increase capacity. That is clearly a negative for the rate of economic growth moving forward.
Consumer Price Index
The Consumer Price Index rose 0.4% in October, while the core index, which excludes food and energy, rose 0.1%. This puts the year-over-year increase for the overall Consumer Price Index at 1.6%, which is up from 1.5% last month and 1.1% the month before that. The core index is up 2.1%. The gap between the core rate and the overall rate of inflation continues to close, as we anticipated earlier this year, with energy costs starting to rise on a year-over-year basis. Gasoline prices rose 7% last month, and the energy sub-index increased 3.5%.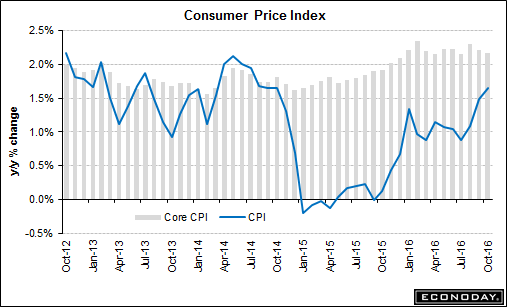 Home Construction
Boom! Housing starts rocketed upward by 25.5% in October to a seasonally adjusted annual rate of 1.32 million. There was strength in both multi-family and single-family starts. This was the highest level of starts since August 2007. Although permits indicate that this elevated level of starts will come back down in the months ahead, this figure will still lift fourth-quarter GDP projections.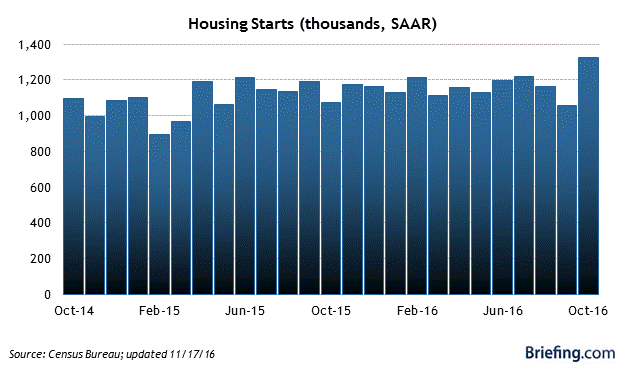 Conclusion
The strength in retail sales and housing over the past two months indicates that an acceleration in the rate of economic growth is finally taking hold. We have to upgrade our outlook for the second half of this year from 1% to 2%, which suggests that the overall rate of economic growth in 2016 is likely to be closer to 1.5%. Our estimate since the beginning of the year has been 1%.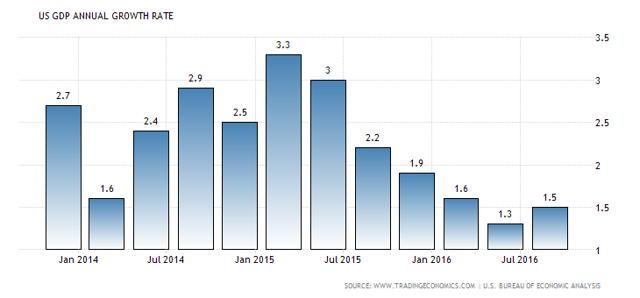 Still, this is far from robust growth. We remain suspect about the sustainability of this recent strength, based on the fact that while average hourly earnings are growing at a year-over-year rate of 2.8%, the rate of real (inflation-adjusted) income growth is declining. If the rate of real income growth begins to accelerate, we will become far more optimistic about 2017.
Disclosure: I/we have no positions in any stocks mentioned, and no plans to initiate any positions within the next 72 hours.
I wrote this article myself, and it expresses my own opinions. I am not receiving compensation for it (other than from Seeking Alpha). I have no business relationship with any company whose stock is mentioned in this article.