It hasn't been easy out there for bond investors lately. Long-term U.S. Treasury investors, in particular, have taken a beating, with the TLT down more than -7% since the U.S. presidential election alone. Such poor performance has led many bond loathing market experts to declare that the bond bubble has burst. Of course, such pessimism about the bond market is nothing new, but such sentiments can be greatly unnerving when heard from highly respected investment experts. In fact, arguably the most legendary investor of all time, Warren Buffett, has made his disdain for the bond market well known over the years. But even the greatest of investors can fall victim to such hyperbole as throwing around the world "bubble." Unfortunately for Mr. Buffett, the long-term U.S. Treasury market continues to defy his predictions and has been beating his company for nearly two decades running now.
Bonds Continue To Beat Stocks
It runs counter to a paradigm that is considered the unquestioned law when it comes to investing. If you are someone who is seeking to invest over long-term periods of time, you must allocate to stocks. Sure, they come with higher volatility, but such is the price to realize the better returns from stocks over the long run. Considering bonds instead? You must be a fool.
Unfortunately, the last two decades have given investors an entirely different reality. Bonds in general and long-term U.S. Treasuries (MUTF:VUSTX) in particular have trounced stocks. Moreover, they have done so with far less volatility and without two massive, earth shattering drawdowns in excess of -50% over this time period.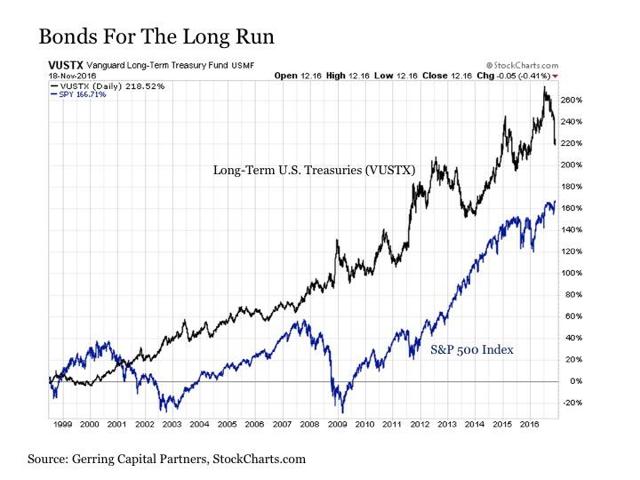 Consider the investor that allocated to long-term U.S. Treasuries [TLT] back in July 1998 against another that opted for stocks for the long run plopped into the S&P 500 Index (NYSEARCA:SPY). The bond investor would be higher by +218% over this nearly two-decade time period. As for the stock investor, they would be higher by just +167%, and this assumes that they didn't get rattled and bail out of the stock market amid the trauma of 2000 to 2003 and again from 2007 to 2009.
The stock bulls, of course, will counter this point by saying that this is just one period in time, and that over the long term, it is usual stocks that lead bonds. Indeed. But even with that said, nearly two decades is a long time for a person that is working a job and saving for retirement in their 401k. Unfortunately, most of us do not have 85-year time horizons or longer to guarantee those long-term average returns.
Beating Buffett
The stock bull would also counter with the following. Relying on an index is folly because you are forced to take the good stocks with the bad. And any rational investor would have known to bypass technology stocks during the technology bubble and hold excess cash as the housing bubble unraveled (of course, this same rational investor also knows that staying fully invested in stocks makes good sense today because sustained economic growth is just right around the corner).
With this in mind, let's consider the great Warren Buffett, who had the good sense to be positioned fairly properly as described above, heading into both of the notorious stock bear markets since the turn of the millennium. Clearly, Mr. Buffett knew the way, and owning shares of his company Berkshire Hathaway (NYSE:BRK.A) (NYSE:BRK.B) would have lit the way to stock outperformance over this time period, right?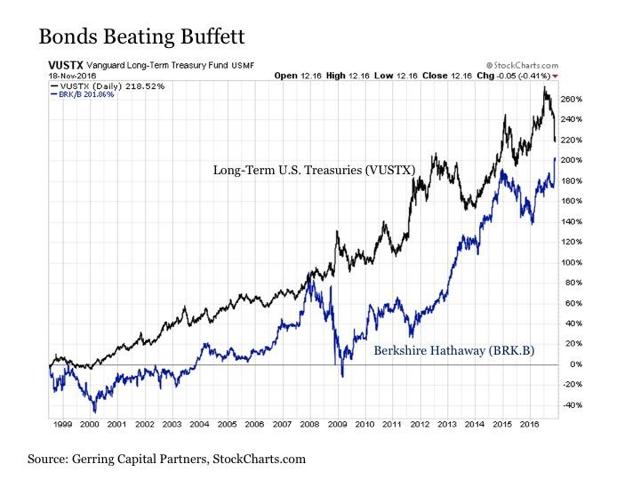 Unfortunately for stock investors, no. While Berkshire Hathaway has outperformed the S&P 500 Index over this nearly two-decade time period, it has also trailed the long-term U.S. Treasury market by nearly twenty percentage points cumulatively over this time period.
So why is the publicly good natured Mr. Buffett getting picked at in this article about bonds? Because just like so many of his peers over the years, he has also fallen victim to using the word "bubble" when it comes to the bond market, only to be proven wrong for nearly a decade and counting.
In his annual letter to Berkshire Hathaway shareholders all the way back in 2008, Mr. Buffett stated the following:
When the financial history of this decade is written, it will surely speak of the Internet bubble of the late 1990s and the housing bubble of the early 2000s. But the U.S. Treasury bond bubble of late 2008 may be regarded as almost equally extraordinary.

Clinging to cash equivalents or long-term government bonds at present yields is almost certainly a terrible policy if continued for long. Holders of these instruments, of course, have felt increasingly comfortable - in fact, almost smug - in following this policy as financial turmoil has mounted. They regard their judgment confirmed when they hear commentators proclaim "cash is king," even though that wonderful cash is earning close to nothing and will surely find its purchasing power eroded over time.

Approval, though, is not the goal of investing. In fact, approval is often counter-productive because it sedates the brain and makes it less receptive to new facts or a re-examination of conclusions formed earlier. Beware the investment activity that produces applause; the great moves are usually greeted by yawns."
While I like Warren Buffett and think he usually has good things to say that are worth careful consideration, I objected to his comments about long-term U.S. Treasury investors back then, and I still do today for a number of reasons.
First, cash equivalents and long-term government bonds should not be discussed in the same context. They are entirely different asset classes with completely different risk and return characteristics, and to summarily dismiss the long-term Treasury investor as doing nothing more than sitting on cash is mixing apples and oranges. The following chart mapping the performance of these two categories since the financial crisis highlights this point.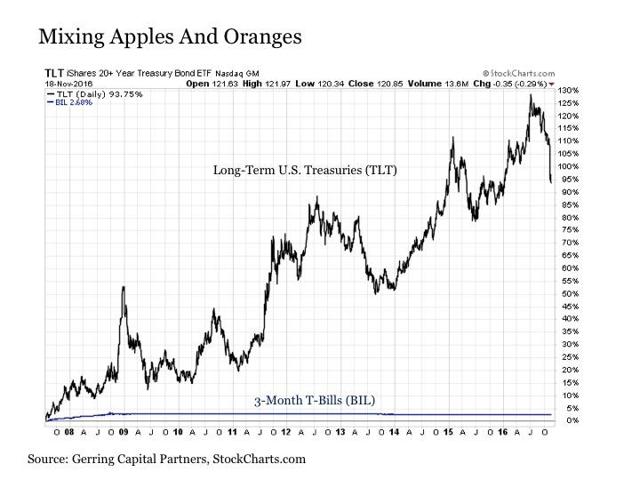 Second, investors in long-term U.S. Treasuries are almost never smug. Unlike the dedicated stock investor who has their strategy reaffirmed nearly every day by cheerleading analysts and the fawning financial news media, long-term U.S. Treasury investors usually receive looks of derision while their heads are getting kicked in explaining why owning long-term U.S. Treasuries (NYSEARCA:IEF) is not a complete and total waste of time. Of course, part of this perception is thanks to comments like Mr. Buffett's above and many other experts. In fact, I was not smug when I was holding Treasury STRIPS (NYSEARCA:EDV) during the outbreak of the financial crisis in 2007 and 2008. Instead, I was relieved while remaining on guard. For the owner of long-term U.S. Treasuries is not typically one that is given to overconfidence. Instead, they tend to be more risk averse.
Third, if cash is such a terrible thing, why then Mr. Buffett do you hold so much of it at any given point in time? Perhaps, many may think "cash is king" for the same reasons that you keep so much cash on hand? For when assets go on fire sale prices as they have periodically over the past two decades, particularly following moments when valuations have become extreme, the opportunity cost of holding cash at such low interest rates is rewarded by not owning the asset that has just dropped more than -50% in price as well as the ability to buy said asset with the principally protected cash that has been earning such low but still positive interest during the massive price drop. Once again, not smug, just a reasonable way to manage risk.
Fourth, nothing like mocking a group of investors for being "sedate in the brain" for considering an alternative approach to investing. And if approval is not the goal of investing, why then do I see you on my television almost on a daily soaking in the adoration of your legions of fans? Just because a group of investors is owning an asset class other than almighty stocks does not make them brain dead or narrow minded or in need of approval. In fact, many holders of long-term U.S. Treasuries and cash also own stocks. Instead, I would suggest the investor whose brain is sedated and is less receptive to new facts is the one that would even consider to write such words about another group of investors other than themselves and not see the irony in their sentiment.
Lastly, despite all of his bluster about a bond bubble in his 2008 letter to shareholders that he has since reiterated repeatedly in the years since, the lowly long-term U.S. Treasury market has outperformed stocks with less volatility in the many years since. In short, it has been eight years since Mr. Buffett's proclamation, and to date he is still "early" about the bursting bubble of long-term government bonds.
Will he eventually be proven right someday? Almost certainly, just as those that have been calling for a collapse in the Japanese government bond market for the last 25 years will also eventually be proven right someday. But in the meantime, the bull market in long-term U.S. Treasuries remains firmly intact even after the stunning declines we have seen over the past several trading days.
Bottom Line
Beware analysts and experts that make bold and unmeasured proclamations about investment markets. For even the most respected and highly regarded investors in the world like Warren Buffett are prone to making strong statements at times like the "U.S. Treasury bond bubble of late 2008 may be regarded as almost equally extraordinary" as the two major bear markets in stocks since 2000 only to have nothing come to pass other than to see these same securities more than double over the next many years.
Certainly, the risk prudent investor should take such highly esteemed commentary under close consideration. But just because the greats in the industry say that the bond bubble is going to burst in 2008 or today, doesn't mean it's actually going to happen. In fact, the total opposite may end up being true.
Do your own homework, stick to your investment strategy, take the words of others under careful advisement instead of summarily dismissing it, but work hard to differentiate the good advice from the noise. Maintaining such discipline and believing in the plan you have created for yourself will help minimize reactivity and lead to greater investment success over time.
Disclosure: This article is for information purposes only. There are risks involved with investing including loss of principal. Gerring Capital Partners makes no explicit or implicit guarantee with respect to performance or the outcome of any investment or projections made. There is no guarantee that the goals of the strategies discussed by Gerring Capital Partners will be met.
Disclosure: I am/we are long TLT, IEF.
I wrote this article myself, and it expresses my own opinions. I am not receiving compensation for it (other than from Seeking Alpha). I have no business relationship with any company whose stock is mentioned in this article.
Additional disclosure: Much like Mr. Buffett, I also own various individual stocks in addition to my long-term U.S. government bonds and also hold a meaningful allocation to cash at the present time. And much like Mr. Buffett, I prefer to own stocks that pay dividends, which is a primary reason I do not hold Berkshire Hathaway shares.