History repeats itself. The age-old mantra. Snapchat's parent company Snap (CHAT) recently filed for an initial public offering. It's on track to be the largest domestic social media IPO since Facebook (NASDAQ:FB).
Snapchat's largest user demographic is Generation Y (Millennials) and Generation Z (iGeneration) and it has roughly 150 million users.
The service debuted in 2012, known for its photo messages that deletes after a few seconds, James Bond-style, without the fireworks. Today, users can post their "snaps" on their stories that their friends can view for 24 hours, or do private photo messages that still disappear after seconds. Last month, Snapchat started a featured section that shares articles and videos from popular sources, such as CNN, Cosmopolitan, People, BuzzFeed, Wall Street Journal, National Geographic, Food Network, ESPN and many more.
How will the stock market react both short term and long term when Snapchat does go public? It will be hard to say due to several factors, such as continued growth in its user base, the newly elected president and revenue sources. However, we can get a sense of how the market will react both short term and long term by looking at the stock market history of Silicon Valley social media giants Facebook and Twitter (NYSE:TWTR).
| | | | | |
| --- | --- | --- | --- | --- |
| | IPO date | IPO share price | Est. users at IPO | Est. Value before IPO share price released |
| Facebook | Friday May 18, 2012 | | 901M | |
| Twitter | Thursday November 7, 2013 | $26 | 232M | |
| Snapchat | First quarter 2017 | ? | | |
Facebook
Facebook filed with the SEC on February 1, 2012. It went public on Friday May 18, 2012 with its initial public offering at $38 a share.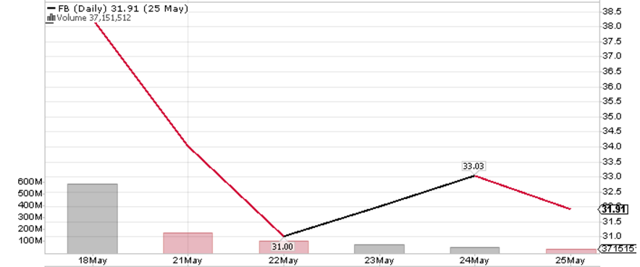 Image: StockCharts.com
Around 600 million shares changed hands on the first day of trading. However, the stock quickly started falling and closed a week later at $31.91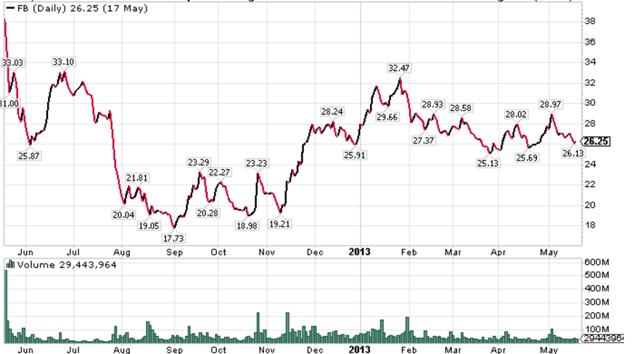 Image: StockCharts.com
Now, let's fast forward a year to May 17, 2013, when shares of Facebook closed at $26.25. The shares still haven't hit the original price of $38. However, they did hit a low of $17.73, almost half of what they started trading for.

Image: StockCharts.com
Today, almost three and a half years later, Facebook is trading at $117.79, which is three times as much as the IPO share price of $38. The spike is due to a surprise on EPS when the company reported its quarterly earnings in July 2013. Since then, the stock has been on a roll.
Twitter
Twitter filed an S-1 with the SEC on September 12, 2013. It went public on November 7, 2013, with the initial public offering set at a price of $26.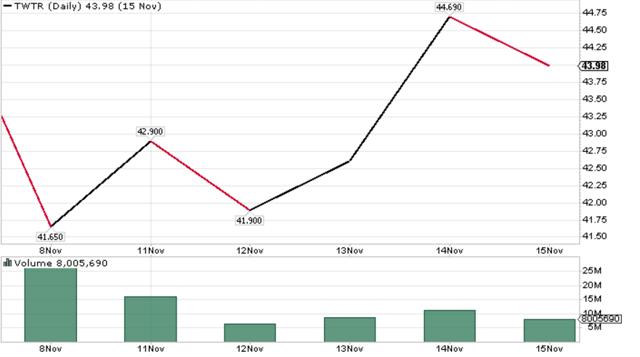 Image: StockCharts.com
Twitter started strong at $43.50 when the shares started trading on the market. Over 25 million shares traded hands on the first day. Unlike Facebook, the shares ended the day below what they started at. However, if you had bought TWTR shares at $26, you would have ended the week in the black, unlike Facebook.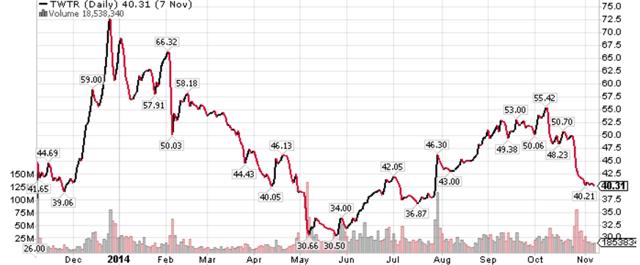 Image: StockCharts.com
A year after going public, the TWTR chart resembles a roller coaster ride. Ultimately, a year after going public, the shares were trading at $40.31, while peaking at almost twice that. Still, they have been a decent return on your money if you bought at $28.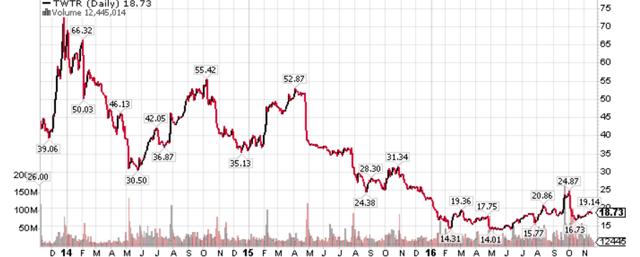 Today, two years after going public, TWTR stock is trading at $18.73. In contrast to FB, which picked up steam after the first rocky year, TWTR wasn't able to keep up with the same momentum. This led to a plunging stock price, roughly 75% of its original IPO price.
Facebook vs. Snapchat vs. Twitter
Facebook prospered in the long term, while floundering in the short term, while Twitter did the opposite. Snapchat's current revenue sources are similar to both Twitter and Facebook - utilizing ads.
Snapchat will be publicly traded in the first quarter of 2017. The IPO price will probably be between $25 and $35. It will also have a popular first day of trading, with probably close to 50 million shares trading hands.
Facebook became so popular that the entire family jumped onboard, including the family dog. But Generations X and Y didn't care to share their drunk party moments, inside jokes and lifestyles where their families could publicly comment. Instead, they flocked in droves to other social media, including Vine, Twitter, Instagram and, recently, Snapchat.
Last week, Snapchat started selling glasses that capture videos out of vending machines for $130, called Spectacles. It's an interesting concept that utilizes scarcity marketing, because the pop-up vending machines are only in a location for 24 hours and sells a maximum of 2 pairs per customer.
While I see Spectacles as a short-term way to boost its revenue in preparation for the IPO, Snapchat will have to do something game changing if the company wants to continue to grow its user base and achieve the long-term stock market success of Facebook.
Disclosure: I/we have no positions in any stocks mentioned, and no plans to initiate any positions within the next 72 hours.
I wrote this article myself, and it expresses my own opinions. I am not receiving compensation for it (other than from Seeking Alpha). I have no business relationship with any company whose stock is mentioned in this article.