We have had an impressive rally since March 2009 and investors actually display renewed optimism because of the change in policies brought by the new administration
However, despite these assumed pro-growth policies, there are good reasons to think that this bull run is running on its last legs.
Stocks are expensive
Monetary policy has run its course
Bonds are falling
The dollar is rising
The recovery might stall
Earnings stalling?
Buybacks retreating
Labor's increasing power
Stocks are expensive
In and of itself, this is by no means a sufficient reason for an end of a bull market, but it does:
Make it harder for stocks to keep going up, needing ever stronger tailwinds.
Increase the risk when headwinds appear.
Well, at 25 times trailing earnings, stocks certainly aren't cheap and, as we'll argue below, the risks of headwinds are definitely increasing.
Monetary policy no longer supportive
Monetary policy is definitely turning in the US. QE has been stopped for over a year already. We have had the first interest rate rise a year ago, and we're almost certainly about to get another one.
Even if we're not and the Fed remains on hold, monetary conditions in the US are actually tightening already (see below). While the money spigots are still open in the eurozone and Japan, it remains to be seen how much that matters.
Bonds are selling off
There has been quite a hectic sell-off on the bond markets since the election of Donald Trump as president. The assumption here seems to be that the new administration will lead to higher growth, but also higher inflation and the outlook for public finances seems to worsen with a combination of tax cuts and increased spending.
Higher bond yields make stocks less attractive from a valuation perspective, and they also do damage to the economy through:
Depressing interest sensitive expenditures like mortgages, consumer durables, business investment. Mortgage rates are suddenly around 4%, while that's still very cheap historically, it's a notable rise from a few months ago.
Creating a negative wealth effect for bond holders, the bond sell off has created losses in excess of $1 trillion in just a week.
It's too soon to tell whether this is just a blip or a fundamental trend reversal. In order to determine that we have to keep our eyes on stuff like:
Whether inflation and inflation expectations are rising
Strength in economic data, more especially the labor market
More concrete plans from the Trump government concerning policies that affect public finances
The dollar is rising
The perception that the US monetary and interest rate cycle has turned way before much of the rest of the world has had quite an impact on the dollar.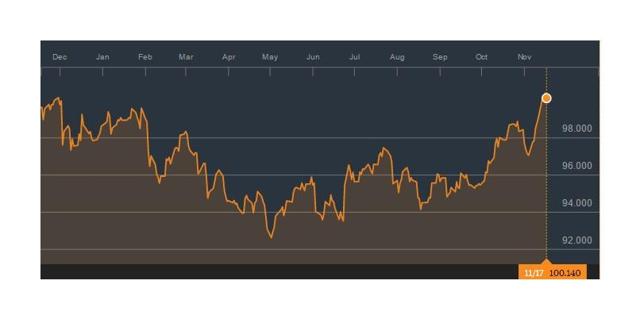 A rising dollar isn't good news for stocks. It makes US companies less competitive and earnings gained abroad translate into less dollars at home so this is definitely a headwind for stocks even if it might keep the Fed from being too aggressive with interest rate rises.
The economy
While the recovery hasn't been particularly vigorous, it has been the third longest since the second world war already. Again, in and by itself that doesn't mean a whole lot, but there are signs that indicate things could be turning.
The usual business cycle upswing ends when the Fed takes away the punch bowl just before the party really gets going. While the recovery wasn't really part of a normal business cycle (it came off the back of the worst financial crisis in decades), there are signs that some type of party is forming.
Most notably this is visible in the labor market. While growth hasn't been vigorous, job creation has been pretty good, with some 15M private sector jobs created since the depths of the recession (public sector jobs have stalled, notably).
Unemployment is now at 4.9%, a level which used to be associated with more or less full employment. While many point out that labor market participation has not recovered, and therefore there is still lots of slack in the labor market, we're not convinced of that, for two reasons.
Here is the first (from MarketWatch, our emphasis):
The number of people who applied for unemployment benefits last week sank to a 43-year low, reflecting the strongest labor market since before the Great Recession. Initial jobless claims fell by 19,000 to 235,000, the government said Thursday. Economists polled by MarketWatch had forecast claims to total a seasonally adjusted 255,000 in the week stretching from Nov. 6 to Nov. 12
The second reason is rising wages: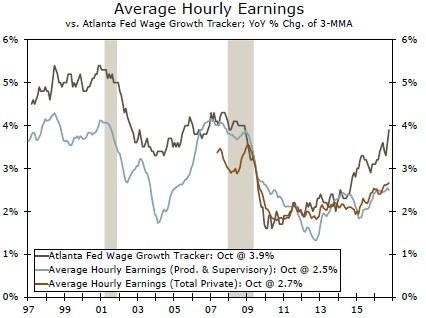 Even if the new Trump administration manages to increase growth, this could set off further significant wage growth, which could affect profit margins (which are already at a historic high anyway).
And this could very well lead to higher inflation and a more aggressive Fed, which could dampen growth or even produce a traditional business cycle recession. In any case, it isn't good for stocks.
We don't think this scenario is hypothetical. We've argued (here) that there are structural factors (like demographics, low business investment and hysteresis) that make it difficult for the economy to achieve higher growth than the roughly 2% at which the US economy has been ploughing along since the financial crisis.
So we think it's quite likely that the policies to achieve higher growth will bump into higher inflation, rising bond yields a rising dollar and a more aggressive Fed.
Earnings
Ultimately, what matters most for stock prices are earnings. Although mostly driven by the crash in oil prices, we've experienced an earnings recession already for the best part of two years.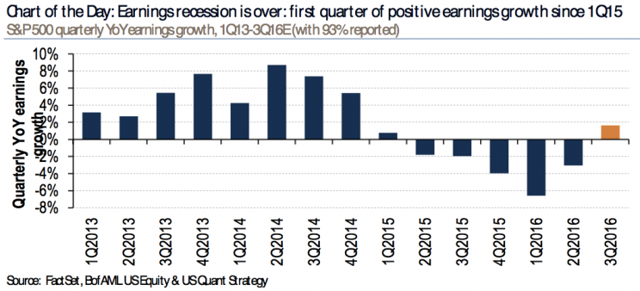 This is reversing at the moment (again significantly affected by the energy sector). SA contributor Bill Gunderson summing things up with respect to earnings so far (our emphasis):
Let's first instead begin with the good news in the market. This current earnings season is now winding down, and it has gone pretty well. 85% of the companies in the S&P 500 have now reported earnings and 71% of them have beat earnings expectations. A quarter that was originally thought to come in 2.2% lower than the same comparable quarter last year, came in 2.7% higher instead. In addition to this, the market is now looking for quarterly breakouts in earnings early next year. Here's what quarterly expectations currently look like. In addition to this, after three straight years of flat annual earnings, the market is now looking for a breakout in earnings in 2017. This year's earnings for the S&P 500 will come in about the same as last year. Next year's current expectations are for an 11.6% increase, however.
While that would be very good (and indeed there seems to be a good deal of optimism with respect to earnings around), one also has to realize earnings expectations a year out tend to be overly optimistic, here is John Mauldin:
Profit projections made one year out are usually way too optimistic. Over the next 12 months, they fall steadily to a point just below the eventual actual number. Voila: a huge failure to deliver on the year's goal gets transformed into a "we beat expectations" victory. This happens all the time, as Lebowitz shows in this chart for the same 17 quarters.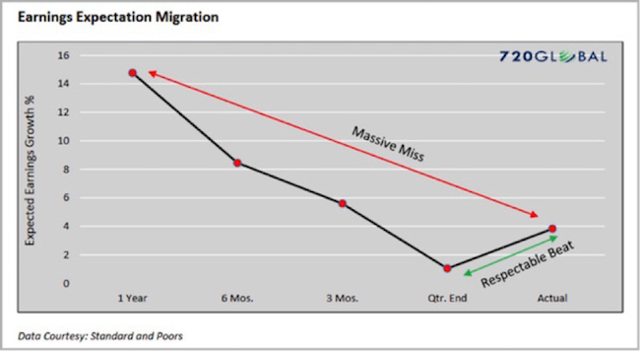 And one of the pillars under the stock rally, share buybacks, is reversing (from CNBC):
Still, buyback activity has been muted recently. Announced buybacks are down 30 percent for the first 10 months of the year compared to last year, according to TrimTabs. And actual share repurchases - what companies are really buying back, rather than just announcements - in the second quarter were down 6.8 percent compared to the same period last year, the smallest quarterly buyback total since the third quarter of 2013, according to FactSet. It's not any better in the third quarter. With almost half of the companies reporting for the third quarter, actual buybacks are down 6 percent from the second quarter, and down 26 percent over the same period last year, according to S&P Dow Jones Indices.
And, as the article notes, it isn't because companies are increasing capital expenditures. It might just be reversing to the norm after a bubble at the end of 2015, but we'll have to see.
Gray and even black swan
What we've described above are fairly slow moving tectonic plates. In and by themselves, these are not necessary put an end to the bull market, although they will make further advances in equity markets more difficult.
What is missing from the picture is the spark that sets off a panic selling when the underlying conditions are already worsening. Here just a selection of possible gray swans. The black swans are, by nature hidden from view:
Italian debt
German banks
US protectionism
Emerging market dollar debt crisis
We'll assessing the risks and possible consequences of some of these in upcoming articles.
Where this analysis could be wrong
Nobody really knows the state of the US labor market. It's possible that there is more slack than meets the eye at first sight. In that case, the combined (Keynesian!) fiscal boost of lower tax rates and increased spending might very well increase growth.
There are serious economists who argue this, amongst others Paul Krugman and heterodox economist Steve Keen (podcast), neither of whom can be taken to be particularly sympathetic to the incoming US government. And who are we to disagree with the likes of Krugman and Keen...
Conclusion
Stocks are expensive, monetary conditions are turning, bond yields are rising, so is the dollar. Even if the new administration is reviving growth, this could very well run into higher wages and inflation.
There is earnings optimism for next year, but that has been the case for most years, these expectations tend to be over-inflated one year out.
While all this is probably not enough to reverse an already tiring bull market, a spark from somewhere could very well do the trick.
Disclosure: I/we have no positions in any stocks mentioned, and no plans to initiate any positions within the next 72 hours.
I wrote this article myself, and it expresses my own opinions. I am not receiving compensation for it (other than from Seeking Alpha). I have no business relationship with any company whose stock is mentioned in this article.