Ever since integrated oil and gas major Chevron (NYSE:CVX) released its third-quarter results at the end of October, the stock has gained impressive momentum on the market. In fact, in the three weeks post its results, Chevron has gained close to 9% on the market and is currently trading very close to its 52-week highs.
Doing well in adversity
This impressive performance from Chevron post the earnings does not come across as a surprise since the company had convincingly beaten the bottom line estimates last quarter. In fact, Chevron had posted earnings of $0.68 per share, which was better by $0.31 per share as compared to Wall Street estimates.
This impressive bottom line performance at Chevron was driven by the company's focus on increasing its output from more efficient assets. As a result, even though Chevron's average sales price on each barrel of crude oil dropped almost 12% year-over-year to $37 per barrel, it managed to cut its losses in the upstream business to $212 million as compared to $603 million in the year-ago period. This massive improvement in the bottom line was despite upstream realization losses of $545 million, indicating that Chevron's cost cuts are working well.
What's more, on a sequential basis, Chevron managed to almost erase its realization losses. This was because the company's crude oil price realization improved by $1 per barrel on a sequential basis. As a result of this improvement in the upstream business, along with a strong performance by the downstream, Chevron posted a profit in the third quarter as compared to a loss in the second quarter. This is shown below: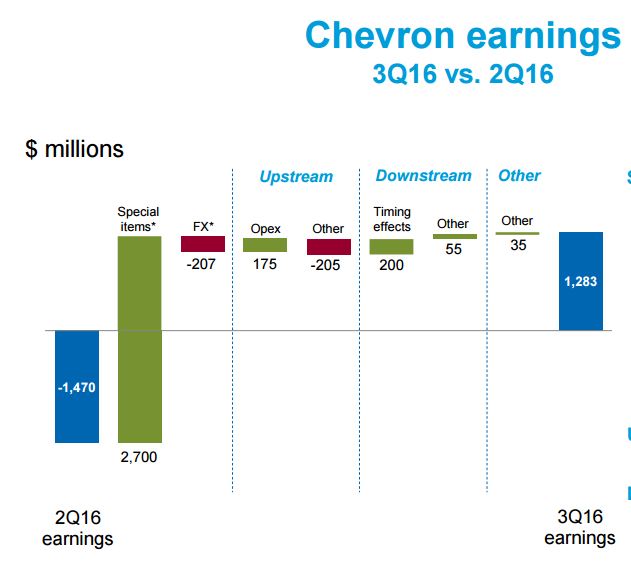 Source: Chevron
Looking ahead, it is likely that Chevron will be able to keep up this momentum in the upstream business due to two reasons - an uptick in oil and gas prices and a strong asset base.
Better oil pricing will lead to better realizations
As mentioned earlier in the article, Chevron's crude oil price realization improved slightly in the third quarter as compared to the second quarter, and this provided a boost to its upstream business. The good part is that Chevron can expect better oil price realizations going forward on account of an expected improvement in oil prices, which will be driven by better demand and lower output.
In fact, as a result of the capital investment cuts witnessed in the oil industry in the past couple of years, production has taken a hit. This is the reason why oil demand has surpassed supply to the tune of 500,000 bpd this year, ultimately reducing the prevalent oversupply. More importantly, it is likely that there will be further inventory corrections in the oil space going forward on account of a proposed production cut by the OPEC.
It is being said that OPEC's deal to reduce oil output to the tune of 650,000 barrels per day is in the final stages of negotiation. As reported by OilPrice.com:
"According to a statement by Venezuela's President Nicolas Maduro, "There is sufficient will among OPEC countries to take the step we need to take in the month of November, (to reach) a forceful agreement to reduce production and construct new mechanisms to stabilize the market."
Thus, Chevron investors can expect to see a persistent turnaround in the upstream performance going forward as oil demand is expected to remain ahead of supply going forward. This is shown in the chart given below: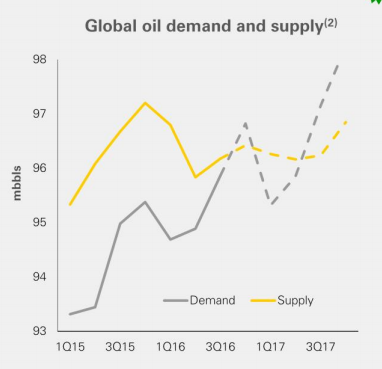 Source: BP
Chevron's improving upstream asset base will be a tailwind
In order to counter the weak oil pricing environment, Chevron has been focusing on those projects that have a shorter turnaround cycle and can deliver higher returns. This is evident from the chart given below: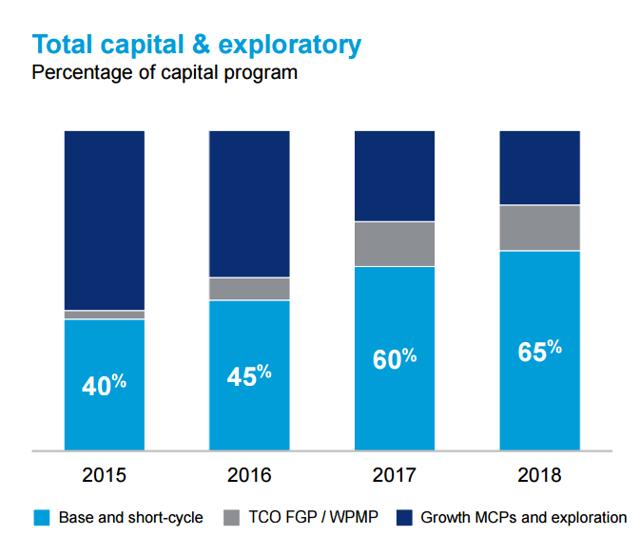 Source: Chevron
As shown above, Chevron will increase its investments in short-cycle projects from 40% of the capital expenditure in 2015 to 65% in 2018. The company will be executing this strategy by enhancing its investments in shale areas, while also developing Brownfield projects. In my opinion, this is a smart move since it takes less capital investments to develop Brownfield opportunities since they already have an existing structure, while the cost of generating shale oil has come down rapidly.
This is the reason why despite a reduction in both operating and capital costs, Chevron's production is set to rise going forward. This is evident from the charts given below: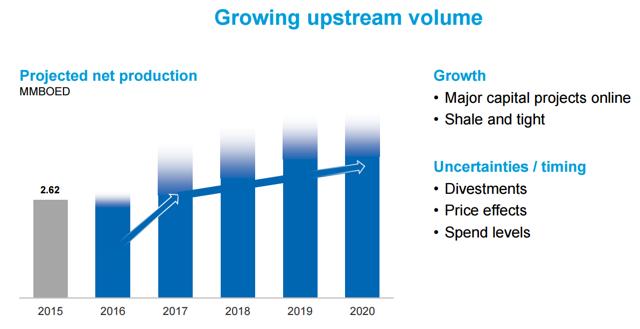 Source: Chevron
From the above charts, it is evident that Chevron is increasing its production in a profitable manner and at lower costs. As a result of this move, it won't be surprising if the company is actually able to improve its margin profile going forward. In fact, the projected cash margin from Chevron's upstream operations is set to go up next year as compared to 2015 levels even at an identical oil price. Moreover, as the price of oil rises, Chevron will witness robust growth in its upstream margins. This is shown below: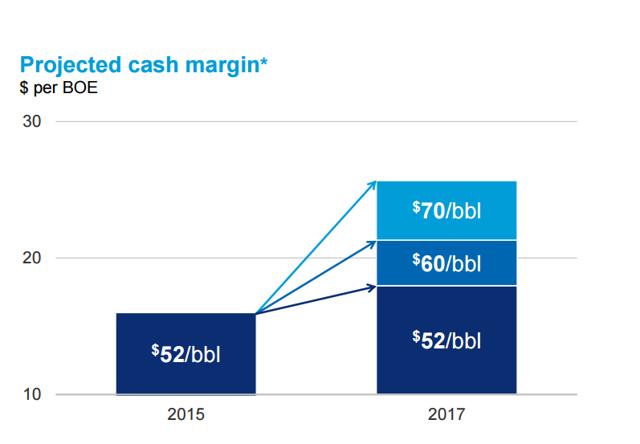 Source: Chevron
Conclusion
Thus, it is evident that Chevron is doing well in a weak oil pricing environment and its performance will continue to get better in the long run as prices get better. The company has managed to lower its costs to an extent that it can generate higher margins even in a challenging oil environment, which is good news for Chevron investors as the pricing scenario gets better.
So, in my opinion, it will be a good idea to stay long Chevron even though it is trading close to its 52-week highs since it could deliver more upside as oil prices get better.
Disclosure: I/we have no positions in any stocks mentioned, and no plans to initiate any positions within the next 72 hours.
I wrote this article myself, and it expresses my own opinions. I am not receiving compensation for it (other than from Seeking Alpha). I have no business relationship with any company whose stock is mentioned in this article.