Wal-Mart's (NYSE:WMT) Q3 results had a couple of encouraging numbers. These included same-store sales increase of 1.2% (although below estimates of 1.3%) and higher earnings at 98 cents a share, more than consensus estimate of 96 cents a share. The management also provided a more optimistic outlook by increasing full year earnings projection to $4.20 to $4.35 a share from earlier projection of $4.15 to $4.35 a share. Still, the stock fell by 4.2% post earnings.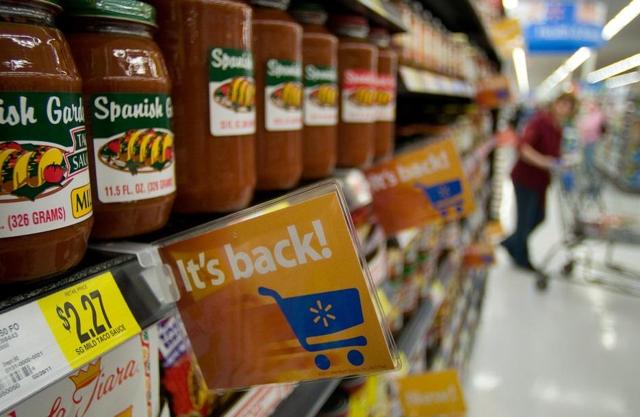 Besides showing same-store sales and revenue marginally lower than projections, the company also pointed the deleterious effect of food price deflation. The management mentioned that this deflation impacted sales in the category by 150 basis points. It is important to note that grocery forms a big portion of total sales within US for the company. Currently 56% of Wal-Mart's US sales come from grocery segment.
The current food price deflation has carried on for several quarters. A lower price for eggs and milk does not translate to higher consumption which means any fall in prices has a similar impact on total revenues. More importantly, this trend has continued for the past several quarters giving year-on-year decrease in prices.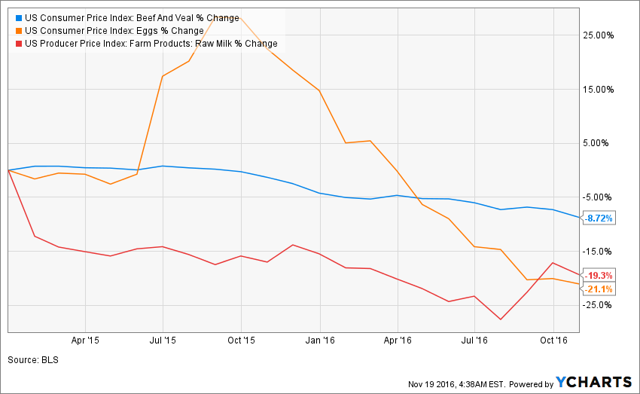 Fig: Fall in prices of Eggs, Milk and beef in 2015 and 2016
One of the main reasons behind this decline is the immense price war within food retailers who are trying to protect their turf and attract more customers. Wal-Mart is the biggest grocer in terms of sale and depends on this segment to increase traffic and gain additional sales in other more profitable segments.
The trend might get amplified in the future
The deflationary environment in food prices can get amplified in the next few quarters. German discount chain Aldi is planning to ramp up the store presence in US. It is looking to reach 2,000 stores by the end of 2018 from current store count of 1,500. Its German rival, Lidl, is also planning to start opening stores in US in the near future and is scouting for locations.
Both these discounters have had a tremendous impact on retail environment in UK where they have seen double digit growth for the past few years. This has led to market share decline for the remaining supermarket chains including Asda (Wal-Mart's UK subsidiary). More importantly they have also brought major price wars within UK.
In this environment if a supermarket chain tries to protect margins they will inevitably see big decline in sales. Asda did not aggressively participate in price cuts in UK which resulted in 5.8% fall in sales in this quarter. In the last quarter this decline was even more severe which saw sales decline by 7.5%.
Heavier reliance of private labels allows Aldi to further reduce their prices. A recent survey by business insider showed Aldi selling a range of grocery items at 30%-40% cheaper than Wal-Mart in US. Wal-Mart has fought back by increasing its investment in pricing discounts and also changing its strategy from price-matching to targeted discounts. Although we might not see a supermarket bloodbath in US at the scale of UK, there will still be greater competition from the two German discount chains and also other grocery chains.
This can lead to the longest period of food price deflations we have seen in history. Wal-Mart, being the largest grocer by sales will see significant impact of this on its comp numbers and overall sales growth in the next few quarters. This is another major headwind for Wal-Mart which can result in lower expectation from the company and further slide in its stock price.
Investor Takeaway
Wal-Mart is facing pressure from food price deflation which is having negative impact on comp sales growth. Wal-Mart makes close to 56% of total sales in US in the grocery segment. Year-on-year food price deflation has lowered the comp growth in the category by 150 basis points. This was reflected in its stock price which dipped from $71.40 to $68.33 as lower than expected comp growth was released.
Unfortunately, for Wal-Mart, this food price deflation might linger on for the next few quarters as we see greater turf wars between domestic chains, expansion of Aldi stores and opening up of Lidl stores in US.
Disclosure: I/we have no positions in any stocks mentioned, and no plans to initiate any positions within the next 72 hours.
I wrote this article myself, and it expresses my own opinions. I am not receiving compensation for it (other than from Seeking Alpha). I have no business relationship with any company whose stock is mentioned in this article.