Regular readers know that I often like junior gold miners [VanEck Vectors Junior Gold Miners (NYSEARCA:GDXJ)] with very high leverage to a big rise in the gold price, so-called "optionality plays," such as International Tower Hill Mines (NYSEMKT:THM) and Exeter Resource Corp. (NYSEMKT:XRA). But it's good to have exposure to a variety of types of miners [VanEck Vectors Gold Miners (NYSEARCA:GDX)], with different strategies and different ways to make gains in the sector.
The current volatile and uncertain period for gold [SPDR Gold Trust (NYSEARCA:GLD), Sprott Physical Gold Trust (NYSEARCA:PHYS)] is a good reminder of the importance of this. In the medium and long term, Trump may mean even higher prices for gold, but in the short term, the hopes and expectations for $1500 gold just around the corner appear to have been set back and at least delayed. So it's good to have some junior miner plays that don't completely depend on a much higher gold price to make big gains.
With this in mind, I want to talk about a little stock called Redstar Gold (OTCQB:RGCTF). This company's main focus is the Unga Gold Project on the Aleutian Islands of Alaska.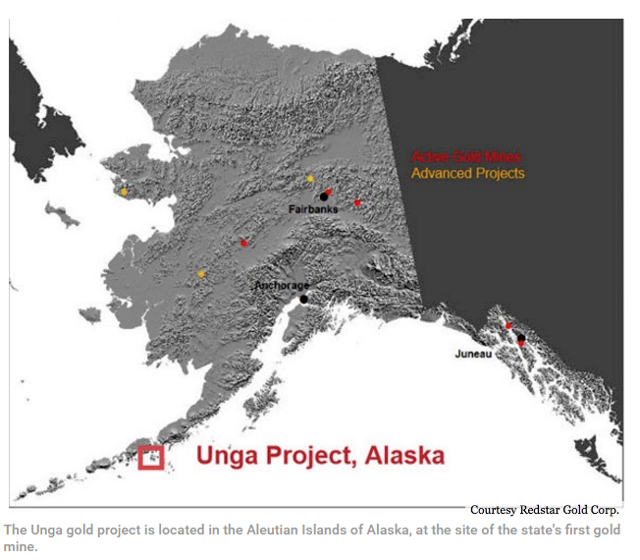 The reason this project deserves attention at such an early stage is the potential to discover a significant high-grade gold deposit there. A recent article on the MINING.com website described the high-grade results of a drill program last year:
An 8-hole drill program at Shumagin in May 2015 yielded several high-grade gold intersections. Assay results included 202 grams per tonne over 1.9 metres and 35.3 g/t over 2 metres.
More details can be found in this news release by the company at the time.
The appealing thing about the potential discovery of a high-grade deposit is that its value will not be so dependent on a rising gold price. High-grade gold can be profitable to mine at current or even lower gold prices, so such a company's share price can make big gains regardless of the gold price.
And the reason that Redstar Gold is topical right now is that the company just completed another drill program on the Unga Project on November 4th, and is awaiting results in late November or December. It is nice to know that there is a potential catalyst for a big gain in the share price in the very near term, rather than having to wait around for a year or two to see if a big discovery happens or not.
It's true that last year's high-grade drill results didn't move Redstar Gold's share price very much for very long, but there is an argument that the company's overall circumstances have improved enough in the meantime to set the stage for a better market reaction to more good drill results this time.
For example, legendary precious metal and natural resource investor Eric Sprott invested $3 million in Redstar Gold in August, representing approximately 12.1% ownership of the company. Sprott's investment has certainly attracted more investor interest in Redstar Gold, so more people will be paying attention when the drill results are announced.
Bob Moriarty of The Gold Report and 321 Gold is also a bullish shareholder of Redstar Gold: He published a detailed article on the company in September. Moriarty explains some financial circumstances about the stock's shares that could provide another positive catalyst very soon:
Strangely, the company has gone from cash poor for years to cash rich. In addition to the cash in hand from the recent private placements they have 39.3 million warrants at $0.10 that expire October 21st and an additional 27.6 million warrants at $0.12 that expire November 27th. Assuming all of those warrants are exercised, that would bring in an additional $7.24 million.

So you have this very unusual situation where I think the stock should go a lot higher than it is today but until all of those warrants are paid for or expire, they will provide a sort of lid over the stock. If the stock went to $0.20 a week from now, a lot of investors would sell the shares to exercise the warrants so the stock would go back down. Interested investors have a three-month time frame where the price of the stock will probably be artificially low.
That three-month time frame with an artificially low stock price, according to Moriarty, ends this coming week, conveniently right before the new drill results are due to be announced. This means all the warrant holders have to commit to exercise their right to buy shares at $0.12 (share price on the Canadian exchange), or buy shares for less on the market if possible, in advance of a big piece of potentially very positive news for the stock.
It will also make sense if Redstar Gold announces good drill results within this coming week, before the November 27 warrant expiration, in order to reward their investors who hold the warrants if and when the Canadian share price rises above the $0.12 exercise price. (Redstar Gold could also extend the warrant expiration date to make sure their investors are not excluded from the potential gains upon the announcement of the drill results.)
In light of this analysis of the shares and warrants, it is notable that Redstar Gold's stock price has not dropped at all in the gold mining selloff since the U.S. election: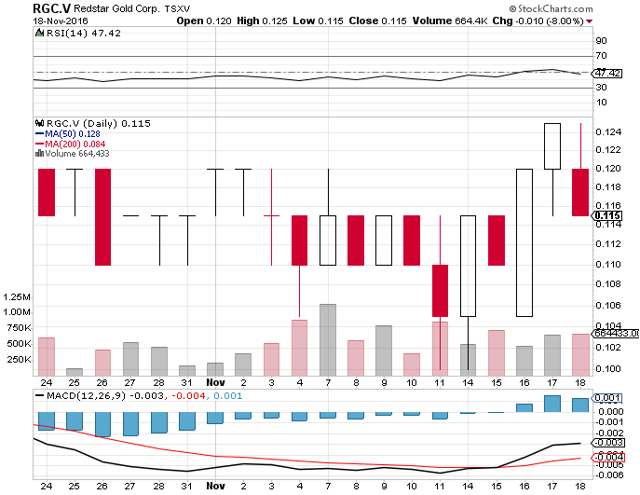 Given the big selloff in the vast majority of gold mining stocks the past two weeks, this stable price action in Redstar Gold stock has to be seen as a bullish sign.
Moriarty mentions that Redstar Gold "has gone from cash poor for years to cash rich." A review of Redstar's most recent quarterly balance sheet, in the report just released Friday, confirms this assessment: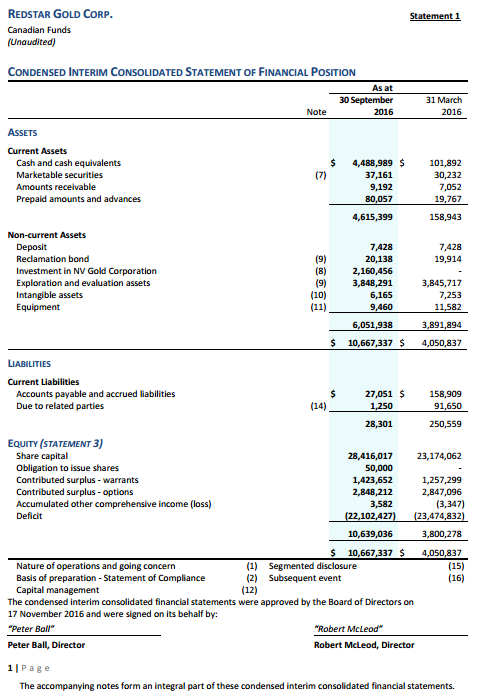 There is one more recent piece of encouraging news for U.S.-based investors in Redstar Gold in particular: The company announced in October that "it has been approved to upgrade its common stock from the OTC Grey Market to the OTCQB Venture Market under the trading symbol "RGCTF," effective October 18, 2016." CEO Peter A. Ball further commented:
The upgrading of Redstar Gold's shares to the OTCQB® will make it easier for our current, and potential, US based shareholders to trade our shares. Additionally, this should improve the Company's share liquidity, assist to further broaden our shareholder base, while increasing our visibility as the United States. The United States is the world's largest capital market and home to our flagship asset, the high grade Unga Gold Project, located in Alaska. Therefore, USA will be one of our primary investor markets. This listing upgrade confirms our commitment to our growing United States shareholder base."
As a U.S. investor in a small Canadian junior gold miner stock on the TSX Venture Exchange, it is reassuring to know that the company is not ignoring those of us who have to invest via the over-the-counter markets.
Of course, I must add a cautionary note to all of this bullish analysis. There's no such thing as a free lunch, and there's no such thing as a 100% sure thing in the stock market. There is no guarantee that the new drill results will match the high-grade quality of last year's drill results. There is no guarantee that the market will immediately recognize good drill results. There is no guarantee that the selling of shares by warrant holders taking profits will not absorb any share buying and still hold the share price down.
But all things considered, I like Redstar Gold's chances here, and I like the risk-reward profile of the stock within a short time frame. It would be very nice for us gold mining investors to be able to make a decent gain on a strong drilling result, while we wait for the rest of the gold market to turn around and recover from the current selloff. In a perfect world, we could even take short-term gains in Redstar Gold and re-invest them in other gold miner stocks that are available at bargain prices after the selloff.
That may be asking a lot, but at least it looks like a decent shot. And a decent shot can be worth a lot when you're dealing with a small gold mine explorer with a market cap under $30 million. I recommend that readers check out the links I have provided, do your own due diligence, and see if you want to take this shot.
Disclosure: I am/we are long RGCTF, THM, XRA, PHYS.
I wrote this article myself, and it expresses my own opinions. I am not receiving compensation for it (other than from Seeking Alpha). I have no business relationship with any company whose stock is mentioned in this article.
Editor's Note: This article covers one or more stocks trading at less than $1 per share and/or with less than a $100 million market cap. Please be aware of the risks associated with these stocks.