Elliott R. Morss ©All Rights Reserved
Introduction
After an excellent second quarter, many pundits expected the third-quarter results from Xinyuan Real Estate (NYSE:XIN) to be even better. Accordingly, the stock price rose to over $7 in September. However, XIN just lowered its profit projections for 2016 from 50% to the 20-25% range.
And as often happens, word leaked out before the announcement, and XIN stock price fell to just under $5 on November 14th.
A significant reduction in expected profits is always worrisome. In what follows, consideration is given to the reasons for the reduction and XIN's overall situation.
The Chinese Real Estate Market
XIN is a real estate developer, an inherently risky business. Developers have to borrow, buy land, build and sell in the shortest time possible. Delays can cause real problems. XIN reports the primary reason for the reduction in profit growth is a self-imposed selling delay resulting from new government restrictions. Local governments of about 20 cities are trying to "cool down" their real estate market by requiring larger down payments and other home purchase restrictions, including caps on maximum square meter prices.
This is reason to worry if, as some have claimed, a real estate bubble exists in China. This does not appear to be the case. Overall population growth and city migrations are resulting in a real and very rapidly increasing demand for city housing. And as incomes grow, there is a further demand to upgrade. Table 1 provides population growth rates for major cities in China. The growth is formidable; there is nothing like this in the West.
Table 1 - Populations of Major Chinese Cities (in millions) and 2010-2015 Changes

(Source: National Bureau of Statistics of China)
As a consequence, prices are rising rapidly because there is a supply lag in meeting the growing demand for housing.
Coping With Government Restrictions
The local restrictions apply to residential but not commercial properties. As a consequence, XIN is delaying sales on residential properties and is working to sell more commercial properties:
"... we expect to adjust our sales policy in Q4 by increasing commercial sales, which are not affected by restriction policies, while decreasing residential sales. In Q3, our residential sales accounted for 93% and commercial was 7%. While in Q4 we expect the residential sales would account for 60% and commercial sales for 40%. We also decided to temporarily halt residential sales for certain projects as we believe strong unit demand will recover when restrictions were lifted."
How long will the restrictions last? Again, I quote from XIN:
"Based on prior experience with government policy to cool China's housing market, the pattern has been a slowdown in purchase demand, followed by even higher prices and sales volumes once restrictions were relaxed, especially in the cities and regions where we have operations."
Revenues, Prices and Profits
As Table 2 indicates, all three key indicators are up. The local restrictions were imposed near the end of the third quarter, so their primary impact will show up in the final quarter of 2016.
Table 2 - Quarterly Results

Table 3 gives a breakdown of price changes RMB price per m2 000 for XIN's projects. The company has pointed out that these average price changes do not necessarily reflect underlying demand. Instead, they might reflect a different composition of sales - less or more expensive units selling. Nevertheless, these numbers, particularly those in red, bear watching.
Table 3 - Price Changes for XIN's Projects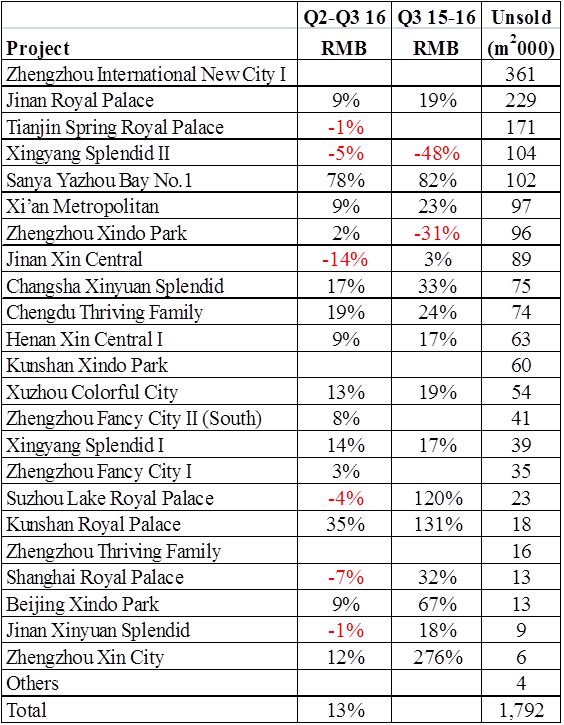 Just How Bad Will the 4th Quarter Be?
XIN said: "... factoring in the foreign currency exchange impact, we are expecting full-year contract sales and net income to grow between 12% to 17% in U.S. dollar terms compared to last year." So let's take the mean of XIN's projections - 14.5%. Table 4 provides the result by projecting final year results and then subtracting the first nine months. It appears revenues will fall 37% and profits will be down 4% relative to 2015. In all likelihood, the announcement of these results will result in buying opportunities.
Table 4 - Revenue and Profit Projections (US$ thousands)
Departure of George Liu, Chief Financial Officer
XIN has had frequent turnovers in its chief financial officer position. Most recently, George Liu, a Cornell Business School graduate, held the position. His departure was unfortunate, because he had developed a good rapport with Western investors. In addition, it added to concerns over internal company dynamics resulting from yet another CFO departure.
Cash, Debt and Inventory
Real estate companies finance inventory developments through profits and borrowings. Table 5 suggests that XIN is holding an abnormally large cash balances, perhaps to see how long the government restrictions will last.
Table 5 - Cash, Debt and Inventory

I quote again from XIN:
"In this quarter, while the operating cash, the net cash from our operating activities actually increased to US$165 million mainly because the subsidiaries are collecting more receivables from sales and also the mortgage from the bank. And also we had a very limited payment to our land cost. And we are doing a series of financing activities including construction loan, trust loan, onshore corporate bonds, senior notes and shareholders loan and also capital lease, which all increased the cash inflow. The cash payment for Q3 was about US$57 million. So net-net, the increase was about US$300 million. And also talking about the balance sheet, the real estate property under development, because in Q1 and Q2 we acquired three parcels of land, and the values of these lands are now in the real estate property under development. The pre-sales hasn't started yet. We are in the construction and also master planning of this project."
The Oosten Property
While XIN provides detailed information on the status of its real estate holdings and sales in China, very little information has been released to date on its major US holding. The company just reported that 76% of its units had been pre-sold by the end of the third quarter. More notably, XIN indicated that "about US$340 million revenue to be recognized in the coming quarter." Certainly good news. However, it is not at all clear how this squares with the Table X estimate of only $243 million for the entire quarter.
Saving Money by Reducing Interest Costs
XIN has started swapping high interest debt with local bonds. The company reports:
"We completed our debt refinancing through a series of activities, including the issuance of US$300 million of 8.125% senior notes due in the year 2019, and the early redemption of 13.25% senior notes due year 2018."
This was not quite as good as it sounds, because it had to pay a $12.1 million prepayment redemption fee on the senior notes. I estimate the interest savings resulting from the swap to be about $20 million over the next two years, meaning the net savings will only be $8 million.
Share Repurchases
The company was reluctant to go into details on this matter. It said it has repurchased about 5 million ADS this year. According to its SEC financial reports, XIN's diluted shares were 146,487,949 at the end of 2015, falling to 138,180 by the end of the 3rd quarter, suggesting a buyback of 8,307 shares, equivalent to 4,143 ADS. In any case, it appears XIN has responded to Western investors' requests and "remains committed to our share repurchase program."
Conclusions
Real estate development is a risky business. For example, XIN spent about $176 million on property in Liyuan in Tongzhou district, adjacent to Beijing. I quote the company chairman:
"As the eastern gateway of Beijing, the Tongzhou District has experienced rapid population growth and rising demand for residential property in recent years. The Tongzhou District will also serve as a new location for Beijing City Government offices that are being relocated from the Beijing city center."
Unfortunately, the planned move of government offices has been delayed. Delays happen all the time, but they are not good in real estate.
However, at least for now, XIN has very reasonable numbers, a price-to-earnings ratio of 4.9, a dividend rate of almost 8%, with a modest payout ratio. However, the next quarter will not be good, with revenues and profits projected to decline. Let's hope XIN does not use these declines to reduce its next dividend payout.
But things look quite good for 2017. Hopefully, the local government restrictions will at least be softened and the central government will move ahead with its relocation plans.
Disclosure: I am/we are long XIN.
I wrote this article myself, and it expresses my own opinions. I am not receiving compensation for it (other than from Seeking Alpha). I have no business relationship with any company whose stock is mentioned in this article.