McDonald's (NYSE:MCD) is going for a makeover to attract more customers and use technology to provide better dining experience for customers. McDonald's has experimented with table service at over 500 restaurants in New York, Florida and Southern California. After seeing positive results it is now planning to roll out this initiative in all of the more than 14,000 restaurants in U.S. It is also planning to add self-serve kiosk ordering and mobile payments to make the ordering process seamless.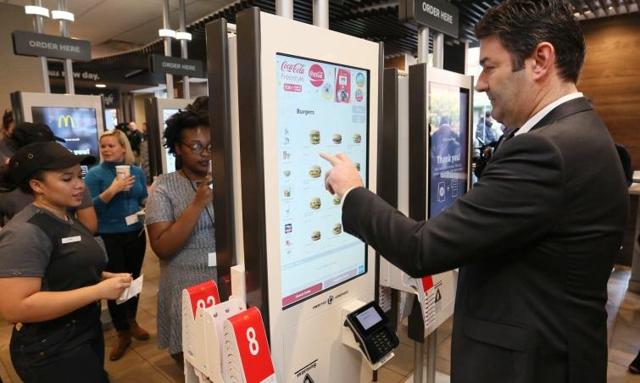 McDonald's has tried to fight back the challenges from other competitors like Panera Bread by adding more customization within its menu. However, an expanded menu inevitably brings a number of issues. The biggest problem is slower food delivery and longer ordering lines. Self-serve kiosks are a perfect solution for this problem as they allow customers to order after looking at all the customizations possible. They are also more relaxed while ordering which should provide an increase in check size.
Waiting at the counter is also a bottleneck in the number of customizable options which the company can provide to customers. Greater options would lead to more time for preparing which is an inconvenience for customers waiting at the counter. However, if they are waiting at their table for the food to be served, most of the customers would be willing to wait longer allowing the company to provide a more diverse menu.
Challenges with this move
These changes will require additional investment between $28,000 and $56,000 per restaurant. For higher volume restaurants like the one at TriBeCa neighborhood of Manhattan, the investment would be closer to upper estimates. Older ordering option will also be continued.
This initiative has been rolled out in other markets like Canada, Britain and Australia, where they have seen almost a quarter of transactions been done at the in-store screens. Nevertheless, franchisees who have to foot the additional investment would face higher costs on the back of other changes made within McDonald's.
A bigger issue is the brand perception. This initiative would be taken positively by younger millennial generation who are more tech-centric. However, older generations who see the restaurants as a place to quickly get food within a budget might be put-off by these changes. During the announcement CEO Steve Easterbrook stressed that this was not a move for a different McDonald's but to have a better McDonald's. The management would need to make the current changes without alienating the core customers.
High time for these changes
The company has seen falling customer count for the past four year in U.S. The decline in traffic reflects the decrease in popularity for the brand as other alternatives gain traction.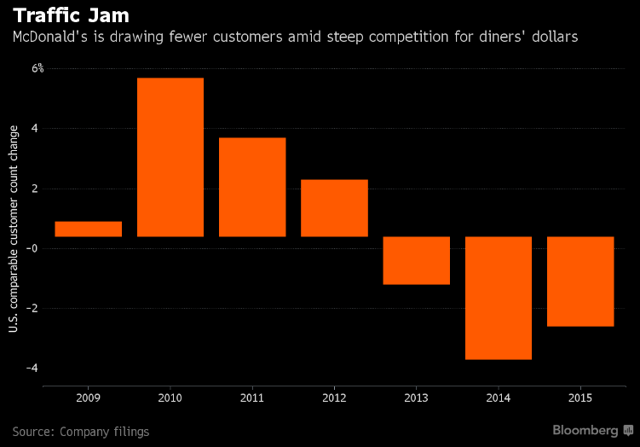 Fig: Fall in customer count in the past few years
After taking over as CEO, Steve Easterbrook has made a number of changes like changing drive-thru ordering, improving quality of food by getting rid of certain antibiotics and increasing the speed of the kitchen. Introducing all-day breakfast also gave a healthy boost to sales.
However, changes in customer preferences required a more drastic adjustment for the company. The new initiatives would not only provide a better experience for customers but have shown to give improvements in key metrics. The test runs in 500 restaurants showed increase in check size from average of $5 to $6. They also showed substantial improvement in customer satisfaction scores, especially for families who like having their food brought to them.
Valuation
After showing over 25% increase in 2015, McDonald's stock has been catching breath in 2016. The stock increased by 1.57% YTD compared to 6.75% by S&P500. One of the main reasons for this performance was lower comp sales numbers, especially in the domestic market. As the new initiatives are rolled out in all the restaurants we should see a good bump in comp sales growth within U.S. which can provide sustainable upward momentum for the stock.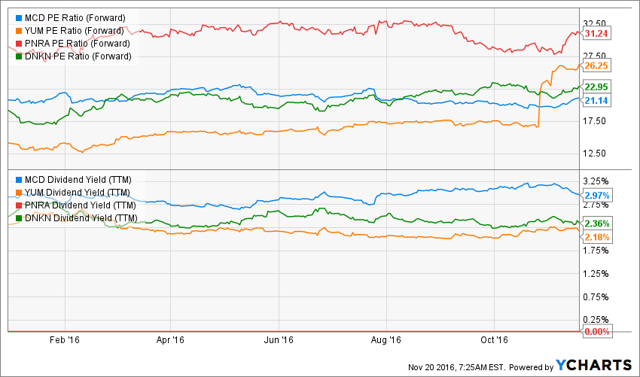 Fig: Comparison of forward PE and yield between MCD, Yum brands (NYSE:YUM), Panera Breads (NASDAQ:PNRA) and Dunkin Brands (NASDAQ:DNKN)
Currently it is trading at 21.1 times forward earnings, lower than other competitors and is also giving healthier yield.
Investor Takeaway
McDonald's has launched new initiatives which include providing table service, mobile payments and self-serve kiosk at all restaurants in U.S. These changes should align the restaurants closer to the changing customer preferences. They should also lift the average check size as customers can order after seeing all the customization options available and do not feel pressured while ordering.
In the long run we might see more customization options from McDonald's as the food delivery bottleneck is lifted by table service. The company should deliver better comp numbers in 2017, especially on the back of lower growth in 2016. This should give a good boost for the stock in the next 12 to 18 months.
Disclosure: I/we have no positions in any stocks mentioned, and no plans to initiate any positions within the next 72 hours.
I wrote this article myself, and it expresses my own opinions. I am not receiving compensation for it (other than from Seeking Alpha). I have no business relationship with any company whose stock is mentioned in this article.