This week saw the defense sector slow down a little bit after an exciting post-election run-up. As share prices settled into some new 52-week highs, the contracts kept rolling in. Since October 1, 2016, this is where the major players sit with DoD awards:
With the help of six new contracts or modifications to existing ones, Lockheed finally eclipsed $3 billion for the fiscal year. BAE Systems is just one decent contract away from cresting the $1 billion mark, and Boeing is nipping at their heels. Boeing is the most surprising, especially as they pivot their defense sector away from large projects.
Significant Contracts
The first contract that caught my eye was one awarded to Lockheed. The amount isn't significant at only $27 million, but what it was for piqued my interest. This contract (W56KGY-17-C-0001) pays Lockheed to add counter-unmanned aerial system capabilities to the AN/TPQ-53 Radar system. The truck-mounted unit is a replacement for two systems currently serving the US Army and is used to detect and identify indirect fires. With 104 under contract right now, the increased capabilities bode well for the future of this platform. This contract also speaks to the changing battlefield and the constantly evolving needs of the US military. Just five years ago, the United States and its allies were the only serious operators of drones. Today, we have Chinese drone swarms, Iranian suicide drones, crude ISIS drone bombs, and Russia with their own dreams and aspirations to enter this space. Being able to combat enemy drones effectively will become a higher priority, the Q53 is an important piece to this puzzle.
Leidos (NYSE:LDOS) was awarded a $71 million contract modification (W911QX-16-C-0012 ) to sustain the Saturn Arch quick reaction program. This US Army program was initiated in 2010 to better combat IEDs in Afghanistan and is responsible for countless lives saved. Leidos seems to be a pretty interesting way to get some defense sector exposure without paying up for the big boys. Right now, Leidos is trading at about 13 times earnings and offers a 2.7% yield. They are very active in the DoD contracting arena and have won several significant contracts in the last year. Even pushing up against their 52-week high investors may want to take a deeper look.
Boeing, along with Bell (NYSE:TXT), received a $30 million contract for test planning and technical reviews of the MV-22 Osprey (N00019-12-G-0006). This craft, a tilt-rotor airplane/helicopter transformer monstrosity, has been in service for a while now and has hundreds of thousands of flight hours under its wings. This is a unique platform with a wide range of uses. The range and lift capability of the Osprey is indispensable as military leaders develop strategy and tactics to enable the military to penetrate and survive in denied areas. Bell's next generation tilt-rotor craft, the Valor, is looking mighty attractive and will be a great program for the JPO of Bell and Boeing.
Oh yeah, Lockheed also got a $1.2 billion contract (FA8615-l 7-C-6045) to upgrade some F-16 jets for the Republic of Korea, no big deal. The company has been executing incredibly well on the contract front, and is over triple the next closest contractor. Not much more can be said about Lockheed, their numbers speak for themselves at this point.
The Dust Settles
Last week's post-election insanity was an exciting week for anybody who follows the defense sector. As I wrote here, usually sleepy companies like Huntington Ingalls enjoyed a market beating week and HII went up 20% in just five trading days. This week, the excitement seems to have died down and only Lockheed and Huntington outperformed the S&P.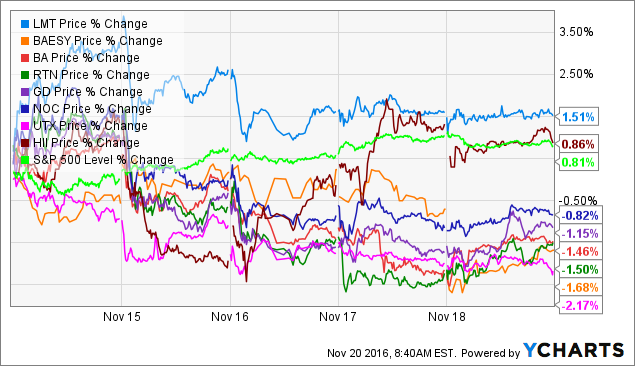 Some reversal in last week's gains should have been expected. Many of those companies hit all-time highs and investors were bound to cash in.
We are also starting to see Mr. Trump select his cabinet members and the country's national defense policies are starting to show through. So far notable appointments include retired Lieutenant General Mike Flynn as the National Security Adviser and Senator Jeff Sessions as the Attorney General. An up-to-date list on all cabinet appointments can be found here.
The retired three-star general was incredibly active in the intelligence community prior to being all but forced into retirement at a relatively young age. He is not known for holding back and since his retirement he has been a very vocal supporter of Mr. Trump and even led a "lock her up" chant at a rally prior to the election. The intelligence officer is wholly devoted to the United States and brings a more hawkish bend to the National Security Adviser seat. We should expect an increase in the response to terrorism and anything else that challenges America.
Mr. Trump is also meeting with Mitt Romney, the defeated Republican presidential nominee from 2012, about becoming Secretary of State. Few Republicans have been so vocal in their rejection of Mr. Trump as not just a candidate but also as a Republican. I'm not sure how to interpret this move, but there is little doubt on both sides of the aisle that Mr. Romney is level-headed individual who would do fairly well in that capacity.
The Defense Secretary seat is still up in the air, though a 39-year old Army veteran is a popular leading name. Senator Tom Cotton is a veteran of both the Iraq and Afghanistan wars and is also the youngest member of the Senate. The Arkansas Senator would bring a more supportive tone to defense spending and having been subjected to the defense budget has a deeper understanding of what it feels like on the ground to have money taken away.
The Washington Examiner just reported that retired Marine Corps General James Mattis, affectionately known as "Mad Dog" and "Chaos" will be meeting with Mr. Trump about the SecDef spot. General Mattis is the former commander of US Central Command and is respected, and feared, by politicians and the military alike. For reference this man is quoted as saying:
"You go into Afghanistan, you got guys who slap women around for five years because they didn't wear a veil. You know, guys like that ain't got no manhood left anyway. So it's a hell of a lot of fun to shoot them. Actually it's quite fun to fight them, you know. It's a hell of a hoot. It's fun to shoot some people. I'll be right up there with you. I like brawling."
I'd much rather have General Mattis as president, but as Secretary of Defense he would do incredibly well for the country and our military.
The cabinet is taking shape, indeed, and it all bodes well for the defense sector in my opinion. If more money is headed to the DoD warchest, where will it go and who will benefit the most?
Small Unit Leadership
The future of war is always horrifying. Man has always sought more advanced ways to kill more people. This will never change, no matter how badly we wish it would. Since 2001, the United States has been training and equipping its military to defeat poorly armed but incredibly motivated adversaries that blend in well with the local populations. Troops in Iraq and Afghanistan have had their gaze fixed to the ground and horizon to spot IEDs and local insurgents armed with AK-47 rifles. The military is now transitioning to fight a better equipped enemy with air power, precision munitions, and indirect fire capabilities.
Entire areas of enemy territory have been turned into lethal killzones both in the air and on the ground. The Marine Corps is planning on penetrating into denied access areas with ground troops. The Army is planning mostly the same, calling their strategy Multi-Domain Battle. As the range of missiles expands and missile defense increases, there is little choice but to press on over the ground. Integrated fire control systems make massed troops extremely vulnerable targets. For example, a drone scouting an area spots large numbers of enemy troops and communicates the grid back to a missile battery which launches munitions to eradicate the threat.
In order to survive in this new era of warfare, troops will rely on small unit maneuvers, mobility, communication and camouflage. As investors, we can make some conclusions and hopefully make some money.
Harris (NYSE:HRS) is a huge supplier of encrypted voice communication systems to the US Military. With several small groups of US troops moving rapidly in a battlespace, their ability to communicate effectively will be paramount.
L-3 Communications (NYSE:LLL) is another way to capitalize on the increased need for communication capabilities, especially wireless data and encryption.
Oshkosh (NYSE:OSK) is the foremost supplier of tactical vehicles to our ground forces. The new JLTV, which was brought forward to maximize mobility and survivability is a great product. It can be outfitted in many different ways to cater to the mission and provides great protection to the occupants.
The Bell/Boeing V-22 Osprey is a long-range tilt-rotor craft that can reach almost as far as an F-35B. The speed and maneuverability of the craft is a natural fit for a dynamic battlespace that changes rapidly.
3M (NYSE:MMM) makes a fair amount of our currently worn ceramic armor plates. They're heavy, but can withstand a few hits from a 7.62x39 round out of an AK. A company of this size won't have their needle moved with a new armor contract, but it is something to consider.
There are many ways to pivot towards this changing reality facing American troops, the above are just some I'm keeping in mind.
In Other News
The Boeing defense shift continues, this time with job cuts and moves.
China is seeking to establish more foreign military bases as President Xi works to make China a true global power.
The fight for Mosul continues in Iraq, and it appears likely that US Troops are in the city... again.
The Marine Corps wants a vehicle that can fit inside the Osprey.
Lockheed found a customer for their blimp. I was surprised to find they made a blimp, but it seems to have a market.
On Seeking Alpha
Kayode Omotosho covers Raytheon's Forcepoint and how it impacts the company and stands up to competitors.
Periwinkle Investing offers a sobering look at Northrop Grumman and the United States budget.
Sure Dividend delivered an article from Bob Ciura on Lockheed Martin and why it is a great dividend pick.
The Coming Week
By the time this posts, I'll be in St. Louis Missouri visiting my family there for the Thanksgiving holiday. As a result, I will not be posting an update for next week. I'll still be keeping track of the contracts and any news that gets my attention, so set aside a little extra time to read the two week long update.
I appreciate you reading, please leave your thoughts and questions in the comments. If you don't already follow me and would like to receive the (mostly) weekly updates on this sector I'll provide, please hit follow.
Disclosure: I am/we are long RTN, BAESY.
I wrote this article myself, and it expresses my own opinions. I am not receiving compensation for it (other than from Seeking Alpha). I have no business relationship with any company whose stock is mentioned in this article.
Editor's Note: This article discusses one or more securities that do not trade on a major U.S. exchange. Please be aware of the risks associated with these stocks.