First Solar (NASDAQ:FSLR) shares declined ~20% since our last report as weak guidance was released. After scanning through investor materials, presentations and the sort, there is no doubt that high profit profile project opportunities are just about gone. That said, analysts for the most are switching their recommendations and cutting price targets, given continued uncertainty surrounding supply/demand, restructuring events, and aggressive transitory investments by FSLR management.
Overcapacity View
ASPs are now trending at $0.40 per watt, about 25-30% lower than the beginning of this year. The primary driver for this has been excess supply coming from the top solar manufacturers (currently, there are an estimated 150+ worldwide). Industry watchers are also expecting an additional inventory offload over the next couple of quarters, which could introduce additional supply pressure. Second, slowed ITCs from the US and reduced subsidies from China have hit near-term demand. And last but not least, customers have also delayed purchases hoping that average project prices will collapse more. Talk about a triple threat!
Lately, we are seeing some companies continue their production ramp in an effort to absorb market share, while others are reducing exposure to avoid razor-thin margins walking into 2017. To provide some color to the situation, we compiled a small list of upstream players and their associated cost per watt profile estimates:

We developed this table through online research and our own analysis. What we can conclude from this small sample is that for most projects accepted today, on average, it will be a money losing prospect. As we explained before, ASPs could also decline further, which will either result in tightening supply or companies will face balance sheet deterioration. Under these tough conditions, it's hard to imagine how long this downturn can actually last.
In the last trough, during 2011-2012, there was a list of ~40 solar-related bankruptcies, and this happened when financing was extremely cheap. We would road map that this downcycle may persist for another 12-18 months, and will discuss this problem in more detail in the "Competitors In Trouble?" section.
The Grand Plan
First Solar has made a huge strategic adjustment by canceling the Series 5 product line, and going full steam ahead with the Series 6. This transition involves cutting the workforce, revamping operating facilities, and making huge investments in working capital for the product itself. All in all, management projects that this will cost approximately $900 million for full implementation. The market appears to view this plan with some skepticism as there are execution risks, and of course a huge cash draw down. But we think it makes sense given that the Series 5 was less transitory, and perhaps more commodity-like. The Series 6 is highly differentiated and the cost profile is very, very low relative to what the competition is offering.
The goal is to improve the energy conversion efficiency up from 17% to 19%, a two full percentage points. Regarding the cost, management expects a 40% reduction, which essentially translates from a current cost per watt of $0.34-0.35 to a stellar range of $0.20-0.21 in the next 2 years. If this can be achieved as expected, we think commercial customers would come running to First Solar.
Competitors In Trouble?
Bears continue to claim that the industry will unravel and negative P&Ls are just around the corner. It is somewhat curious that most players have yet to provide 2017 guidance and beyond. And interestingly, the market has already discounted most of these names, stock prices being down more than 50% in the last year or so. If that is the concern, we think there should be a focus on balance sheet strength, particularly if manufacturers are expected to hold their "capture market share" strategies. This chart makes for an interesting compare: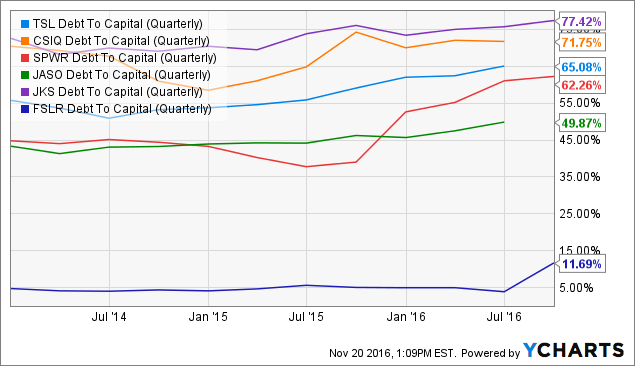 TSL Debt To Capital (Quarterly) data by YCharts
Given already high debt ratios, and a possible cash crunch, it makes sense to review liquidity: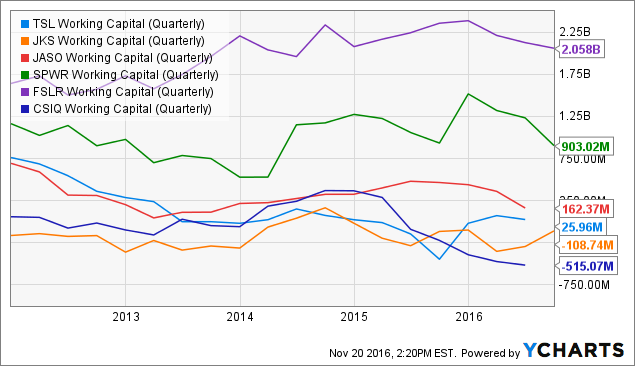 TSL Working Capital (Quarterly) data by YCharts
In our view, there are many solar companies, not necessarily the ones listed above, that are not well positioned for the inevitable downturn.
Valuation Estimate
There are many moving parts, particularly in this cycle, so projecting near-term financial results is pretty difficult in our opinion. Wall Street analysts have revised their estimates several times over in the last few quarters just for FY17. First Solar just guided a non-GAAP EPS of $0.00-0.50, which basically excludes all the one-time items.
In any event, we think it makes sense to model the long-term smoothed financial results for First Solar. Below, we have generated three different scenarios that could develop:

Project sales revenue is attached to the expected Gigawatt rollout over the next few years. Margins for each case have been adjusted against historical ranges and managerial guidance. We expect an average of $300mm in capex, excluding working capital for R&D and depreciation, but this can also vary substantially from year to year.
Today, the net cash position is approximately 1.3 billion, but the future amount is difficult to forecast in our opinion given that cash conversion will be lumpy. Moreover, the business will receive cash inflows from the California Flats and Moapa projects in addition to the cash outflows for restructuring and the Series 6. Ultimately, we provided a range between $800mm to $1.2 billion. Some expect that the company may end with a net cash position of $1.5 billion by the end of the FY17; so we think our assumptions are conservative; however, some research firms, like UBS coverage are not so optimistic.
To further narrow down the near-term fair value range, we have provided a sum of the parts valuation analysis:

For context, in the last 10 years, First Solar has generated an average of $350mm in net income per year, even after including years with losses. Given that the environment is more competitive and margins have been squeezed structurally, we offer a lower range of possible earnings between $100mm and 300mm. For each, we have a mid-cycle earnings multiple between 10x and 14x.
After brief discussion with one of my friends, there was a concern related to the value input of the CAFD investment. Fortunately, this is a long-term investment piece which has not contributed anything to earnings to date, but it is expected to do so within the next 2-3 years. The consensus valuation for this bit is between $2-4/share.
Opportunities/Risks
Major Opportunity: If ASPs realize a reversal long term, up from $0.30-0.40 range back to $0.45-0.50, First Solar would realize a massive profit advantage.
Major Risk: First Solar uses cadmium telluride. If silicon material prices continue to drop, competitors will continue to capture a relative cost advantage.
Bottom Line
The industry is still caving in, guidance was murky, and the transition will be challenging. However, we cannot label strategic investments as a "cash burn" as some have put it. First Solar has a proven track record and the plan will likely prove to be a success. Volatility will persist as more headline risk unfolds, but we are fairly confident investors can achieve double-digit annualized returns. Thank you for reading and please comment below.
Disclosure: I am/we are long FSLR.
I wrote this article myself, and it expresses my own opinions. I am not receiving compensation for it (other than from Seeking Alpha). I have no business relationship with any company whose stock is mentioned in this article.
Additional disclosure: We plan to accumulate more shares in FSLR below $30