My last Seeking Alpha post was three months ago where I argued that markets will continue their ascent and being short volatility by being long (NYSEARCA:SVXY) will continue to be a sound strategy. I don't like to pound the same thesis day in and day out but lately I decided to keep a blog to record my actual trades and rationale behind those trades on a weekly basis.
VIX index dropped by 9% last week, closing at 12.85. The drop is attributable to continued gains in major US indices along with volatility diminishing due to resolved uncertainties with regards to elections and interest rate hikes.
Fed's December hike is priced into the markets, moreover bond markets continued their strong selloff throughout the past week. I noted in my previous posts that the biggest current threat to higher stock valuations are lower bond prices. So far, stocks have been able to shrug off higher bond yields and that is a very positive development. Covering short eurodollar futures a week ago continues to look like a bad trade as I have now left 40 basis points on the table.
I believe that secular dynamics in working population and technology advancement will keep a strong cap on inflation for the foreseeable future, but monetary and fiscal policies can trump these secular pressures in the short to medium term. Nonetheless, bond prices must at some point stabilize, especially given the fact that the majority of the move is based on a speculation of massive changes in US fiscal policy, which may actually never occur.
Back to the good news - equities keep going higher and I believe we will start witnessing smaller weekly trading ranges pushing realized volatility lower. That's how I continue to position myself as I have made no trades last week, thus no changes to my holdings.
Positions:
Long 360 SVXY calls strikes 100, 120, 130, expiring January 2018
Short 45 SVXY calls strike 155 expiring January 2018
Long 600 VIX futures puts, strike 14 expiration January 2017
I'm noting the massive increase in AAII bullish sentiment over the past two weeks and will closely monitor weekly report to see how sentiment changes over the next couple of months. I use sentiment numbers as a contrarian indicator on the downside (i.e. when bears significantly prevail over bulls). It gives too many false signals when bulls massively outnumber bears.
I will also monitor $BPNYA and $NYA50r to see signs of overbought conditions. These indicators are good for catching bottoms, but tops are much more difficult to pinpoint and can also result in many false signals. $NYA50r is at 54 implying internals are nowhere close to being overbought.
Account performance YTD: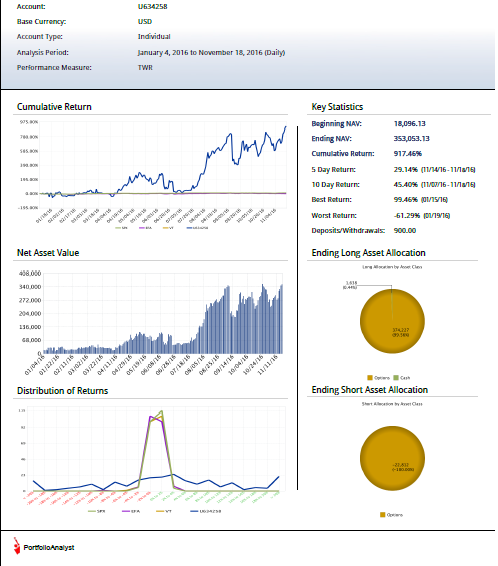 Related ETFs: (NYSEARCA:VXX), (NYSEARCA:UVXY), (NASDAQ:XIV), (NYSEARCA:VXZ), (NASDAQ:ZIV)
Disclosure: I am/we are long SVXY CALLS.
I wrote this article myself, and it expresses my own opinions. I am not receiving compensation for it. I have no business relationship with any company whose stock is mentioned in this article.