Vodafone (NASDAQ:VOD) shareholders need patience. The stock tumbled in 2016 and is now approaching $25, a level that was not seen since Vodafone sold its minority stake in Verizon Wireless in 2014. One reason for the poor performance are currency effects, a second is the overall weakness of the European telecom sector. There is not much Vodafone can do about these factors, but it is very important that Vodafone returns to growth and that EBITDA and cash flow improve in the near future to support the share price and the dividend.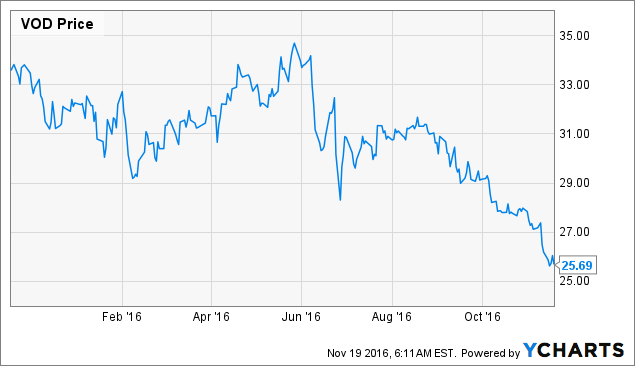 I believe that the next year will be important for Vodafone shareholders, therefore I will dig a little deeper than usual. In the first part of this series, I try to give some background information, and put emphasis on what concerns me as a dividend investor and Vodafone shareholder, the company's cash flow, leverage and debt. In the second part, I will explain why there are still good reasons to be optimistic and why I bought some more shares in the current phase of weakness.
Vodafone reported half-year results on November 15. Overall, the business performance was okay, and I could not find any real high- or lowlights. When looking at the figures, the most striking fact is that Vodafone ended the half-year with a net loss of €5.0B ($5.4B), mainly due to a non-cash impairment in India of €5.0B. The bottom line result looks bad, but more important than net earnings are EBITDA and cash-flow as they determine Vodafone's capability to manage debt and pay dividends.
Although group revenue fell from €28.2B ($30.5B) to €27.0B ($29.2B) and EBITDA came in lower at €7.9B ($8.5B) compared to €8.0B ($8.4B) in 1HY16, the results are actually encouraging because service revenue and EBITDA grew organically by 2.3% and 4.3%. Another important aspect is that organic growth has actually accelerated over the last few quarters.
Currencies and the Brexit
One major change in the new FY17 (which ends on March 31) is that Vodafone started to report in Euros and not in British pounds any more. This means that also the dividend is now declared in Euros and then converted into dollars or pounds.
The most significant event for Vodafone shareholders was the UK's decision to leave the European Union in June (the Brexit). The British pound took a dive, falling to 20-year lows against the dollar which is one reason for the poor performance of VOD, at least for dollar investors.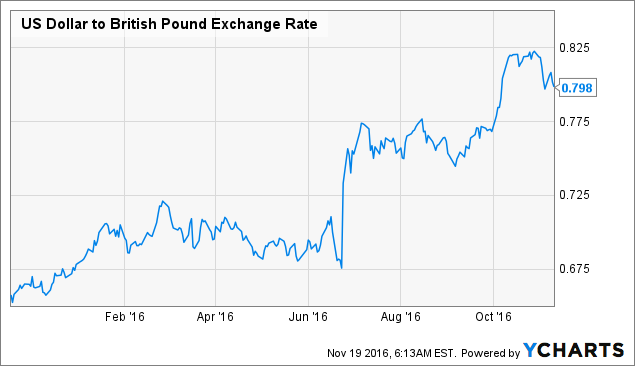 US Dollar to British Pound Exchange Rate data by YCharts
If we look at the performance of Vodafone ordinary shares in pounds, the picture looks a bit brighter. A loss of 10% in British pounds compares to 24% for the ADS in dollars. One Vodafone ADS represents ten ordinary shares.
Vodafone Group Plc. (London Stock Exchange)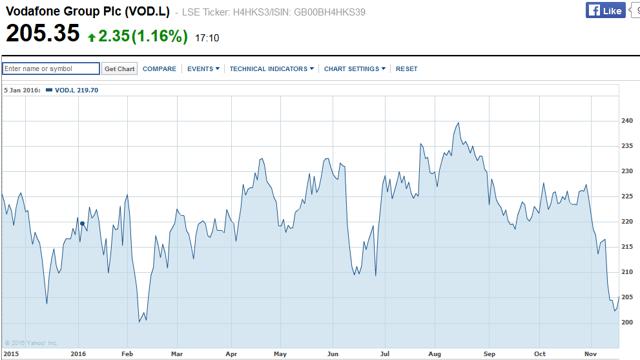 Source: yahoo finance.
The currency risk is something investors need to be aware of if they invest in foreign stocks. If this is nothing you can bear, buy domestic stocks. Besides the risk, there is also an opportunity, and the best time to invest in foreign stocks is when the dollar is strong, because it buys you more shares.
As I said, Vodafone now reports in Euros, and dividends are declared in Euros as well. The Brexit consequences are not clear yet. Nobody knows when it will finally happen and how the relationship between the UK and the European Union will look like. However, it is unlikely to have dramatic consequences for Vodafone. The company is a global player, and the majority of revenue is generated in Europe, partly in the Eurozone, partly outside. Germany is the company's largest market (24% of group revenue) and Italy, Spain plus the rest of Europe represent 32%.
Only 13% of group revenue is generated in the UK, resulting in lower reported sales in Euros. On the other side, the weakness of the pound also has a positive impact on costs. Vodafone is headquartered in London and employs 13.000 people in the UK, 15% of its global workforce.
A second aspect and part of the explanation why VOD has been such a disappointment in 2016, is the poor performance of all European telecom stocks.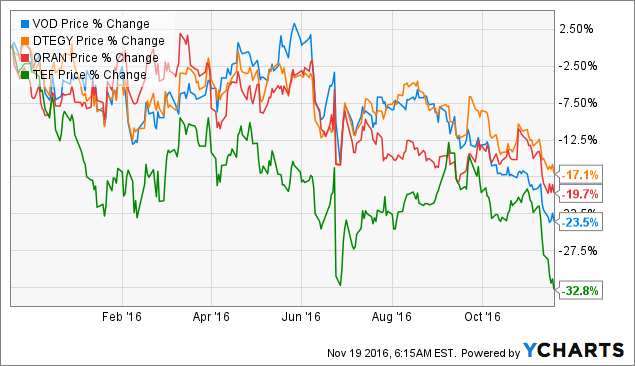 VOD's performance is worse than Deutsche Telekom (OTCQX:DTEGY) or Orange (NYSE:ORAN), but better than Spanish Telefonica (NYSE:TEF). Telefonica's financial situation is much more difficult than Vodafone's. The debt load is concerning, and the company could not raise cash as planned via divestment and IPOs. Consequently, the company was forced to cut the dividend only a few weeks ago.
Vodafone's Weaknesses
The main thing that makes me worry is Vodafone's growing debt which leads to the question whether the dividend is sustainable or if Vodafone shareholders might face the same fate as Telefonica's.
Vodafone's net debt climbed from €36.9B ($39.9B) on March 31 to €40.7B ($44.0B) at the end of September. Various acquisitions and significant capital expenditures ("Project Spring") had a large impact on the company's balance sheet in the last few years. Vodafone's net debt which had fallen to €17.3B ($18.5B) at the end of FY14 after the Verizon Wireless divestiture, increased to €28.2B ($30.2B) at the end of FY15 and to €36.9B ($39.9B) at the end of FY16 (calculated using Vodafone's March 31 exchange rate).
In order to avoid that net debt increases further, the company must generate sufficient cash flow so that capex, spectrum costs, and the dividend are covered. It is important to mention that Vodafone's definition of "free cash flow" is kind of unique, and it does not include payments for spectrum and licenses and the dividend.
Vodafone will distribute around €3.7B ($4.0B) in dividends during FY17, and €2.4B ($2.6B), the final dividend for FY16 were already paid in August. This leaves €1.3B ($1.4B) for the second half of the fiscal year (the interim dividend which was just declared).
It is imperative for Vodafone to deliver on its promises in the second half of FY17, more precisely to meet the EBITDA guidance (€15.7B ($16.8B) to €16.1B ($17.2B)) and to generate more than €4B ($4.3B) of free cash flow. If this goal can be achieved, it is a move into the right direction, because it could lead to an actual reduction of net debt as shown by Vodafone in the half-year presentation.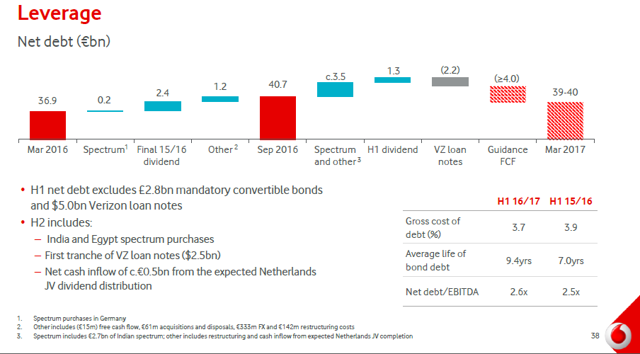 Source: Vodafone investor presentation.
The chart looks quite good, however caution is warranted looking beyond FY17. First of all, the final dividend payment in first half of FY18 will again require more cash, and there is a one-time €2.2B cash contribution from the Verizon loan notes in the second half of FY17.
Vodafone's goal must be to sustainably generate surplus cash after capex, spectrum and dividend payments. Therefore, Vodafone's 1HY18 (which ends on September 2017) will be important to watch. If Vodafone can also reduce net debt in this period, it will be definitively a good sign.
Despite all pessimism, there are some positive signs. Vodafone's cost of debt has decreased while the average duration of outstanding bonds has increased which reduces Vodafone's vulnerability in a rising interest rate scenario. The underlying business performance is constantly improving with accelerated top line and EBITDA growth, mainly because of a better performance in Europe.
This brings us to a new uncertainty, the Indian market, and Vodafone has booked the recent impairment charge for a reason. Vodafone faces new competition from Jio, a new operator which tries to gain market share at any cost. India is the biggest of Vodafone's emerging markets, and the country represents 11% of both Vodafone's revenue and EBITDA. While this is not a major share, strong headwinds from India could easily jeopardize the company's efforts to grow EBITDA by 3% to 6% in the current financial year.
Vodafone has just raised the interim dividend by 1.9%, and assuming a similar increase for the final dividend, the yield has reached an impressive 6.1%. This is the good news, and in the second part of the series, I will explain why I do not see an imminent danger for the dividend, but have expanded my Vodafone position on the current weakness.
Conclusion
Vodafone shares have fallen to new 52-week low. Currency fluctuations and the overall weakness of European telecom stocks play an important role in this context. Beyond that, there are concerns about growing competition in India and ultimately the question whether the company's dividend is sustainable.
Disclaimer: Opinions expressed herein by the author are not an investment recommendation, any material in this article should be considered general information, and not relied on as a formal investment recommendation. Before making any investment decisions, investors should also use other sources of information, draw their own conclusions, and consider seeking advice from a broker or financial advisor.
Disclosure: I am/we are long VOD, DTEGF.
I wrote this article myself, and it expresses my own opinions. I am not receiving compensation for it (other than from Seeking Alpha). I have no business relationship with any company whose stock is mentioned in this article.