American International Group (NYSE:AIG) and MetLife (NYSE:MET) are core holdings in my R.I.P. portfolio, and lately both stocks have been great performers for this long-term portfolio.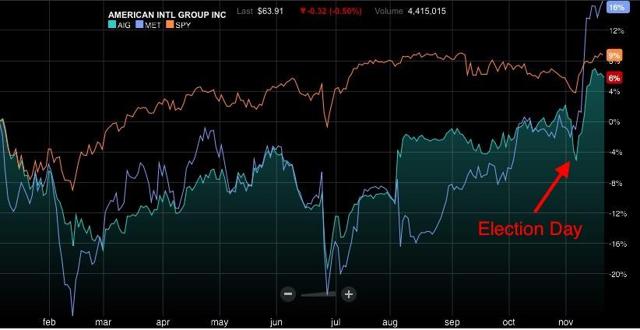 (Source: Nasdaq --edited by author)
The recent stock performance has been very impressive, as AIG and MET shares are up ~5% and ~7%, respectively, since Mr. Donald J. Trump was elected to be our next president. AIG and MET have taken slightly different paths to create shareholder value over the last 11 months, but, in my opinion, investors should expect for the shares of both of these companies to outperform the market over the next two-to-three years.
The Tale Of Two Insurers
Investor sentiment for companies in the financial sector, including the global insurers, has changed from dire to very positive in short order due to the new-found prospects of a rising interest rate environment in the near future. Furthermore, investors believe that Mr. Trump will be good for the economy due to his business-friendly agenda.
AIG and MET both plan to shrink in order to streamline operations and cut out unnecessary expenses, and the management teams have also stressed the importance of returning a significant amount of capital to shareholders. At the end of the day, both companies have an end goal of becoming more-efficient businesses and creating shareholder value, but, on the other hand, the management teams have more-recently veered the companies in [slightly] different directions.
MetLife, The Right Way
As I described in this article, MetLife has long been focused at shrinking operations and removing the burdensome Systemically Important Financial Institution, or SIFI, designation. A SIFI-less MetLife would be able to create a great deal of shareholder value over the next few years because the company would not have to comply with the strict regulations and the burdensome capital requirement tests that comes along with the designation, all which comes with substantial price tags. Moreover, management would not need to get the governments approval on significant business decisions that are made in the future (i.e. dividend raises and increasing in the buyback program).
In order to achieve its hefty goal of removing the SIFI designation, MetLife announced plans to pursue a separation of the U.S. Retail business. So far, so good. A federal judge ruled that MetLife should not have been designated as a SIFI, so the company's efforts have already started to pay off. The U.S. government has appealed the court decision, but, in my opinion, long-term investors should be encouraged by management's commitment to be de-designated as a SIFI.
Just as important, MetLife has been able to improve operations over the last few quarters, even in this challenging operating environment. For Q3 2016, MetLife reported adjusted EPS of $1.28, which beat the consensus EPS estimate by $1.16, or ~10%. There was a lot of noise in the numbers related to miscellaneous charges, including an amount related to the upcoming Brighthouse separation, but overall the company reported impressive top and bottom line results.
AIG, The Right Way?
AIG, on the other hand, is not overly concerned about being subjected to the SIFI regulations and management even contends that the strict regulations will not keep the company from meeting its long-term goals:
I think that as we've indicated, the $25 billion goal is achievable with all of the actions that we've laid out. So, I would say that there is contingency against adverse market environment baked into our plan. So, I do not think that being a SIFI in any way inhibits that $25 billion goal. It's not a binding constraint at all.

But I think that the MetLife decision certainly raises the opportunity, should it be favorable, to consider that down the road. But I repeat that our current designation as a non-bank SIFI does not constrain our objectives as laid out in our strategic update. So, we are watching very carefully the appeal process and we point to the efforts that we've made as a company to delever the company, to derisk the company since the crisis.

Peter Hancock, President & CEO during the Q1 2016 conference call
In this quote, Mr. Hancock is referring to the company's plan to dispose of non-core assets and return $25b to shareholders over the next few years. It is great news that AIG is still able to achieve its goals, but I believe that Mr. Hancock is missing the point when it comes to being labeled as a SIFI and why it is important to remove the designation, if possible. A SIFI-less AIG would not only allow management to make their own decisions when it comes to returning capital to shareholders but it would also save the company millions of dollars in expenses over the years. Think about it, AIG has to spend a lot of money staffing its compliance team in order to comply with the strict SIFI regulations and the direct results is higher staffing costs in addition to the growing expenses related to filing and staying on-top of the ever-changing rules/regulations.
Instead of selling a large operating segment like MetLife, AIG decided to sell smaller non-core businesses and assets. Below is a list of the most recent sales that AIG has announced:
AIG has made great progress in selling non-core assets and streamlining operations, but, in my opinion, the company still needs to make a MetLife-like separation of a significant operating segment. I am not calling for a three-way split of the company like Mr. Carl Icahn first recommended, but I do believe that AIG should sell some significant portions of the business in order to unlock shareholder value.
Unlike MetLife, AIG reported poor operating results for the most recent quarter. For Q3 2016, AIG reported adjusted EPS of $1.00, which was well-below the consensus EPS estimate of $1.21. The biggest takeaway from the results was the fact that AIG had another quarter that was plagued with "one-time" reserve adjustments that had a material impact on earnings. Until AIG shows investors that the businesses are being properly managed, the company's stock will continue to trade a steep discount to its book value.
Valuation
AIG and MET shares are both trading at steep discounts to each companies' book value, but when compared to peers AIG is trading a slight premium to estimated earnings.
| | | | | | |
| --- | --- | --- | --- | --- | --- |
| | P/E Ratio* | 2016E | 2017E | Est Growth ('16 to '17) | Dividend Yield |
| AIG | 16.95 | $3.77 | $5.43 | 44% | 2.0% |
| MET | 11.84 | $4.63 | $5.62 | 21% | 2.9% |
| PRU | 11.03 | $8.99 | $10.31 | 15% | 2.9% |
| HIG | 14.19 | $3.33 | $4.06 | 22% | 1.9% |
| Averages | 13.50 | | | 26% | 2.4% |
(Source: Data from Yahoo Finance!; table created by W.G. Investment Research)
*Based on 2016E earnings
In my opinion, MET is the better buy at today's price, but I believe that AIG and MET will both outperform the market in the years ahead.
Bottom Line
Overall, AIG and MET both want to dispose of non-core assets in order to become more-efficient companies but I believe that the management team of MET will create the most value by focusing on ridding the company of the burdensome SIFI designation. Over the last month, AIG's management team appears to be more open to fighting the SIFI designation but I believe that until AIG changes its course in relation to the designation, MET shares will continue to be the better performing stock.
I consider my AIG and MET holdings to be full positions in my R.I.P. portfolio so I have no plans to add to this positions in the near future. However, I believe that both companies have several long-term catalysts in place (i.e. rising rate environment, asset disposals, buybacks, etc.) that will allow for shares to outperform the broader market through at least 2017. As such, long-term investors should treat any significant pullbacks as buying opportunities.
If you found this article to be informative and would like to hear more about this company, or any other company that I analyze, please consider hitting the "Follow" button above.
Disclaimer: This article is not a recommendation to buy or sell any stock mentioned. These are only my personal opinions. Every investor must do his/her own due diligence before making any investment decision.
Disclosure: I am/we are long AIG, MET.
I wrote this article myself, and it expresses my own opinions. I am not receiving compensation for it (other than from Seeking Alpha). I have no business relationship with any company whose stock is mentioned in this article.