A few weeks ago we made a high-level argument for shorting Dick's Sporting Goods (NYSE:DKS) and going long Tailored Brands (NYSE:TLRD) in the retail space in this article. Now, after Dick's released its third-quarter results and fourth-quarter guidance, we have added to our short significantly and felt that it was appropriate to follow up with a more in-depth look at the Dick's short thesis.
The day following its earnings and guidance release Dick's was down 10%, but really only gave back the rally it had going into the release. It has since recovered some of those losses, and at Friday's close of $58, the opportunity remains to short Dick's near its all-time highs.
(Click to enlarge)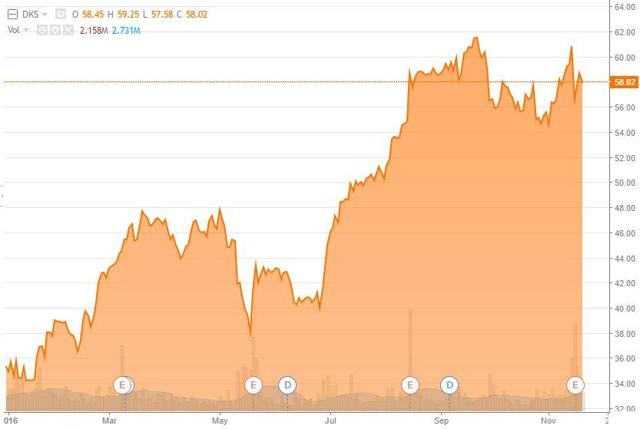 YTD price chart.
(Click to enlarge)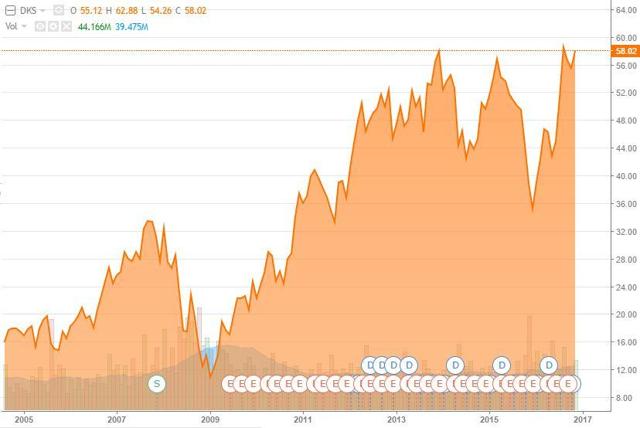 Long-Term price chart.
Executive Summary
The core "story" of the short thesis has three related components, and goes as follows:
1. Dick's, and the big-box retail sporting goods sector as a whole, is starting to see intense competition from Amazon (NASDAQ:AMZN), Nike (NYSE:NKE), and Under Armour (NYSE:UA). Amazon is taking share in the big-ticket item category with products like trampolines and kayaks. Nike and Under Armour are taking share in the footwear and apparel product categories through selling via direct to consumer channels. The evidence for this can be seen directly in some of Dick's key financial metrics, as well as indirectly from the public statements of Nike, Under Armor, FedEx (NYSE:FDX), etc.
2. Management is trying to mask the underlying weakness in the business by opening more and more stores to feed the Wall Street beast, AKA sell-side top-line growth numbers. This is a terrible allocation of capital and is leaving Dick's stuck with a higher and higher fixed-cost base. The bulls will argue that Dick's has plenty of "underserved" markets to open stores in, and this is very misleading. Dick's does have lots of blank spaces on its national store map, but those areas are more than saturated with local and regional players. Some quick Google Map homework can answer any doubts about this.
3. The hype around Dick's new store opening opportunities and the Sports Authority bankruptcy has resulted in Dick's future earnings estimates being unrealistically high. Dick's valuation is also much too high, trading at almost 20x 2016 earnings. As it becomes obvious Dick's will not make its numbers, both its future earnings base and the multiple applied to those earnings will decrease, resulting in a major re-rating of the share price.
Prior to Dick's 3Q release, we were somewhat worried about the timing of this short due to the marginal benefit of Sports Authority closing. We have never suggested that this development will have no benefit to Dick's. However, after Dick's 3Q results and 4Q guidance, we are more confident than ever that the Sports Authority benefit is not as great as initially thought, its core business is declining faster than anticipated, and that the timing is right to short Dick's immediately.
Increased Competition From Amazon, Nike, and Under Armour
The biggest problem for Dick's right now is the increased competition it is seeing from the likes of Amazon, Nike, and Under Armor. While no business would ever want to compete with these giants, what makes this especially bad for Dick's is that Nike and Under Armor are also Dick's two largest suppliers. Together, they account for over 32% of Dick's product.
"We purchase merchandise from approximately 1,600 vendors. During fiscal 2015, Nike and Under Armour, our largest vendors, represented approximately 20% and 12%, respectively, of our merchandise purchases. No other vendor represented 10% or more of our fiscal 2015 merchandise purchases. We do not have long-term purchase contracts with any of our vendors and all of our purchases from vendors are made on a short-term purchase order basis." - Page 6 of Dick's most recent 10-K.
It should be obvious why Amazon is trying to compete with Dick's, it's competing with everyone in as many product categories as it can.
But what about Nike and Under Armour? Shouldn't they want a healthy retail partner like Dick's? The answer in the short term is yes, but eventually they have a strong incentive to replace Dick's with their own retail stores and direct to consumer websites. This is because top line growth is slowing down at both companies and they need to look to margin improvements to keep growing EPS. One easy way to do that? Cut out middlemen like Dick's.
If you are Nike, you currently sell Dick's your cleats in bulk for $50 that it then turn around and sells to consumers for $75. But now your website's popularity has grown to the point where you can offer those same cleats directly for $70 on the Nike website and make $20 more per cleat with meaningful volume. The consumer is happy to buy on the Nike website since they are getting the same product for a little less. The only person who loses in this situation? Dick's and other brick-and-mortar sporting good retailers.
And for those that argue that people need to try on shoes before they buy them, Nike and Under Armour aren't only growing direct to consumer sales via their websites, they are actively opening brick-and-mortar stores as well, and the same principle of increased margins applies. However, with easy return policies and increasing comfortability with online shopping in general, we believe more and more people actually do not feel the need to try items like shoes on in the stores anymore. Some still do, but those people are becoming less and less common.
When we think about companies like Nike or Under Armour growing their direct to consumer business, we read it as Dick's losing sales that it used to rely on. This won't all happen overnight, but we believe the transition is inevitable in the long run.
Now that we believe Amazon, Nike, and Under Armour have incentives to compete with Dick's, what makes us sure it is more than just speculation?
First, Nike and Under Armour both explicitly say that growing their direct to consumer businesses is a top priority. Look at some of Nike's results and projections made by the company itself: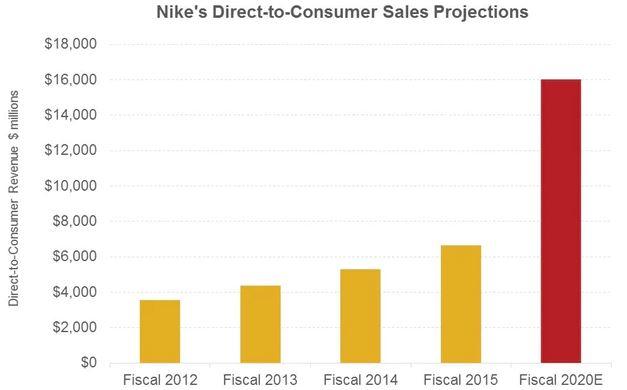 Source: Company Filings, Market Realist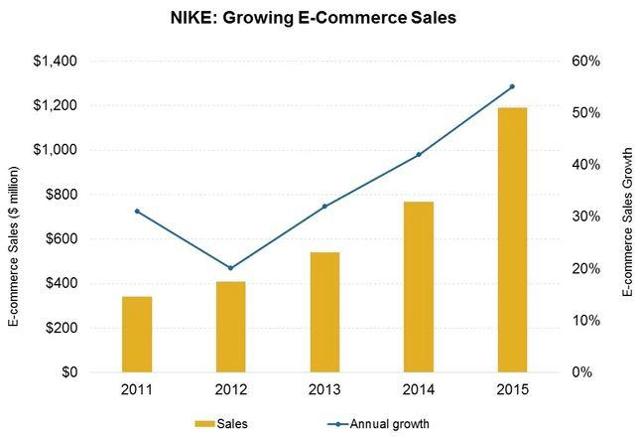 Source: Nike Filings, Market Realist
And here is a quote from Under Armour CEO Kevin Plant from their 2015 Investor Day:
"On that road show, we laid out five specific growth drivers that would drive our business, and grow our company - quite simply, men's apparel, women's apparel, footwear, international and direct to consumer."
Under Armour's direct to consumer sales reached 32% of total sales in 2Q16 and have grown at a faster rate than the rest of its business. As Nike and Under Armour's direct to consumer business makes up a larger and larger percentage of their sales, the less incentive they have to sell at a lower margin to Dick's.
Bulls in Dick's might argue that Dick's is spending lots of money to improve its online presence and they are not wrong. However, the same problem still exists when compared to Nike's or Under Armour's direct to consumer business: Why would anyone buy a pair of Nike's on the Dick's website when they can buy them directly from Nike? Brand loyalty to Dick's? We don't buy it, especially since Nike makes a higher margin on those sales and will always be as cheap or cheaper than Dick's.
It is harder to quantify how much competition from Amazon is affecting Dick's, but we believe it is to some extent. One clue that Amazon is taking market share from Dick's is the fact that FedEx specifically mentioned large items, like trampolines, as being a significant new driver of its growth on its most recent conference call. FedEx shipping trampolines means that they were bought online instead of in a store and driven home by the consumer. Assuming US trampoline demand is relatively flat, if customers are now buying their trampolines online, where are they NOT buying them? Dick's would seem to be one of the most obvious answers.
Second, we are confident this is not mere speculation based on Dick's own financial results. Over the past two years, Dick's gross margins, operating margins, net margins, and sales per square foot have all been declining. Declining margins are never the sign of a healthy business, and is almost always due to increased competition/over capacity in the industry or the cost of a major input rising unexpectedly. For Dick's, all signs point to the former.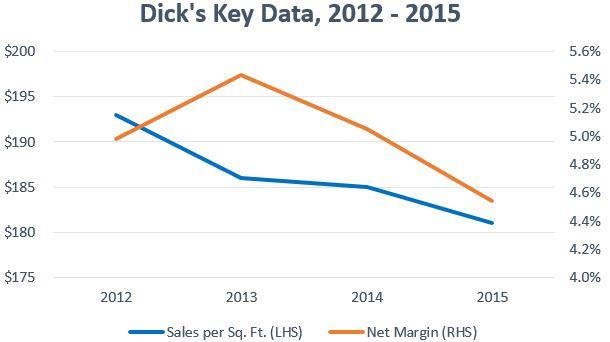 Source: Company Data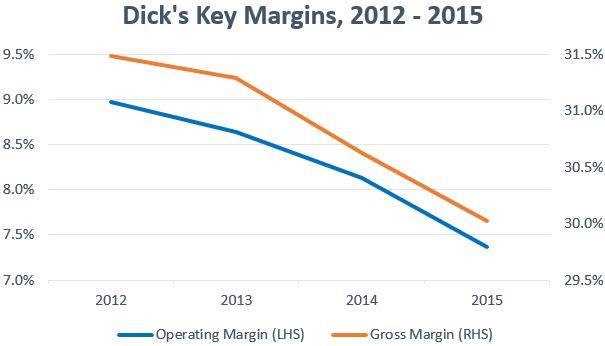 Source: Company Data
A Look At Dick's Store Openings
Despite the deteriorating margins and sales per square foot shown above, Dick's has been able to prevent its EPS from declining the past two years by rapidly opening new stores: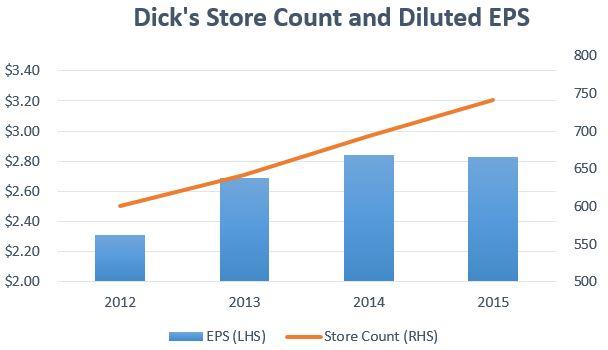 Source: Company Data. Includes Field & Stream and Golf Galaxy.
This is part of the reason the market seems to be so excited about Dick's and gives it the premium multiple that they do. And part of this optimism is due to the fact that the majority of these stores are in new markets for Dick's. If you believed the sell-side remarks on Dick's new store opportunities, you would think that these stores are coming into areas with no other sporting goods stores and that these new stores will kick-start Dick's stagnant earnings.
Let's take a look at these new stores that Dick's is opening. In the most recent quarter released last week, Dick's gave a list of all the new stores it opened during the quarter: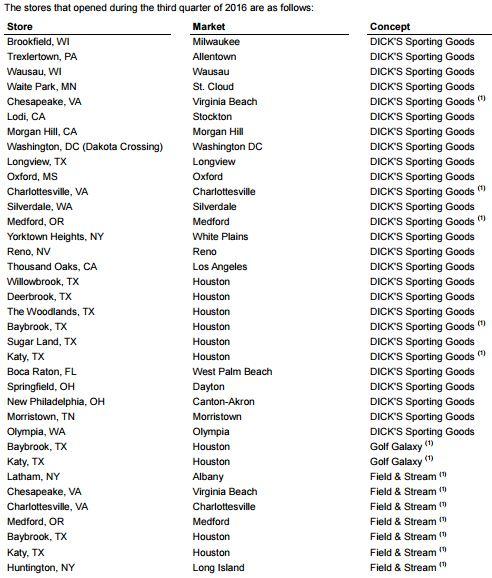 Source: Company Filing
We went through every store on the list on Google Maps and searched the city name followed by "Sporting Goods Stores". We encourage anyone who is excited about all of Dick's new store openings to do the same. Essentially, all of the new stores Dick's opened have multiple direct competitors operating within a few miles of them.
We won't go through every market on here, but just look at the first store on the list that opened in Brookfield, WI. Brookfield is a suburb of Milwaukee and has a population of roughly 38,000. Now look at the Google Maps search for "Sporting Goods" surrounding the newly opened Dick's: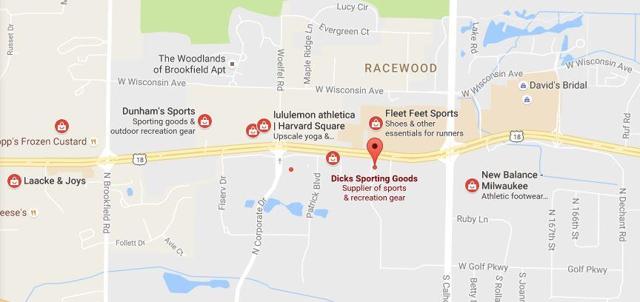 Source: Google Maps
There are several existing competitors within a quarter mile of this new Dick's. There is also a Burghardt's, Jeff's Sports, and REI about three miles north of here. We used this example because it is first on the list, but you can pick almost any region and find similar competition. Most are local or regional chains like Dunham's.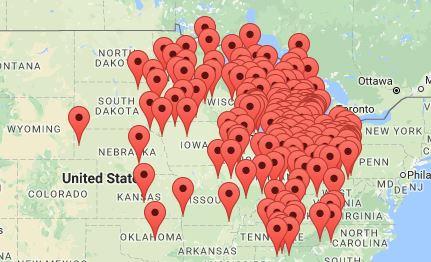 Source: Dunhams.com
These types of regional players are privately held and scattered all around the country. The idea that Dick's is going to come into these mid-tier markets that are already well-served and see a big incremental boost to earnings just doesn't seem likely. Instead of Dick's benefiting, it is more likely that everyone will lose from the increased capacity and competition in a flat to declining demand environment.
Another factor to consider is as Dick's gets closer and closer to its stated maximum 1,100 stores, the incremental attractiveness of each store is lower and lower. If the new stores in 2014 and 2015 didn't help improve margins, sales per square foot or earnings, the "next-best" locations that Dick's has moved on to in 2016 and 2017 can hardly be expected to do any better.
These stores also add to Dick's fixed cost base significantly. Increased fixed costs + margin pressure + declining sales per square foot = a recipe for disaster. With a net margin that has decreased almost 100 bps over the past two years to 4.5%, any slowdown in revenues (like SSS decline of 0.2% in 2015) will cause significant declines in EPS.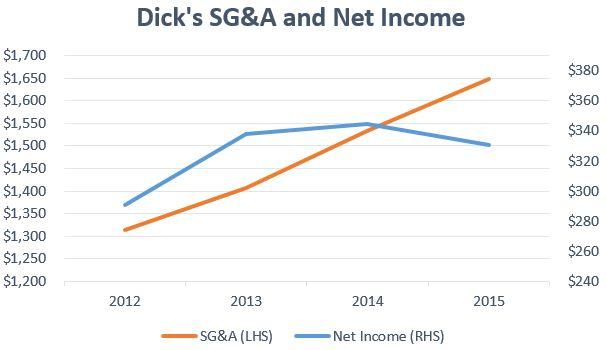 Source: Company Data
Dick's decision to double down on the big-box store format and rapidly increase store count to keep top line revenues growing and try to prevent EPS from shrinking is a mistake. It is the classic type of short-term focused behavior at the expense of long-term shareholder value that has always plagued public companies. Eventually, as Dick's runs out of new locations to open in and competition continues to eat away at the business, this will catch up to it.
Why 3Q Results and 4Q Guidance Was So Bad
At first glance, Dick's 3Q might seem pretty good. EPS was $0.44 compared to $0.41 in last year's 3Q. Same-store sales were also up an impressive 5%. As a quick note, the EPS numbers we refer to are GAAP numbers. Excluding the very real costs of transitioning the Sports Authority stores into Dick's is nonsense, especially since opening new stores is an ongoing part of the company's strategy.
But embedded in the 3Q numbers were three one-time events that will not occur again.
First, we had a presidential election where it was widely believed that the Democratic candidate was going to win. Firearms and ammo sales skyrocketed this year leading up to the election just like they did before Obama's elections. Dick's gets a significant amount of sales from firearms and ammo.
Second, the Cubs broke their 100-year-plus World Series winning streak. Management explicitly said that this had a positive effect on their results, also helped by the fact that the other team in the World Series, Cleveland, is in another market where Dick's has a large presence.
Third, Dick's 3Q was the first quarter where the entire quarter had the full benefit of the Sports Authority bankruptcy. Sports Authority filed for bankruptcy in March, and closed its last stores in May-June, so this was the first full quarter where all the benefit from its bankruptcy was supposed to start showing up.
Despite all the positive one-time factors that occurred in Dick's 3Q, Dick's was still only to increase EPS $0.03, from $0.41 to $0.44. Without these one-time events, we estimate earnings most likely would have been in the $0.38-$0.40 range, a decrease from last year. Either the benefit from Sports Authority's bankruptcy is not as great as initially thought, or the competition we referenced earlier is stronger than initially thought, but either way these results are bad news for Dick's.
Dick's 4Q guidance was equally disappointing, and a major reason the stock sold off following the release. Management guided for EPS in 4Q to be between $1.15-$1.27. This compares with EPS last 4Q of $1.13. Again, this guidance is highly disappointing for several reasons.
First, all the one-time benefits we mentioned that boosted 3Q results? They carried over into the first part of 4Q as well. Same with the Sports Authority bankruptcy. This benefit to Dick's should be in full swing now, but even with that benefit and the boost from pre-election firearm sales and the once in a hundred year Cubs World Series win EPS might only grow 2 cents?
Furthermore, 4Q15 was an exceptionally easy comp to beat because SSS in 4Q15 were down over 2%. So you have a very easy comp, two one-time benefits that are exclusive to this year, and the full benefits of Sports Authority bankruptcy, but can only grow EPS from between $0.02-$0.14? Something doesn't add up here. Since it is reasonable to believe that the Sports Authority would provide at least some boost to Dick's, we believe the larger problem is the competition highlighted in the beginning of the article.
Management blamed the weather and it was mentioned 40(!) times on the earning call, which is an incredibly lame excuse. If someone needs a new pair of gloves in any state with meaningful winter weather sales, warm weather means they can put off the purchase from October until Thanksgiving... not that the sale disappears. Most of the upper Midwest already has snow on the ground as we write this article, and the weather is just a BS excuse. Regardless, the high end of their guidance actually includes managements expectations for a significant improvement in the weather, and is still very weak guidance given all the positive tailwinds for the quarter.
Expectations & Valuation
Now that we have 3Q results and 4Q guidance, we have a pretty good idea of what 2016 will end up looking like. Using the midpoint of management's 4Q guidance, here is Dick's Net Income and Net Margin over the past 5 years including 2016: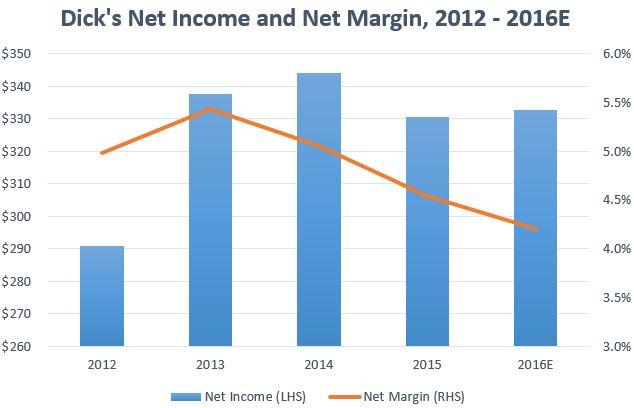 Source: Company Data and Average Sell-Side Estimates
So, hopefully, it is not hard to understand why we are very skeptical when we see sell-side estimates for Net Income and Net Margin (backed into using average sell-side revenue estimates) projected to look like this in 2017: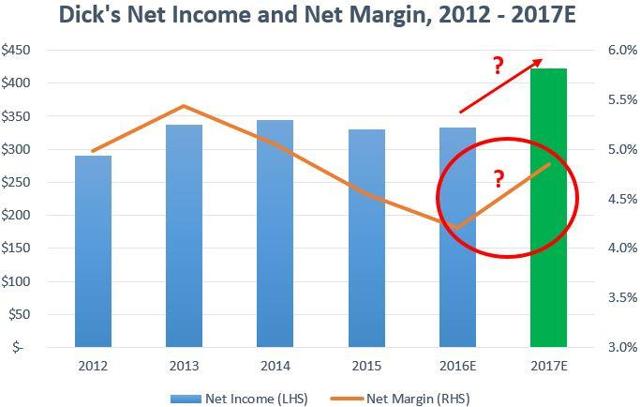 Source: Company Data and Average Sell-Side Estimates.
As we allude to with the red shapes and question marks, what gives the sell-side so much confidence that net margin will reverse four years of declines and shoot up 50 bps? Or that Net Income, after four years of being flat-to-down, will suddenly grow over 26% to $422M or $3.77 per share?
Is it because of the Sports Authority bankruptcy? Maybe all those store openings in new and sexy markets like Brookfield, WI? The Sports Authority bankruptcy will have been in full effect for over half of 2016, so why didn't we see any of these benefits in the second half of 2016? Add on top of that the one-time benefits Dick's profited from in 3Q16 but won't in 2017, the increased competition from Nike, Under Armour, and Amazon, and we peg the chances of Dick's earning more than $400M in 2017 at close to zero.
What do we think Dick's will earn in 2017? In our opinion, Dick's will see zero to low single digit positive earnings growth in 1Q17 and 2Q17 as the benefit from the Sports Authority closure offsets the competitive pressures from Amazon, Nike, and Under Armour, but little more than that. In the much more important back half of the year, Dick's will no longer benefit from the Sports Authority bankruptcy or enjoy the one-time tailwinds of 2016 and earnings will be down mid-single digits YoY. The margin deterioration that has been going on for several years cannot hide any longer.
The net effect, according to our model, is an EPS forecast of $2.85 in 2017 and $2.68 in 2018. We don't bother making specific forecasts beyond 2018 in this case, but if Dick's cannot keep up its rapid store growth in the years down the road and margins do no start improving, things could get ugly quickly.
What kind of forward multiple does a brick and mortar retailer with declining margins, declining forecasted earnings, and increasing competition from its largest suppliers deserve? Assigning fair multiples is always more of an art than a science, but after looking at several comps we believe a fair 1-year forward multiple for Dick's is in the range of 13x-15x at most. Dick's does have a clean balance sheet, which will keep its multiple higher than other retailers in similar competitive situations with lots of debt.
Our price target of $40 is reached by applying a 14x forward multiple to our forecasted 2017 EPS of $2.85, and represents more than 30% downside from Friday's close of $58.
Insider Selling
After the close on Friday, it was revealed that Dick's CFO and Chief Marketing Officer sold a combined $2.2M of Dick's stock immediately after the pre-earnings blackout period ended. That represented over 10% of the CFO's total shares and 30% of the CMO's total shares. This follows the Ecommerce and Supply Chain Executive Vice President selling over $2M worth of shares in August.

Source: insidercow.com
You can only learn so much from insider transactions, but the sheer volume and timing of these sales is not insignificant. Why would these executives, who have as good of a read on Dick's 2017 earnings potential as anyone, be dumping massive amounts of their shares? It wouldn't worry us if we didn't see any insider sales, but the fact that we did see this only gives us more confidence that our analysis is on the right track.
Disclosure: I am/we are short DKS.
I wrote this article myself, and it expresses my own opinions. I am not receiving compensation for it (other than from Seeking Alpha). I have no business relationship with any company whose stock is mentioned in this article.