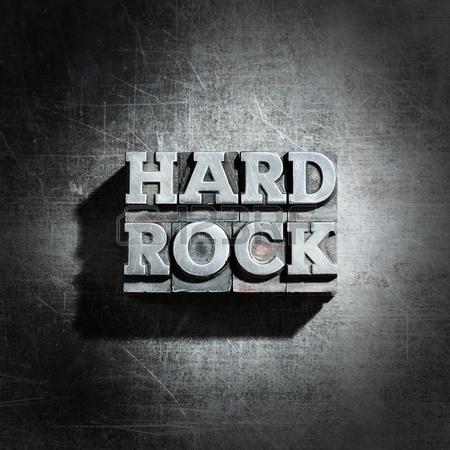 Hardrock connoisseurs have reason to be disappointed, as will be discussed in this week's
Resource Sector Digest.
(Vol. 63 - November 21, 2016)
Brought to you by Itinerant and The Investment Doctor.
In this edition we shall:
set the scene,
highlight actionable ideas,
comment on news releases and
link to relevant articles.
And here is an alert to all our faithful readers. We will be raising our subscription rates for Itinerant Musings at the start of next year. Members as of December 31 will be able to keep the present membership rates going forward. Please consider our cordial invitation to take advantage of the lower rates while they still apply, and join Itinerant Musings today.
In case you missed out on previous editions of this newsletter, simply click here, here or here to catch up.
Setting The Scene
Premier Gold Mines (OTCPK:PIRGF) and Centerra Gold (OTCPK:CAGDF) have been advancing the Hardrock together, and have finally released much anticipated results of the joint feasibility study to the markets on November 16. And to make sure the market understood the significance of the document the two companies followed up with a "Teach-In" on the same day, which your digestors dutifully joined. Understand the market did and Premier lost 8% on its peers within a couple of trading sessions, on top of what it had already lost prior to the day.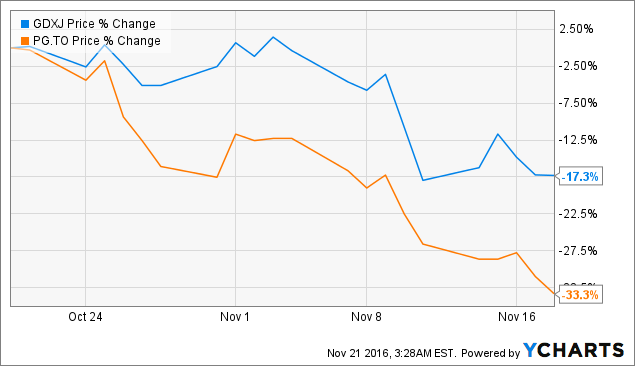 The proposed project is a large open pit operation located 275 kilometres northeast of Thunder Bay along the Trans-Canada Highway using crushing, grinding and carbon-in-pulp processing. Good infrastructure, available work force, one of the best mining jurisdictions, and a large 4.6M ounce reserve had created high expectations. And we believe that Premier Gold and its JV partner Centerra have fallen resoundingly short.
The proposed project forecasts gold production of 4.2M ounces over 14.5 years, or 288,000 ounces per year on average. All-in sustaining costs look attractive at just $600/oz, but it's the initial capex acting as the party pooper in this case. The mine comes with a price tag of $962M plus $200M in sustaining capital, and unfortunately this is too much to render this project attractive at the current gold price. The payback time is 4.5 years, or practically all of the frontloaded high yield years, and what comes thereafter only amounts to an NPV(5%) of $545M, or slightly more than half of the initial capex. Or viewed from another angle, the company will create just $130 in present value per reserve ounce. The low after-tax IRR of 14.4% is only an afterthought at this point.
"Bah"
said the Investment Doctor when we discussed the outcome with subscribers on the Itinerant Musings chat board.
click to enlarge)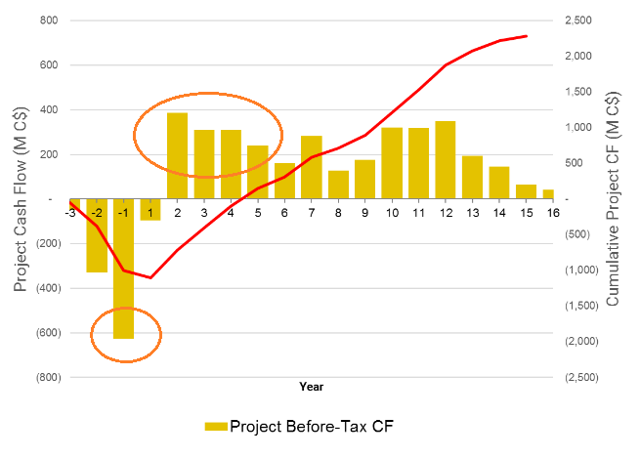 We had been keeping close watch on Premier Gold Mines after the company had exceeded expectations in reaching production at South Arturo together with JV partner Barrick Gold (NYSE:ABX), and then again after Premier bought the Mercedes mine from Yamana Gold (NYSE:AUY). Our tentative enthusiasm for this miner has been reined in, however, after the presentation of said FS results, and the associated hole that has emerged in the company's growth pipeline. Hardrock appears to be yet another "project for a higher gold price", and no Teach-In or talk of exploration upside will change this appearance unless underpinned with improved numbers.
Actionable Ideas
The Investment Doctor called Canacol Energy (OTCQX:CNNEF) a high conviction BUY. Itinerant Musing subscribers were first to know.
News Releases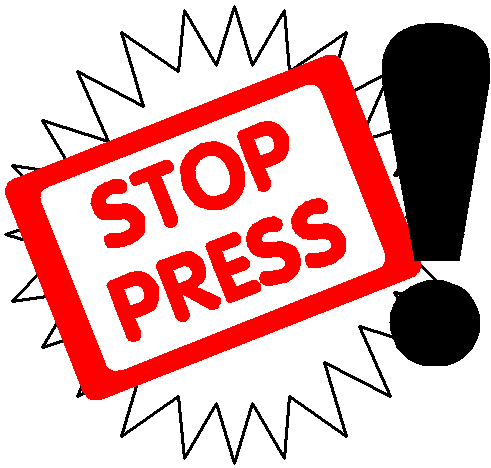 Large miners cooperating to get a joint objective done, drill results, and a large transaction were all reported during the past week. And then some... here is a summary.
News release of the week goes to Lundin Mining (OTCPK:LUNMF) which is selling its stake in the Tenke operation in the DRC for $1.136B to a Chinese hedge fund. The price is proportional to the price Freeport-McMoRan (NYSE:FCX) has agreed to for its stake in this world class operation. The ubiquitous squabble with the state mining company Gecamines is still holding investors at bay, but we believe the deal will eventually close after the required concessions are made. Ivanhoe Mines (OTCQX:IVPAF) and JV partner Zijin Mining Group (OTCPK:ZIJMF) already showed the way this past week when the two partners announced the transfer of an additional 15% interest in the Kamoa-Kakula Copper Project to the government of the Democratic Republic of Congo.
Another joint transaction never got off the ground. Silver Standard (NASDAQ:SSRI) and Gold Fields (NYSE:GFI) joined forces to prepare offers for Kirkland Lake Gold (OTCPK:KGILF). The plural with "offers" is intentional as apparently three iterations were sent to the company. Not one was put to the shareholders and the offer was withdrawn as the board under the leadership of Mr Eric Sprott is pursuing its own interpretation of grandeur, and shareholders get to vote on the Newmarket Gold (OTCQX:NMKTF) takeover instead.
And talking of joining forces, we note the new-found common ground between Randgold (NASDAQ:GOLD) and NewCrest Mining (OTCPK:NCMGF). The two companies have agreed "to establish an exploration joint venture to explore for and potentially develop mines in an area of mutual interest in the south-east of Côte d'Ivoire in West Africa."
Which brings us to our weekly list of noteworthy drill results:
Tahoe Resources (NYSE:TAHO) is facing more protests outside the front gates of its Escobal silver mine in Guatemala. The company maintains that silver production remains unaffected, but its relationship with its neighbors and hosts appears strained as ever.
Santacruz Silver Mining (OTCPK:SZSMF) reported a fatality at its Rosario mine, after which operations had to be suspended. The company also came out with a resource estimate for the Panuco deposit which is part of the company's Veta Grande project in Zacatecas, Mexico. The inferred resource of 16.3M silver-equivalent ounces did little to alleviate market concerns and it also doesn't change our view of this silver miner.
Yamana Gold has finally told investors about the pricing of purchase rights for its spin-out Brio Gold which will be distributed to the company's shareholders as dividends in kind. One purchase right will be distributed for each 16 Yamana Shares held, and each full purchase right will allow for the purchase of one Brio Gold share for the price of C$3.25. How good a deal this is will be determined once Brio Gold starts trading on the TSX.
Other financing news include Coeur Mining (NYSE:CDE) completing a $200M at-the-market offering and partial redemption of its 7.875% senior notes due 2021. What has happened to cash flow as a means to repay debt we wonder? Furthermore, Teranga Gold (OTC:TGCDF) filed the prospectus for its C$34M bought deal. Included in the letter was a retraction of the resource estimate for the company's newly acquired Banfora project. Investors have every right to be worried, since no reasons were given for this move. If Teranga was already undervalued by the time this article was published, then it is undervalued by another 15+% one month on.
Pilot Gold (OTCPK:PLGTF) also completed a C$14.4M financing correctly predicted by the Investment Doctor. And speaking of this particular project generator, we take note of Newmont Mining (NYSE:NEM) declaring commercial production at the Long Canyon mine ahead of schedule and under budget. Pilot Gold in its previous incarnation as Fronteer Gold had originally discovered Long Canyon, which will add 100,000 to 150,000 low-cost ounces annually to the major's future production profile.
Lucara Diamond Corp. (OTCPK:LUCRF) generated $38.7M in revenues from its latest exceptional stone tender. The company sold 12 diamonds with 1089 carats in total for $35,230 per carat. Our outlook for this successful diamond miner remains unchanged.
Integra Gold (OTCQX:ICGQF) has released a resource update for its Lamaque project in Val d'Or. The indicated and inferred resources for the Triangle deposit are now 247% and 505% larger, respectively, than what was considered for the Company's most recent PEA. We are already looking forward to the updated PEA due out in Q1 2017.
Ending on a light note: Teck Resources (NYSE:TCK) is changing its ticker symbol to - you guessed it - TECK effective December 5.
We hope to see you all again safe and sound next week; and we would like to encourage readers again to take advantage of current subscription rates for Itinerant Musings, only available to those signing up before December 31.
Disclosure: I am/we are long CNNEF, WDOFF, LUNMF, LUCRF, CNNEF.
I wrote this article myself, and it expresses my own opinions. I am not receiving compensation for it (other than from Seeking Alpha). I have no business relationship with any company whose stock is mentioned in this article.
Editor's Note: This article covers one or more stocks trading at less than $1 per share and/or with less than a $100 million market cap. Please be aware of the risks associated with these stocks.