Overview
With S&P 500 (NYSEARCA:SPY) closing 1 percent below its all-time highs, it has been a rather good week for the U.S. stock market. Despite the initial downturn and shaky performance on Monday, the index managed to squeeze a 0.8 percent weekly gain, mainly due to the upturns that followed on Tuesday and Thursday.
Following the post-elections spike, performance of the Dow Jones Industrial Average (NYSEARCA:DIA) is beginning to weaken. Despite the strong price action in McDonald's (NYSE:MCD) and Goldman Sachs' (NYSE:GS), sluggish post-earnings dynamics in the shares of 3M (NYSE:MMM), IBM (NYSE:IBM), Boeing (NYSE:BA), Home Depot (NYSE:HD), Johnson & Johnson (NYSE:JNJ), United Technologies (NYSE:UTX) and Caterpillar (NYSE:CAT) have been weighing on the index.
Indicative of risk-on sentiment was the continued uptrend in Russell 2000 (NYSEARCA:IWM), which was accompanied by a significant build-up in net-long speculator positions. While the speculators' positioning in Dow Jones 30 futures experienced a divergence between the large (an increase in net-long positions) and smaller traders' bets (an increase in net-short positions), both trader groups seemed quite pessimistic on the S&P 500 futures as of the latest COT reading.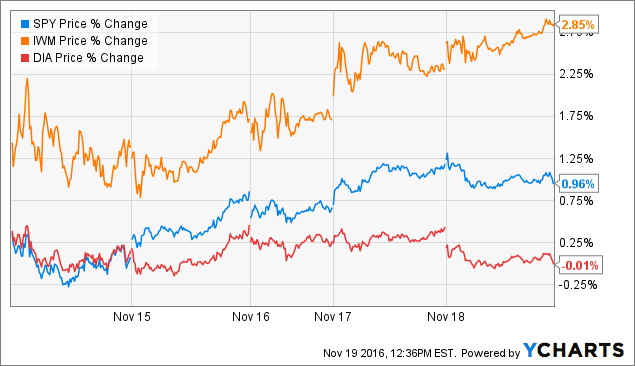 SPY Price data by YCharts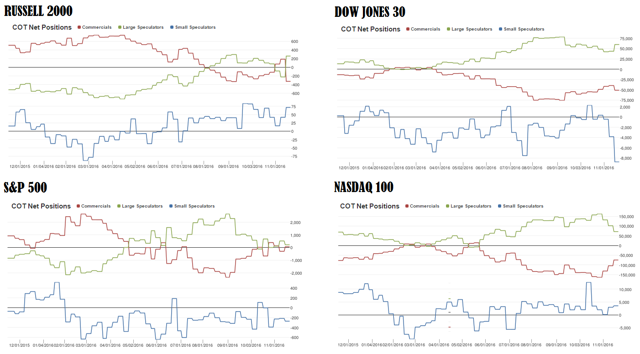 Source: compiled by the author using the charts provided by the COTbase.com website
Even though the post-elections rally served as a relief to many, one should not underestimate the "stretched rubberband" type of effect that occurs when security prices experience stark short-term deviations from the fundamentals, with the recent rally in DryShips (NASDAQ:DRYS) shares being a great example.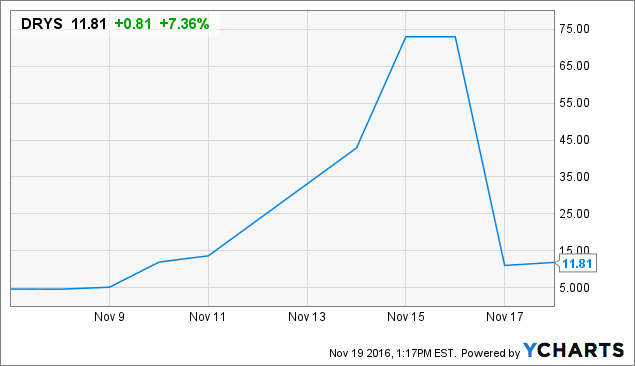 DRYS data by YCharts
Financials
Receiving continued support from the rising bond yields, financials (NYSEARCA:XLF) continued to outperform by a considerable margin. As the bond market is preparing for the upcoming rate hikes, the Fed might consider the recent developments to be a signal that the markets are finally prepared for the move. Hopefully, additional clarity will be provided by the FOMC Minutes scheduled for November, 23.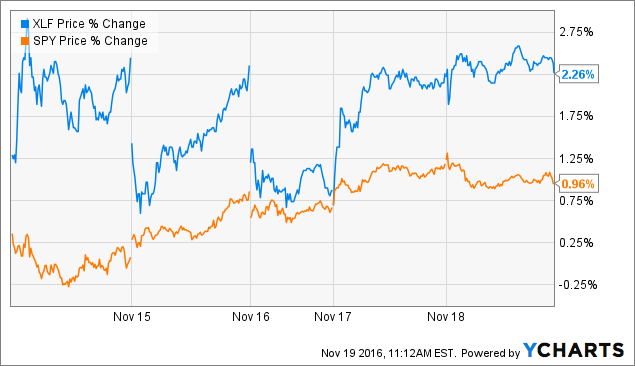 XLF Price data by YCharts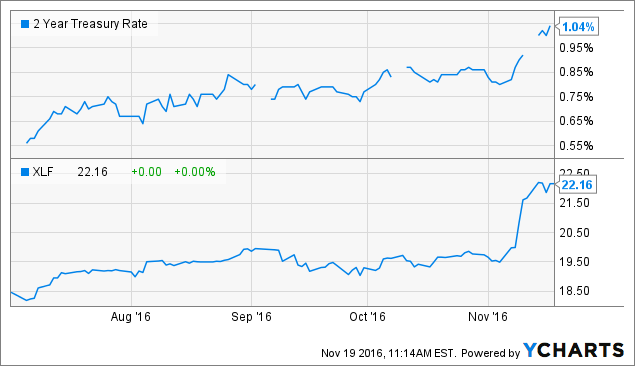 2 Year Treasury Rate data by YCharts
A note on safe havens
Even though the future is unpredictable, one might be concerned with the fact that traditional safe havens might cease to act as protection should the stocks go lower after the rate hike.
While Treasuries (NYSEARCA:TLT) are going to directly suffer from the interest rate increase, utilities (NYSEARCA:XLU) are likely to become less attractive during the period of rising interest rates.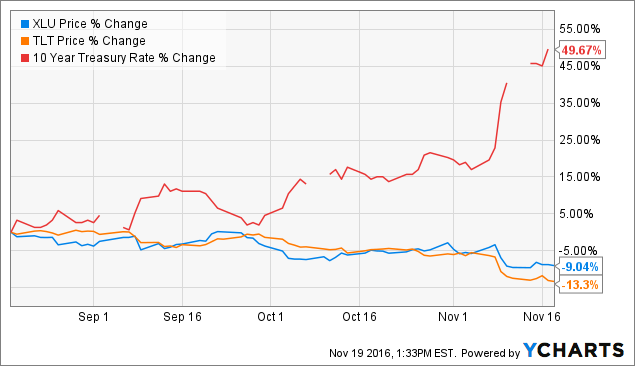 XLU data by YCharts
Meanwhile, continued strength of the U.S. Dollar might be devastating for gold (NYSEARCA:GLD) and silver (NYSEARCA:SLV), especially if investor sentiment continues to weaken.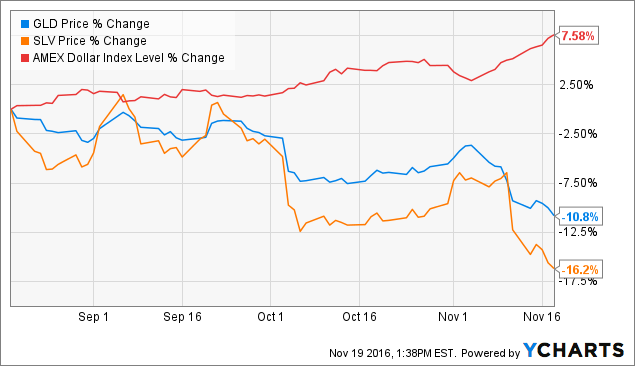 GLD data by YCharts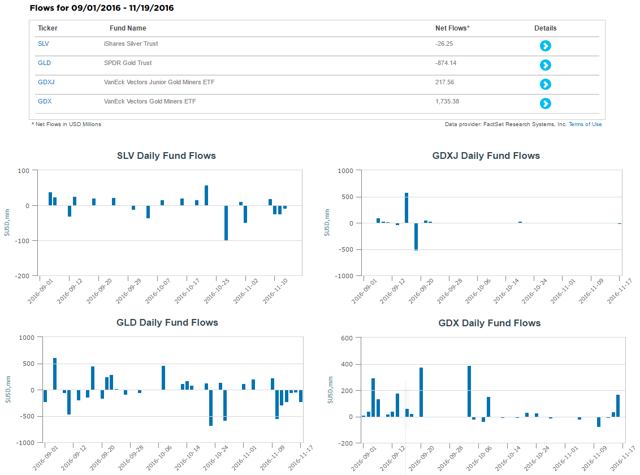 Source: compiled by the author using the charts provided by the ETF.com website
Retail
Another notable post-elections rally was happening in the retail (NYSEARCA:XRT) sector. Although one might argue that the cyclical upturn is close to an end if technicals and fund flow movements are taken into account, post-earnings momentum might continue for the largest components of the SPDR S&P Retail ETF. With real personal consumption expenditures at all-time highs, upcoming sales season might have a positive impact on investor sentiment if the Black Friday and Cyber Monday sales figures signal continued growth in consumer spending.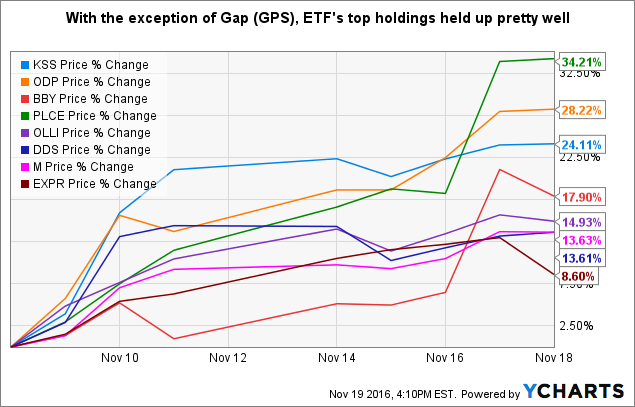 KSS data by YCharts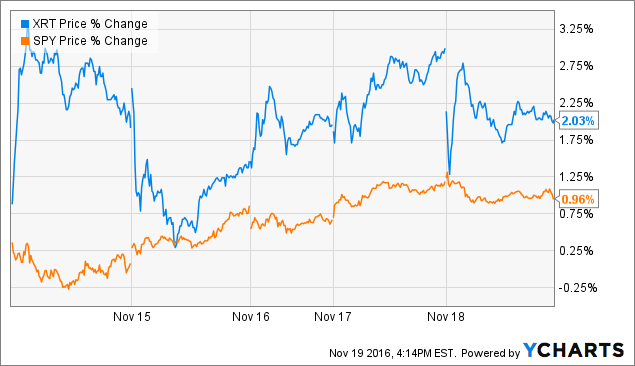 XRT Price data by YCharts
Biotechs
Despite the post-elections surge, biotechs finished the week on a downbeat note. Down by 1.14% for the week, iShares Nasdaq Biotechnology ETF (NASDAQ:IBB) is down by 2.86% since Monday's close. While one might argue that Trump's presidency is expected to create "less negative" (if compared with Hillary Clinton's take on the biotech market) rather than "more positive" conditions for the industry, stretched valuation might signal a retest of IBB's SMA 50 in the coming weeks. I remain short the biotech sector through the ProShares UltraShort Nasdaq Biotech ETN (NASDAQ:BIS).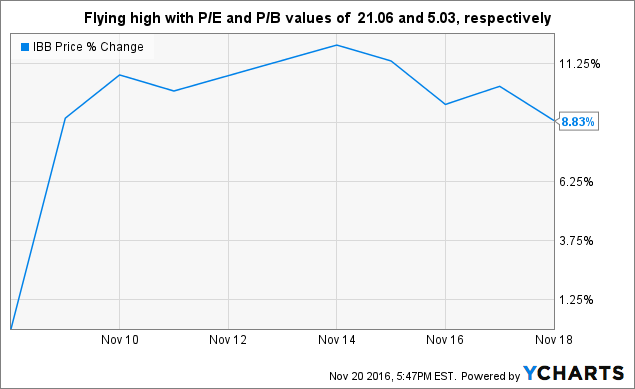 IBB data by YCharts
A net inflow of $755.75 million demonstrates an ill-timed spike in speculative interest. Currently, IBB is trading 1.75 percent below the close price of November 10.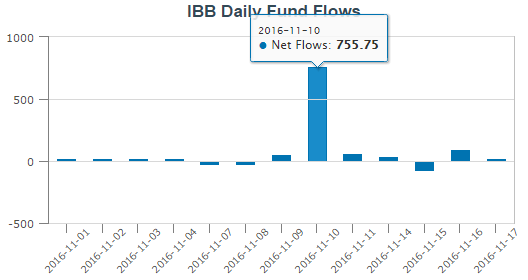 Source: ETF.com website
Consumer staples
Unchanged for the week, consumer staples (NYSEARCA:XLP) continue following the downtrend that started in mid-July. At these levels, one might argue that the sector is getting quite interesting if the following facts are taken into consideration:
A net outflow of $1.247 billion from July 15 through this November 16 for the XLP;
RSI and Slow Stochastics readings of 33.87 and 16.09.
However, ETF's near-term performance might remain negative due to the recent death cross of the SMA50 crossing the SMA200 on XLP's chart, as well as weak performance of the fund's top 5 stocks - Procter & Gamble (NYSE:PG), Coca-Cola Company (NYSE:KO), Philip Morris (NYSE:PM), Altria Group (NYSE:MO) and Wal-Mart (NYSE:WMT) - which currently constitute 41.32% of the fund's holdings.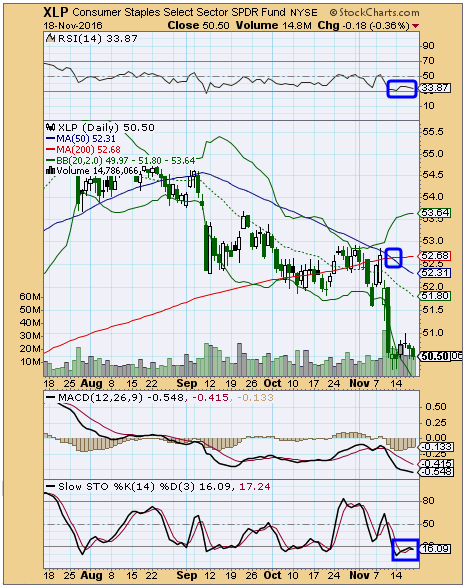 Source: StockCharts.com
International markets
A near-term short to consider are Indian ETFs. The recent ban of 500 and 1000 rupee notes - aimed to reduce tax avoidance activities - has sparked a substantial amount of uncertainty.
Providing a leveraged exposure to the depreciation of the Indian rupee, U.S. Dollar-denominated ETFs might experience additional downside if the outflows continue. Liquid ETFs: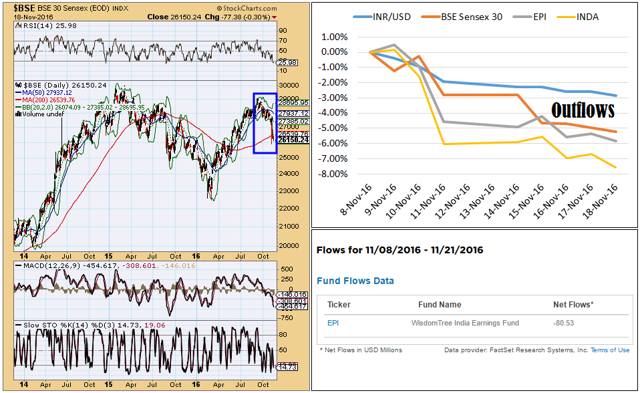 Source: compiled by the author using the StockCharts.com, ETF.com and Investing.com websites
Another short opportunity one may consider is represented by the U.S. Dollar-denominated iShares MSCI Mexico ETF (NYSEARCA:EWW). Investor sentiment has significantly deteriorated since the U.S. election results had been announced, fuelling a broad sell-off in national currency and Mexican equities. However, capital flows indicate that foreign investors remained rather bullish on Mexican equities post election. Unless we witness a significant reversal in Trump's stance on Mexico later this year, additional downside might follow if the buyers get forced to liquidate their positions in the coming weeks.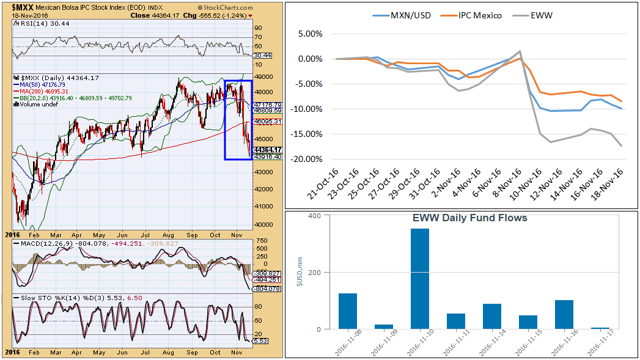 Source: compiled by the author using the StockCharts.com, ETF.com and Investing.com websites
For a more detailed article on currency play opportunities in foreign market ETFs, please see here.
Conclusion
Even though it has been a pretty good week for the major indices, numerous sectors and individual stocks have been in a downtrend lately. Having corrected by an average of 9.54 percent since October 24, FANG stocks - Facebook (NASDAQ:FB), Amazon (NASDAQ:AMZN), Netflix (NASDAQ:NFLX) and Google (NASDAQ:GOOG) (NASDAQ:GOOGL) - continue to weigh on other stocks' performance and sentiment due to the large ETF allocation and their overall significance to the current bull market.
Meanwhile, additional pressure might arise if rising Treasury yields and underperforming safe havens leave little choice to safety seeking investors during the market corrections. Even though the earnings data has been predominantly positive this quarter, it is difficult to find sectors that continue to be as strong as financials and retail are at the moment. The latter might also get quite volatile due to increased coverage of the Black Friday and Cyber Monday sales data, which might be taken with additional optimism (if positive) as the pundits are weighing the possibility of an upcoming recession.
Disclosure: I am/we are long BIS.
I wrote this article myself, and it expresses my own opinions. I am not receiving compensation for it (other than from Seeking Alpha). I have no business relationship with any company whose stock is mentioned in this article.
Additional disclosure: This is not an investment advice. I am not an investment advisor.
Editor's Note: This article covers one or more stocks trading at less than $1 per share and/or with less than a $100 million market cap. Please be aware of the risks associated with these stocks.