In the preface of book Common Stocks and Uncommon Profits Kenneth Fisher wrote a question that summed up his father's (a legendary investor Philip Fisher) lifelong aspiration and summarized the gist of his famous fifteen points. The question goes something like this: What are you doing that your competitors aren't doing yet? The emphasis is on the word yet. Most companies, when you ask them that question, aren't doing one darned thing of any great significance their competitors aren't already doing. The firm that is always asking itself that question never becomes complacent. It is never caught behind. It never starves for intellectual grist to chew through toward better future. At the end, it is a great investment for an equity investor.
Why Isn't Everyone Doing This?
The insulin market is dominated by just three players: Novo Nordisk (NYSE:NVO), Sanofi (NYSE:SNY) and Eli Lilly (NYSE:LLY). The reason is that the entry barriers are enormous. It is a high volume, low-value product in contrast to most patented drugs which have high prices but are comparatively cheap to produce. As such, there has been little competition even on human insulin, which is off-patent. The second source of the moat is a switching cost. Switching cost from the perspective of a diabetic is extremely high. It takes time and several visits to the doctor to establish a stable regime.
Once it has been achieved, there is no desire to repeat the process all over again given the hassle and the heightened risk of a hypo. The consequence of high switching cost creates a strong brand loyalty. Brand loyalty, which extends beyond the expiration of any patents, makes the sale of insulin more comparable to a consumer type business model than a typical pharmaceutical one. The final source of the moat stems from patents (R&D capabilities). It is the same case as with other pharmaceutical companies.
Novo Nordisk enjoys exclusivity on its product for a defined period after approval. But here is the catch. Compared to other pharmaceutical companies, Novo Nordisk doesn't face competition after the expiration of patents because insulin is produced biologically and it is impossible for a generic manufacturer to precisely copy. Thus, potential copies are bio-similar, not generic. Here it is important to highlight the fact that a biosimilar product is not substitutable with the original but requires a new prescription. So to speak, there is enough time to innovate and replace an insulin that goes off-patent.
To summarize, the above-mentioned reasons (barriers to entry - economies of scale, switching costs and patents) have meant that to date, little competition has emerged.
Industry Overview
The diabetes care market has grown by a low-double digit figure annually in the last decade and is expected to experience continued solid growth driven by an increased prevalence of diabetes. According to the International Diabetes Federation, 415m people worldwide are living with diabetes, and it is predicted that by 2040 more than 10% of the world's adult population - 642m people worldwide will have diabetes.
The global market for diabetes care products amounts to USD 50bn, of which Novo Nordisk's products account for approximately 27%. Of this global market, insulin accounts for 56%, oral diabetes products (tablet-based medications) account for 37% and GLP-1 products account for 7%, measured in value.
The other side of the story relates to people who have diabetes but not have been diagnosed yet. Based on the International Diabetes Federation estimates almost half of the population with diabetes are not aware of it. This means that approximately 193m people are going about their everyday lives not realizing the damage that is being done to their bodies.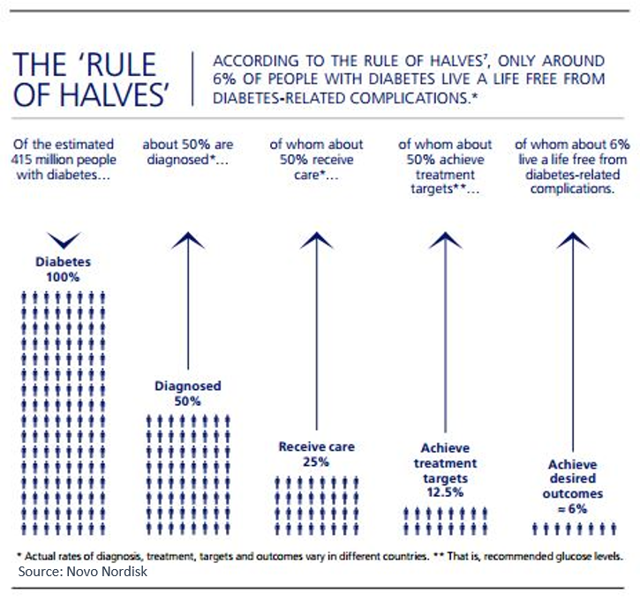 It is obvious that diabetes is a severe challenge for patients and society. According to the International Diabetes Federation, diabetes was a factor in 5m deaths and accounted for USD 673bn in health expenditure, or 11.6% of the total healthcare spend worldwide, in 2015. Added to this is the impact of reduced employment and productivity, which together put a significant economic burden on people living with diabetes, their families, and society.
The logical conclusion is quite simple. The industry structure is based on a sad background because an increasing number of people have a problem with diabetes. However, the rational investor should be aware of the fact that only a few companies will profit from that grievous environment.
Recent News Flow
Novo got approval in the US for its new long-lasting insulin Tresiba at the beginning of the year. That put Novo on a higher level in the most important insulin category. Also, it has filed for approval for Xultophy (it lowers blood sugar with a significantly lower risk of hypos) in the US. In addition, Novo filed for regulatory approval of faster-acting insulin in the US and the EU for the treatment of type 1 and 2 diabetes in December last year.
At the end of September, Novo announced the cost-cutting program. Namely, the company plans to reduce the headcount by 1,000 (on a net basis).
In October this year, Novo received a response letter from the FDA regarding the application for faster-acting insulin. In the letter, the FDA requests additional information before the review of the New Drug Application can be completed.
At the end of October, Novo Nordisk published its 9M16 results and lowered its 2016 operating profit growth forecast to 5-7% from 5-8% in local currencies. It expects sales growth of 5-6%, down from the 5-7% in its earlier forecast. For 2017, Novo Nordisk lowered its operating profit growth forecast to 5% from 10%. The competitive environment in the U.S. has become more challenging, negatively impacting the price of Novo's products.
Two weeks ago, Novo received a positive opinion from the European regulatory authorities for Fiasp (fast-acting insulin) for the treatment of diabetes. Novo Nordisk expects to receive final marketing authorization from the European Commission in the first quarter of 2017.
Valuation & Conclusion
Novo Nordisk achieved almost 50 consecutive quarters of double-digit sales growth. From the perspective of the long-term investors, it is normal and logical that Novo Nordisk will face challenges from time to time. If you believe in the business fundamentals (competitive advantage and industry tailwinds), there is no need to panic when the stock price decrease. This way, Mr. Market offers you a better opportunity to load the stock.
So, if we know that Novo Nordisk produces FCF of something around USD 5bn and market cap is around USD 85bn, it is relatively attractive knowing its strength of moats. When we compare Novo Nordisk with other high-quality companies on a relative basis, it seems more attractive. In addition, market cap over FCF stood around 24x during the last 10 years, so the level of 17x is below the long-term average.
Disclosure: I/we have no positions in any stocks mentioned, and no plans to initiate any positions within the next 72 hours.
I wrote this article myself, and it expresses my own opinions. I am not receiving compensation for it (other than from Seeking Alpha). I have no business relationship with any company whose stock is mentioned in this article.