American Water Works Company (NYSE:AWK) is the largest publicly traded water company serving approximately 15 million people in U.S. and Canada. It operates approximately 81 surface water treatment plants with approximately 500 groundwater treatment plants and 1,000 groundwater wells; 100 wastewater treatment facilities, 1,200 treated water storage facilities, 1,400 pumping stations, 81 dams, and 49,000 miles of mains and collection pipes.
The Case for Investing
Investing in water can provide lucrative returns with the stability that comes with investing in utility stocks. Investing directly in water isn't possible since the market isn't developed enough here in North America, and investors have to rely on utilities for water exposure. Australia seems to be the leader in this field where water trading is quite advanced and water rights can be bought and sold.
American Water Works is the largest publicly traded water utilities company. Peers include American States Water (NYSE:AWR), Aqua America (NYSE:WTR), Connecticut Water Service (NASDAQ:CTWS), California Water Service (NYSE:CWT), Middlesex Water (NASDAQ:MSEX), and SJW Corp (NYSE:SJW).
American Water is an industry leader that has seen some great growth and clean-up of its financials over the last few years. The company maintains a 7-10% long-term EPS growth, a low beta of 0.23, and 8% dividend growth rate. The large customer base is diverse as it services most of the states and a couple of Canadian provinces as well.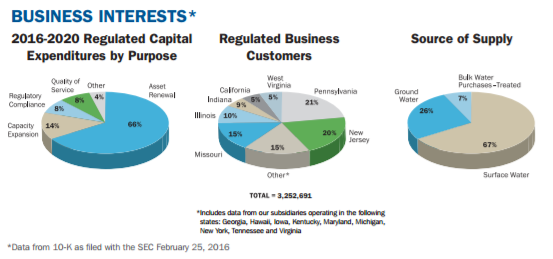 (Image source: AWK Factsheet)
The Case Against
The biggest case against investing is the macro picture. The utilities sector has run ahead of itself as bond proxies have gained popularity amongst investors looking for income. As will be detailed in the sections below, the valuation of AWK (and other stocks in the sector) are high. The rhetoric has been to convince investors that a higher multiple is warranted in a low interest rate environment. Now that the interest rates are rising and safer investments (bonds) can provide similar income, a correction/re-pricing in bond proxies such as stocks in utilities, telecom and consumer staples is almost imminent.
American Water Works is a great business. The moat that the industry holds operating in the water utilities sector is exceptional. However, a lot of the infrastructure is very dated. Water pipelines that have existed for decades will need updating and will require massive infrastructure investments. The recent problems that were noticed in Flint, Michigan regarding water contamination can be all too common in the future forcing upgrades from water utilities.
Dividend Stock Analysis
Financials
Expected: A growing revenue, earnings per share and free cash flow year over year looking at a 10-year trend. A manageable amount of debt that can be serviced without affecting future operations.

(Source: Created by author. Data from Morningstar)
Actual: Revenue has continued to grow over the years maintaining a nice positive trajectory. The earnings, however, tell a different story. In 2010, the company started reporting positive earnings after being in the negative territory for years. The free cash flow has also started looking up more recently.
AWK carries some debt, which increased rapidly about 10 years ago, but later stabilized. The current debt/equity stands at about 1.31. However, the outstanding debt seems very manageable - apart from the current liabilities, the company has $300M due in 2026.

(Image Source: Morningstar)
Dividends and Payout Ratios
Expected: A growing dividend outpacing inflation rates, with a dividend rate not too high (which might signal an upcoming cut). Low/Manageable payout ratio to indicate that the dividends can be raised comfortably in the future.

(Source: Created by author. Data from Morningstar)
Actual: AWK started issuing dividends in 2008 and started raising them out of the gate. The drop in dividends in 2013 is a peculiar case. Looking through the dividend history, it appears that the company had dividend pay dates 5 times in 2012 and 3 times in 2013, which skews the numbers appearing to be a dividend cut in 2013, even though it isn't. The detailed dividend history since 2008 can be found here.
The payout ratio is currently 54.6%, which gives enough room for AWK to raise dividends over the coming years.
Outstanding Shares
Expected: Either constant or decreasing number of outstanding shares. An increase in share count might signal that the company is diluting its ownership and running into financial trouble.

(Source: Created by author. Data from Morningstar)
Actual: The number of shares in the company have steadily increased since 2008, but the growth has slowed down considerably which is a good sign.
Book Value and Book Value Growth
Expected: Growing book value per share.

(Source: Created by author. Data from Morningstar)
Actual: Book value has increased consistently since 2009 and maintains an upward trajectory.
Valuation
To determine the valuation, I use the Graham Number, average yield, average price-to-earnings, average price-to-sales, and discounted cash flow. For details on the methodology, click here.
The Graham Number for AWK with a book value per share of $29.43 and TTM EPS of $2.6 is $41.49. Based on last closing price, the stock is currently 73% overvalued.
AWK's 5-year average P/E is 20.9 (older data is irrelevant, as the company had negative earnings). Based on the analyst earnings estimate of $7.00, we get a fair value of $146.30.
AWK's average yield over the past five years was 2.36%. Based on the current annual payout of $1.50, that gives us a fair value of $63.56.
The average 5-year P/S is 2.72 and average 10-year P/S is 2.56. Revenue estimates for next year stand at $19.55 per share, giving a fair value of $53.18 and $50.06 based on 5- and 10-year averages, respectively.
The Gordon Growth Model is a quick way to calculate the fair value of a company using the current dividend, the expected dividend growth rate, and our required rate of return or discount rate. Using an expected rate of return of 10%, and a dividend growth rate of 8%, we get a fair value of $81.00.
The consensus from analysts is that earnings will rise at 7.60% per year over the next five years. If we take that as 7.0% instead, and assume that AWK can grow at 7% for the coming years, running the three-stage DCF analysis with a 10% discount rate (expected rate of return), we get a fair price of $52.28.
The following charts from Simply Wall St provide an overall perspective on the valuation of KSU. The snowflake provided by the service gives a quick visual representation on whether a company provides good value, dividend, while also showing past performance and future expectations (Read full review here).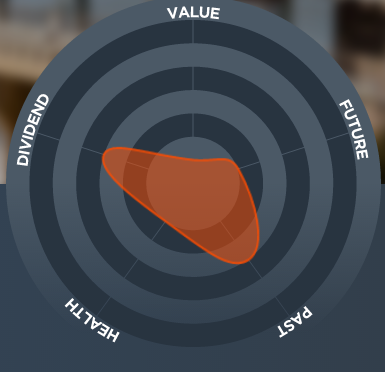 (Source: Simply Wall St)
The chart above shows that AWK does not provide good value. Digging deeper, the following charts show that AWK is extremely overvalued.

(Source: Simply Wall St)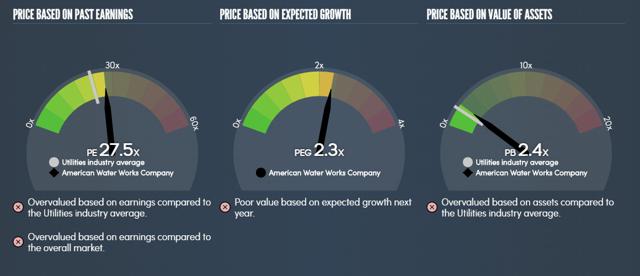 (Source: Simply Wall St)
Conclusion
American Water Works appears to have turned the company around and cleaned up its books since facing a lot of challenges a few years ago. Earnings and free cash flow have turned positive and dividends have continued to grow over the years. The company provides a great opportunity for investors looking to water exposure, although it appears to be a bit overvalued currently. If we give equal weight to all metrics of valuation used above, we get a fair value of $65.39, which makes the current price overvalued by 9.8%.
Full Disclosure: None. My full list of holdings is available here.
Disclosure: I/we have no positions in any stocks mentioned, and no plans to initiate any positions within the next 72 hours.
I wrote this article myself, and it expresses my own opinions. I am not receiving compensation for it (other than from Seeking Alpha). I have no business relationship with any company whose stock is mentioned in this article.