Last week, I wrote an article about AirBoss Corporation of America, (OTCPK:ABSSF) a company involved in the business of all things rubber. In summary, it operates in three chief segments - Compounding, Engineered Products and Automotive - and two of the three segments have had significantly declining sales in 2016. The third segment - Automotive - is basically treading water. This has led to an overall earnings contraction and earnings and share price of AirBoss in 2016, which most recently culminated in a sell off shortly after the Q3 earnings were released. To date, I am down ~30%.
In my previous article I highlighted my initial investment thesis and then, with the benefit of hindsight, promptly picked it apart.
This week I'd like to discuss what my plan is moving forward, and how I came to that decision.
SELL SELL SELL!
In his 2011 book Thinking Fast and Slow, Nobel Prize winning economist Daniel Kahneman discussed two decision making systems - system one and system two - that help guide our decisions. System one is fast, instinctive and emotional. System two is slower, more deliberate and more rational. Put another way, system one tends to be your emotional knee jerk reaction, while system two is letting cooler heads prevail.
After reading the Q3 2016 report I knew the market wasn't going to respond well - and why should it? The report was abysmal. My system one reaction was to liquidate my position in AirBoss. This largely seems intuitive - earnings are declining, price is going to drop, I'm down on my investment - why not get out now before it gets worse?
The problem with this line of thinking is that it's largely based on an emotional reaction. The field of behavioral finance tells us we feel our losses twice as much as we feel our gains, and this leads to loss aversion. This can lead to emotional snap decisions - the affect heuristic - that are not necessarily logical or rational. In essence, they are a system one decision. Finally, by basing my decision based on drop in share price I'm anchoring - meaning I'm letting an arbitrary number determine whether or not AirBoss is a good investment.
In reality, as a believer in fundamental analysis, the fundamentals of the business are what determine whether or not I've made a good investment, not the past price that I paid. Said another way, the price I paid has no bearing on the returns of the company moving forward.
What is AirBoss Worth?
"Price is what you pay; value is what you get"

- Warren Buffet
The first step in my re-evaluation is to re-value AirBoss. My mistakes are in the past; I am investing in the future.
Peering into the crystal ball, it appears that the expectations are that earnings growth will resume in FY 2017.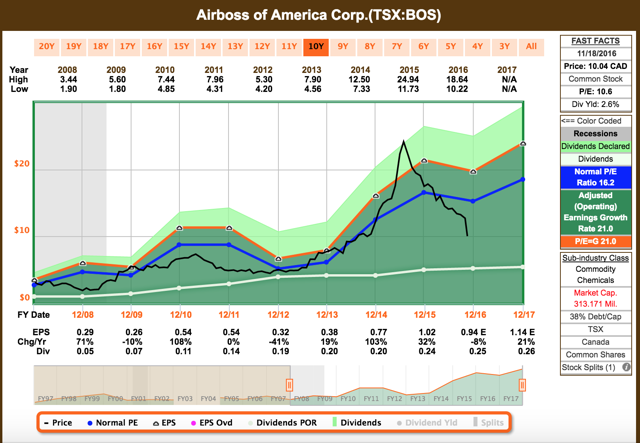 Courtesy of FASTGraphs
Furthermore, based on my DCF analysis, which assumes a 5 % FCF growth rate and a discount rate of 8%, yields a future value of ~$20. Thus, based on today's prices, there is a ~50% margin of safety.
However, as I mentioned in my previous article, believing analyst expectations is what got me into this pickle in the first place. With only three analysts covering AirBoss, there is the strong possibility they may get it wrong and even today's prices may represent an over pay for future growth that doesn't materialize. Besides, can anyone really know the future?
How Else Can We Determine Value?
One other way we can assess the value of AirBoss is by looking at a variety of financial ratios, comparing the past to the present. Of course, this is rear view mirror investing, but the view down the road is often opaque.
Looking at the P/E, over the past decade AirBoss has had a median P/E of 18.41, while the TTM P/E today is 10.24. Thus, based on P/E, there is ~45% discount versus historical norms.
Looking at the P/B, over the past decade AirBoss has had a median P/B of 1.74, while today the P/B is 1.57. Thus, based on P/B, there is a ~10% discount versus historical norms.
Looking at P/FCF, over the past decade AirBoss has had a median P/FCF of 13.52, while today the TTM P / FCF is 10.36. Thus, based on FCF, there is about a ~24% discount versus historical norms. Put another way, today AirBoss has a 9.6% free cash flow yield.
In business cash is king - it lets you grow your business, pay down debt, initiate buy backs, pay higher dividends or initiate an acquisition. Thus, I would put the most weight into the P/ FCF metric. Furthermore I would say with a 9.6% free cash flow yield, AirBoss is undervalued at present.
Buy, Sell, or Hold?
So we have established that despite the decline AirBoss is still probably undervalued. How should I proceed?
The case for selling seems pretty straight forward - I got my initial investment thesis wrong. What's more, if I get out now I can avoid further capital losses and potentially rotate my capital into something that will make me money, rather than holding something that may or may not meet future expectations.
The case for holding seems equally straight forward - perhaps I can recoup some of my losses by sitting and doing nothing. The balance sheet is in great shape so it's unlikely AirBoss will go bankrupt.
Although these two options seem reasonable, the biggest problem is that I am anchoring - I'm using my initial purchase price of AirBoss determine what I should do moving forward. As mentioned, my initial purchase price has no bearing on the quality of AirBoss as an investment.
" Investors buy securities that appear to offer attractive return for the risk incurred and sell when the return no longer justifies the risk"

- Seth Klarman
What is the rational way to move forward? Is AirBoss more or less risky because of the recent decline?
I think that AirBoss today is likely undervalued, meaning the margin of safety has increased. This translates to less risk. Therefore, selling is not the right course of action.
Yes, the company has not met expectations, but it appears investors as a whole have over-reacted. Furthermore, despite declining earnings in the most recent quarter the company actually managed to grow free cash flow and has a free cash flow yield of nearly 10%. Again, more cash flow equates to less risk.
Heads I Win, Tails I Don't Lose Much
"The single greatest edge an investor can have is a long term orientation"

- Seth Klarman
Whenever the macro environment improves, with a commodities boom earnings growth will resume. In the short term, management still has a strong cash flow stream. Furthermore, as there is a decent level of insider ownership, management and shareholder interests are aligned when it comes to capital appreciation, so hopefully that cash flow stream isn't wasted. If nothing else, the dividend should keep growing.
Thus, in conclusion, despite getting my initial thesis wrong and having a knee jerk reaction to sell, my system two is telling me that, with a free cash flow yield approaching 10%, it looks like the most logical course of action is to buy more.
What do you think about my decision? What would you do? Please feel free to let me know in the comments section below. Thanks for reading!
Appendix - What Have I Learned?
This case study has been very useful - not only as a thought exercise but also as a way to help me refine my decision making process. Mistakes are inevitable, but hopefully by learning from my previous mistakes I can prevent them from happening again.
One way to learn from mistakes is to create checklists. Mohnish Pabrai, a market destroying value investor, is a big proponent of checklists. Here are a few things I will be adding to my checklist:
- What is the free cash flow yield?
- What is the quality of the analyst projections?
- Is there more cyclicality than I am anticipating?
- What will I do if future expectations are not met?
Disclosure: I am/we are long ABSFF.
I wrote this article myself, and it expresses my own opinions. I am not receiving compensation for it (other than from Seeking Alpha). I have no business relationship with any company whose stock is mentioned in this article.
Additional disclosure: I am not an investment professional and I advise you do your own due diligence regarding any stocks discussed.
Editor's Note: This article discusses one or more securities that do not trade on a major U.S. exchange. Please be aware of the risks associated with these stocks.