Ever-increasing taxes, stricter regulations, greater awareness of health hazards attached to tobacco, and pressure from health advocates are the forces behind steadily dwindling smoking rates. According to Euromonitor, the global markets suffered 2.1% decline in cigarette shipments last year - steepest in more than two decades. And yet, 5.2% growth in selling prices enabled tobacco industry to book $698.5 billion in cigarette sales.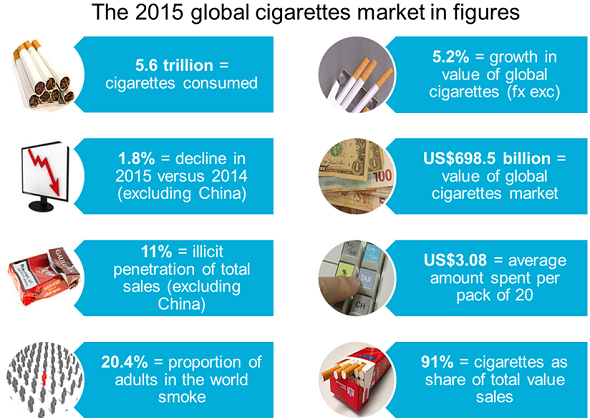 Source: Euromonitor
Challenges are the same in the United States, but steady top-line growth and margins expansion enable Altria Group (NYSE:MO) to continue generating value for the shareholders. In the past several years, Altria has consistently delivered high-single digit growth. And with the help of sound fundamentals and new opportunities on the way, the management is targeting 7% to 9% growth in the long-term.
How will Altria be able to achieve target growth while the smoking rate is expected to decline further?
Taxes To Axe Smoking Rate, But Does It Matter?
Increasing cigarette taxes is the single most important tool governments use to force the consumer to cut back on smoking. In the U.S., all but thirteen states have hiked cigarette taxes at least once in the past one decade. The November ballot, however, was favorable for Altria as only California succeeded in passing an increase of $2 per pack whereas Colorado, Missouri, and North Dakota voted against the tax hike. I do not expect a notable impact on Altria's revenue stream as 12.9% adult smoking rate in California is already significantly lower than the national as well as global average.
According to Centers for Disease Control and Prevention (NASDAQ:CDC), smoking rate among adults in the U.S. has dropped from 20.9% in 2005 to 15.1% in 2015 - primarily due to more taxes and awareness. CDC expects the smoking rate to reach close to 12% by 2020, but I think the market will try to stabilize as taxes are already quite high and there is no enough room for further increase, at least over the next five to ten years. The recent failure of the new taxes to boost in three states is an example.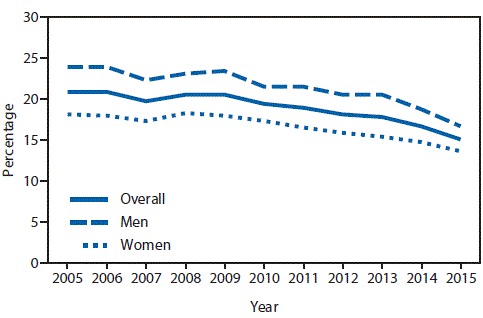 Source: Centers for Disease Control and Prevention
The investor shouldn't solely focus on volumes as fundamental aspects of the tobacco industry are significantly different from other companies in consumer goods sector. The U.S. market has important properties that can support Altria's net income growth strategy. For instance, the average price point of $6.50 per pack in the U.S. is significantly cheaper than prices in several developed markets. Moreover, the U.S. is among those markets where wage-to-cigarette price ratios are highest, which means due to the strong purchasing power of customer Altria can steadily gain more margins by maintaining a trade-off between prices and volumes.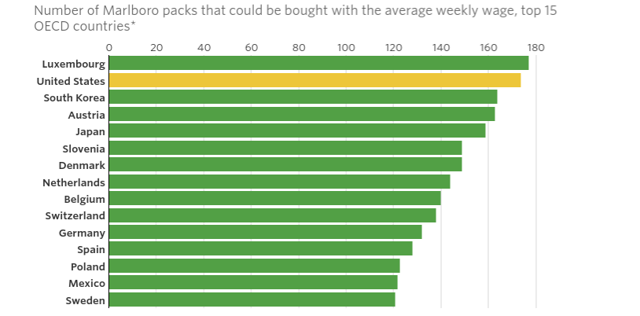 Source: WSJ (Graph), Numbeo (cigarette prices) , OECD (average wages)
Over the years, Altria has cemented its market position with the help of premium brands in several categories, which will assist the company to continue dictating prices in the future. Altria's cash cow brand ''Marlboro'' is tightly holding retail market share at approximately 44%, while billion-dollar smokeless brands, Skoal and Copenhagen, are witnessing encouraging growth in volumes as well as retail share growth.
Altria's comparatively lesser profit margins are a point of concern despite leading market position, but there is also an opportunity for sizeable expansion in the long run if management focus on improving production cost structure.
More People Smoking The Smokeless
Unlike cigarettes, consumption of smokeless tobacco is on the rise and Altria is the beneficiary due to its firm hold on the category with 55% share. Thus, Altria's revenue growth is attributable to both pricing actions and growing volumes of smokeless brands. Since 2013, smokeable segment volumes sales have plunged at an average rate of 1.2%, but volumes of smokeless brands have surged at a CAGR of 2.5% over the same period.

Source: Altria SEC Filings
In the first nine months of 2016, operating companies income (OCI) margin of the smokeless segment has increased to 60.8%, from 59.6% in the same period last year, whereas smokeable segment has produced OCI margin of just 34.2%. On demand front, CDC report shows that after falling between 1986 and 2000, smokeless tobacco consumption is on the rise. Smokeless tobacco is a small category, but the increase in sales contribution from smokeless tobacco is vital for Altria to grow its net income in the future due to favorable category dynamics and higher operating margins.
Altria's smokeless brands are growing in-line with the industry growth pace. Altria is doing what needs to be done to boost the revenue contribution from cigarette alternatives. Altria is innovating tobacco products, and its Copenhagen mint brand is gaining more traction - leading to category market share gain. Altria is also innovating Marlboro to reduce the negative impact. In this regard, the company has recently started the Nationwide expansion of Marlboro Slate after encouraging response from the consumer.
E-cigarettes
The U.S. is the largest e-cigarette market and accounts for 43% of the global market. With traditional cigarette sales consistently declining, the importance of innovative e-cigarettes is increasing. It is surprising that Altria has a small presence in this e-cigarette market, which is expected to reach $20 billion on the global scale by 2020.
Altria is learning the dynamics of e-cigarettes marketplace. The company is positioning John Middleton and Nu Mark brands in the new regulatory environment. The growth pace of vapor products in the global markets has slowed significantly in the recent past, but the adaptation of e-cigarettes is likely to continue at a decent pace - particularly among young adults.
Altria is taking initiatives to reduce the cost base of its e-vapor products to boost the profit margins, but economies of scale are no way near as more automated production is still under process. In my opinion, strategic partnership with Philip Morris International (NYSE:PM) is perhaps the reason Altria is not rushing into e-vapor products. Altria's licensing bet on iQOS makes a lot of sense. iQOS heats tobacco instead of some nicotine-laced e-liquid, which is a big attraction for the consumer. Moreover, iQOS uses Marlboro branded HeatSticks, which is a huge advantage over almost every brand in e-cigarette market. And lastly, the production process and raw material are almost the same for HeatSticks, which can produce significant cost advantage.
iQOS is a hot new product from Philip Morris International, but it can also help Altria in the U.S. Japan is the fifth largest cigarette market in the world where iQOS has gained 2.4% market share within the first year of its release. The estimates show that iQOS will gain 25% share of Japanese cigarette market by 2020. Through its licensing deal with Philip Morris International, Altria will distribute iQOS in the U.S. next year after approval from the U.S. Food and Drug Administration (FDA). It's too early to say that Altria will be able to produce iQOS in the U.S., but if it happens, it would be a huge win for Altria.
Let The Dividends Keep Coming
Altria is optimizing its operations amid expected continuation of declining trend in cigarette sales. In this regard, the company is closing a couple of facilities. Simplifying business processes by streamlining the infrastructure will enable Altria to cut the excessive overheads and fuel profit margins. The consolidation of production facilities in Richmond and Nashville will generate incremental annualized cost savings of worth $50 million by the end of 2018.
Altria has an excellent track record of increasing dividends. The company has taken important strategic steps in the recent past to enhance cash flows to support future cash reward to shareholders. The company has expanded its equity stake in AB InBev (NYSE:BUD) to 10.2%, which means foreign tax credits on dividends from AB InBev will save more cash for shareholders. Moreover, with the help of after-tax cash receipts for AB InBev, Altria will return an addition $2 billion cash in the form of share repurchase program by the end of second 2018. The reducing share count will also boost the earnings per share to some extent.
Interestingly, the dividend yield has dropped to approximately 3.9% due to 127% increase in stock value over the past five years. I do expect moderate capital gains in the future, at least for now, as Altria is already trading at a trailing PE multiple of 23.6x, which is significantly higher than the 5-year historical average of just 17.8x. However, Altria is not expensive as well when you pick forward PE multiple of 18.8x and compare it with tobacco industry forward PE of 19.5x. In my opinion, Altria is an attractive stock to get 4% yield with high-single-digit dividend growth potential, plus a share repurchase program of worth $3 billion over the next one and a half year, approximately.
Disclosure: I/we have no positions in any stocks mentioned, and no plans to initiate any positions within the next 72 hours.
I wrote this article myself, and it expresses my own opinions. I am not receiving compensation for it (other than from Seeking Alpha). I have no business relationship with any company whose stock is mentioned in this article.