With the broader markets at or near all time highs, the VIX, which recently peaked out around 22 has once again moved below 13. One of my favorite measures, which is the volatility of volatility, which hit a recent high of 120 has also moved lower and currently sits just over 86. Both measures of volatility have room to move lower should the markets remain calm. As my previous article and the one before that had hinted, I have been aggressively short volatility by shorting various volatility ETFs such as VXX and UVXY. With volatility beginning to settle in, I am less aggressively positioned on the short side for reasons I will lay out below:
1) Market breadth remains poor: With the broad markets near all time highs, one would expect better participation than ~60% for both the S&P 500 (NYSEARCA:SPY) and NYSE as the charts below show.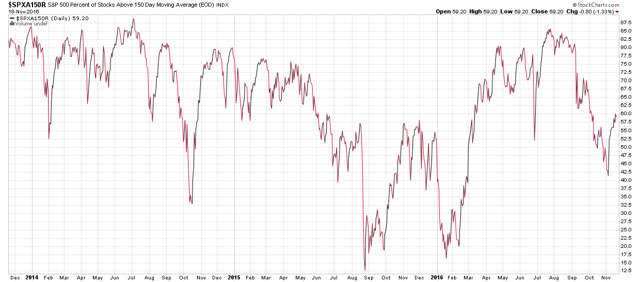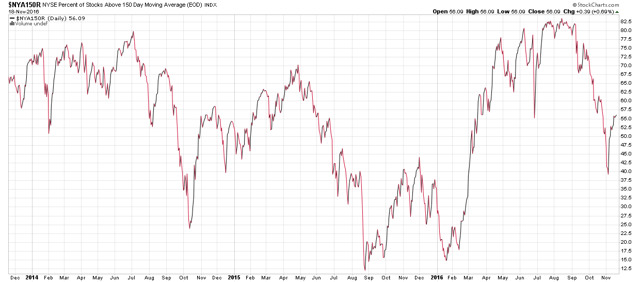 However, this does not necessarily mean that the market moves lower. In my estimation, the market continues higher and the breadth will improve as the market makes new highs. However, were I to be wrong, the cost of being wrong here by being significantly short volatility would introduce outsized losses to my portfolio.
Now the reason, I continue to remain short the VIX ETNs is simple. Volatility as measured by the VIX and VVIX has room to move lower as I had stated and the net positioning in the VIX futures has continued to trend higher. Put differently, market participants on a net basis expect volatility to pick up and have positioned themselves accordingly as the chart below shows: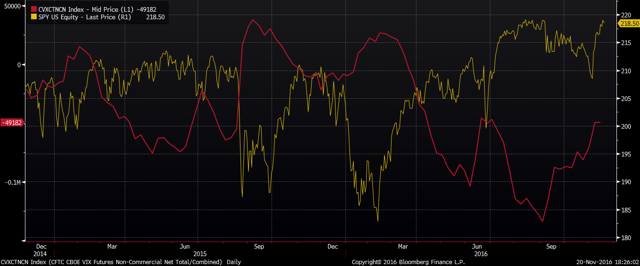 Net positioning is an interesting tool to use in my opinion because sharp moves lower in equities are typically unlikely when people are overwhelmingly positioned for it. As the chart above shows, the S&P is more likely to move higher when the net positioning in the VIX is moving close to zero.
Now think about the sectors which have propelled the markets higher - financials, insurance and industrials. All three of these sectors are highly linked to the shape of the yield curve and the yield curve has decidedly steepened over the past month. Should there be any event which causes the yield curve to flatten, all three sectors would move lower and take the market down with it. This is not a high probability outcome as we head into a seasonally strong period for the market, but this is a possibility that one must be prepared for. Therefore until the markets break out to new highs with improving breadth, I will not be aggressively short the VIX, but only moderately so.
Disclosure: I am/we are short UVXY.
I wrote this article myself, and it expresses my own opinions. I am not receiving compensation for it (other than from Seeking Alpha). I have no business relationship with any company whose stock is mentioned in this article.