Stage Stores' (NYSE:SSI) Q3 report seemed like deja vu all over again. The stock gained into the release, as it has multiple times over the past two years. Shares then fell nearly 18% on the news; before Q2, they had declined 12%, 29%, 31%, 21%, and 23% after the previous five earnings reports. The company pulled down guidance for the second time this year, after doing so multiple times in FY15 (and still missing badly on a full-year basis); management, as it has for the past five quarters, blamed the oil & gas bust and the Mexican peso for the weakness. The only notable difference this time around is that SSI, so far, hasn't gotten a "dead cat bounce":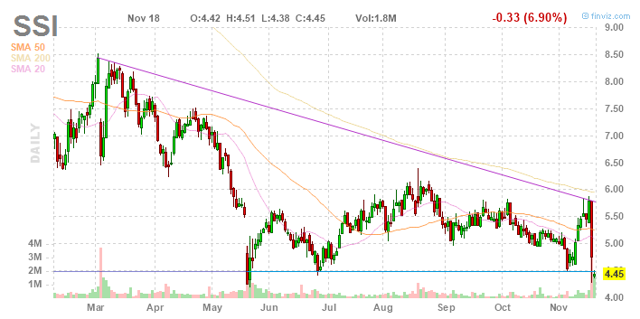 Source: Finviz.com
At this point, it seems highly likely that Stage Stores' business model is doomed. The company's edge was being the "only game in town" in smaller rural markets; that edge is gone now. SSI can talk about lower demand in Oklahoma, Texas, Louisiana, and New Mexico all it wants; but ~60% of the base is outside oil-impacted and border regions, and sales at those stores are collapsing as well. Credit card penetration is increasing, but it appears write-offs are doing the same; significant capex spend in online capabilities and store "refreshes" have supposedly provided a sales lift, but have been swamped by sharply lower traffic. Management remains nearly delusional about the business; there may be an avenue to claim some value at this point, but with the company continuing to cite external factors instead of understanding the secular impacts facing the business, the odds of SSI choosing that path seem slim. Meanwhile, the revolving credit facility continues to swell - though it will come down after Q4 - and its maturity is now less than three years away. SSI's current trajectory likely implies significant difficulty in a refinancing, given a very limited asset base.
The question is whether to short (or, in my case, stay short) with the stock near a seven-year low at Friday's close of $4.45. I've been short SSI on and off through the year, generally covering after earnings reports, and I'm inclined to do the same after Wednesday's fall. SSI has seen yield-chasers enter repeatedly during a long decline from $20+ in early 2015 to $4+ at the moment, and those buyers may come back. The dividend itself will allow equity holders to get some value out (at this point, SSI might be best served maxing out the dividend to the $1+ allowed on its revolver) and the company insists it will be FCF positive this year (apparently thanks to a large reduction in inventory). Risk/reward is getting a bit skewed - a move to $6 (a 10% yield) wouldn't shock me, as it's happened after worse quarters, and that implies a ~35% loss to a short position from simple trading.
But I'm increasingly confident in my belief that SSI is heading to zero, and this remains a stock that should be shorted on any strength. The dividend is a bit of a headache both from a technical and fundamental perspective, and makes it difficult to get too aggressive below $5. Still, the long-term outlook for SSI looks bleaker with each passing quarter, and the lack of response from management, along with the inability of that management to forecast its own business, means any investors thinking of trying to time the bottom should look elsewhere.
Find A New Bull Case
The argument for SSI has rested on the idea that the company has simply been temporarily impacted by the oil & gas bust, which impacts about one-third of Stage Stores' locations. But I've long argued that the bust isn't really a temporary situation; rather, it's a reversion to the mean. So results in FY15 and FY16 are actually a better reflection of what a normalized SSI looks like; FY12-FY14 should be considered the outliers.
With SSI lapping the first, more intense, effects of the bust in Q3, the bullish interpretation should be put to bed. Comps overall were down 8.2%; a 260 bps delta between oil-impacted stores and the rest of the chain implies a likely high 9s decline in O&G, but still a low 7s-type decrease elsewhere. CEO Michael Glazer had pointed to easier comparisons on the Q2 call as a driver in the back half, with the implication being that the business would look better once the early impacts were lapped, and that seemed to support the decision to maintain full-year guidance that implied a significant increase in back-half net income (not just EPS, which is benefiting from a large buyback in FY15) and looked "optimistic to nearly the point of delusion," as I wrote at the time.
But Stage still is acting like this is just an O&G issue, with Glazer pointing to weather as another issue in the quarter. This time, it was too warm, but in the year-prior period, the CEO made the same excuse. This isn't a matter of lapping comparisons or oil or weather; this is a business in structural decline.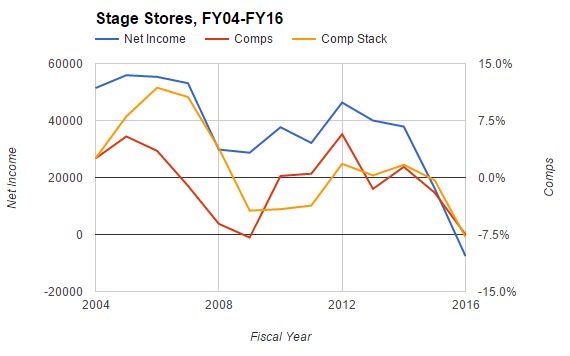 Source: Author from SSI filings; net income figures as adjusted by SSI; FY16 numbers at the midpoint of company guidance
The oil & gas boom - which increasingly looks like a bubble - gave SSI a reprieve. That aside, the decade-plus-long trend is abundantly clear. There's no evidence at this point that the declines are going to let up; the border stores (~7% of sales) are a disaster, as the peso continues to weaken. There's no evidence of a reversion in oil & gas employment (and, as I've pointed out repeatedly, O&G employment still is very close to the long-term average). Customers aren't moving back to rural areas. The "omnichannel" capabilities SSI spent to build aren't helping, with DTC comps up low-single digits in the quarter (and included in overall comp figures). The company remodeled stores, and that actually has helped: CFO Oded Shein said on the Q3 conference call that remodeled stores were negative, but relative to the chain as a whole had "seen a nice sales lift". There's nothing else to reverse the top-line trend here.
Until or unless management understands that problem, the trend for SSI is continuing declines in profits and a potential restructuring as its revolver comes due in October 2019. Full-year guidance implies Adjusted EBITDA of about $70 million; Shein guided for post-Q4 debt to be similar to last year ($163 million). Assuming SSI can stay cash flow neutral over the next three years - and that's not certain barring a significant reduction in capex, as inventory is providing a $50 million-plus benefit this year - SSI only has room to lose about $30 million in EBITDA over three years until it hits a 4x+ leverage ratio, at which point a refinancing is going to be difficult.
$30 million is not a lot at the current rate: a bit over 200 points in EBITDA margin even assuming flat revenue. SSI already has cut SG&A and appears to be ramping up discounting in Q4 after taking a 180 bps hit to merchandise margin in Q3 to clear inventory. Adjusted SG&A expense was cut 7% Y/Y in Q3 and yet the figure still delevered. Declining retailers deleverage very quickly; if Stage Stores continues to act as if a rebound or even a stabilization is on the horizon, I believe it's going to stretch its balance sheet in a way that perhaps might not seem apparent at the moment.
The Risks To A Terminal Short
Normally, that type of thesis would suggest a terminal short, but below $4.50 I think that case gets a little more difficult in the case of SSI. For one, the dividend is an issue, if only in the sense that equity holders can pull out value along the way. If a zero comes in 10-11 quarters, a short position's upside is limited to ~70% or so (That assumes the board doesn't cut the dividend, and I'm not sure it is incentivized to do so; if the business is tanking, cutting the dividend saves less than $20 million a year, not enough to materially change the calculus by 2H 2017. They might as well take the cash out). Whether it's theoretically logical or not, it's difficult to see SSI offering a 20% yield (which it would at $3), and it's only about 30% downside to those levels at this point. It's likely that some of the previous post-declines bounces have come from short covering (25%+ of the float is short at the moment), and that may come again next week.
And there's the possibility that SSI will change its capex plans, at least. Those plans still are being worked on; Shein said SSI could get as low as "$20 million in capex or less", and with ~$5 million in annual interest and D&A shielding taxes, that can get SSI's free cash flow in the black pretty quickly. This looks like a potentially intriguing activist play (though I'm unsure if it's too late); either way, if SSI decides to start managing for profit instead of growth, it can post free cash flow numbers that could squeeze the heck out of the heavy short float (Days to cover is over 15).
Even barring an unforeseen turnaround in the operating business, there are paths SSI can take to at least maintain some semblance of equity value, and a short seems to need a dividend cut to drive further substantial upside from $4.45. I don't know that I see that as a likely outcome. It seems wiser to cover at the lows and let Q4 play out: expectations have to be ridiculously low (note that shares gained post-Q2 simply because guidance wasn't cut, even though it was patently obvious that it should have been) and a 13% yield is going to catch a bid, even if it shouldn't.
But SSI's current path is to zero, even if that zero doesn't necessarily come by 2019, and I think there will be another opportunity to short the stock again unless management changes course. Anything over $6 - barring a change in strategy or the business - opens up 25-30% downside to $4+ lows, and the market has shown it will bid SSI up in between earnings reports. That may change this time around; Q3 is a significant counter to the bullish argument that SSI's problems are just temporary, or would lessen as easier comparisons were lapped. I don't see much of a bull case left, but I'm not sure that means the short needs to stay on.
Disclosure: I am/we are short SSI.
I wrote this article myself, and it expresses my own opinions. I am not receiving compensation for it (other than from Seeking Alpha). I have no business relationship with any company whose stock is mentioned in this article.