Note: This article was originally published November 18th on Value Investor's Edge, a Seeking Alpha subscription service.
Overview
India is home to approximately 18% of the world's population, but uses only 6% of the world's primary energy. Energy consumption has almost doubled since 2000 and the potential for further rapid growth is enormous.
One major area of expected growth comes from increases in crude oil demand. Currently, India is already the third largest importer of crude.
Since India lacks sufficient domestic crude production to meet this demand, imports will become an increasing part of the energy landscape.
In 2016 India is projected to import about 80% of its fuel needs. The vast majority of these imports are, and will most likely continue to be, transported into the region by crude tankers.
Companies engaged in the ownership of crude tankers include DHT Holdings (NYSE:DHT), Nordic American Tankers (NYSE:NAT), Euronav (NYSE:EURN), Frontline (NYSE:FRO), Gener8 Maritime Inc. (NYSE:GNRT), Navios Maritime Midstream Partners LP (NYSE:NAP), Ship Finance International Limited (NYSE:SFL), Teekay Tankers Ltd (NYSE:TNK), Tsakos Energy Navigation Limited (NYSE:TNP) and Navios Maritime Acquisition Corporation (NYSE:NNA).
Crude Demand
India recently passed Russia to become the third largest crude oil consumer after China and the USA with approximately 5.2% of the global share. The International Energy Agency reported that India will be the fastest growing crude consumer accounting for 50% of global crude oil growth through to 2040.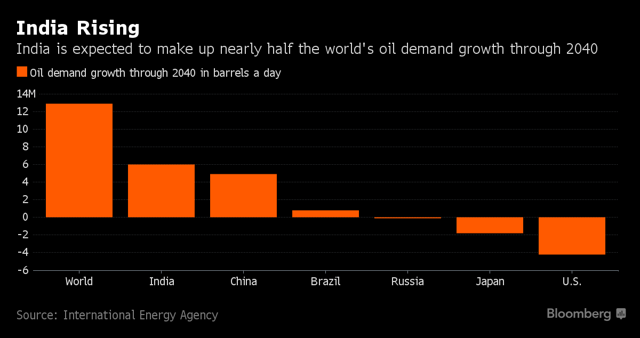 Source: Bloomberg
While crude oil demand can be traced to growth in industrial, residential/commercial buildings, and agriculture, by far the biggest growth for crude demand will come from the transportation sector.
The rising level of vehicle ownership keeps transport demand on a steep upward curve. As a result production of oil falls well behind the growth in demand and the IEA projects that India's reliance on oil imports rises above 90% by 2040.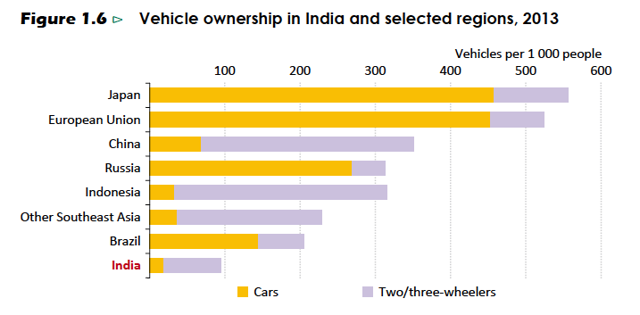 Source: IEA
Vehicle ownership levels per capita are still very low compared with other emerging economies and well below ownership levels of developed countries.
But that is changing and as a result India's oil imports in September jumped about 9% from a year ago to 4.20 million bpd. Additionally, October sales of gasoline (or petrol) were 13.8 percent higher from a year earlier at 2.11 million tonnes.
Crude Production
While demand has been increasing domestic production has been falling.
India's crude oil production fell 4.09% in September 2016 compared to September 2015. This represents a trend that is firmly underway as cumulative crude oil production during April-September 2016, registered a decline of 3.30% year over year.
This can be traced to a few different factors.
First, over the past several years exploration and production has waned. Khyatee Chhabra, director of trading and risk management at Sapient Global Markets stated:
New Exploration Licensing Policy (NELP) created in 1997 ended the state dominance and created a competitive environment leading to liberalization of oil and gas exploration and production industry. However, it failed to keep the momentum of production growth and attracting the foreign investment.
This decline has led to a substantial increase in crude imports to satisfy demand. In fact, from 2015-2016 crude oil import dependence rose from 78.5% to 81%.
Second, political unrest has led to bandhs, road blockades, and attacks on infrastructure. The issue has prompted Oil India Limited to request help from the government in dealing with the ongoing problem. States such as Assam have seen production declines of approximately 15% over the past five years which are partially attributed to these disruptions.
Third, many of India's wells are very old and declining in productivity. Oil India Limited noted:
Most of the wells of OIL are very old. There are about 1,500 wells across the State. Of the 1,500 wells, if oil is not extracted from some of them on regular basis, technical difficulties arise to carry out oil extraction from these later. All of these old wells were discovered 40/50 years ago. Since these wells have a life span, production of crude oil in the State has fallen. Of the 1,500 oil wells, 30 per cent of them are presently 'non-flowing' wells.
Crude Imports
Declining production and increasing demand means India will be increasingly reliant on imports. Though India ranks number 23 in terms of proven reserves with 5,675,000,000 bbl, according to the CIA factbook, instead of focusing on exploration and production they are striking deals with several countries with ample supply and are able to produce at lower costs.
In October, Nigeria and India agreed to work on a memorandum of understanding to facilitate a $15 billion investment by India in the Nigerian oil and gas sector. Specifically in areas such as term contract, participation of Indian companies in the refining sector, oil and gas marketing and upstream ventures. The MoU is expected to be firmed up in December 2016. Currently Nigeria accounts for approximately 12% of Indian crude imports.
Though India continued trading with Iran to a limited degree during imposed sanctions, following the lifting India has been increasing trade and striking deals with Tehran at a rapid pace.
Platts reported:
India was the largest buyer of Iranian crude last month, totaling 602,456 b/d, up from 458,880 b/d in August. India's thirst for Iranian crude has intensified this year, with its estimated share of market volume for September rising to 25% from 19% in August.
In addition to a growing crude trade between the two nations, back in May, 12 agreements were signed between Modi and Rouhani.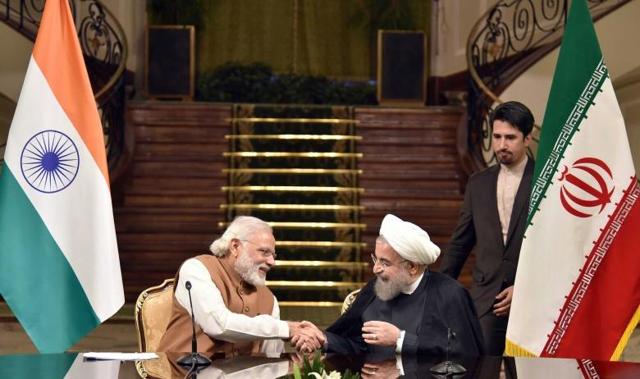 Source: The National Interest
The biggest deal was a $500 million commitment by India to develop the port of Chabahar, Iran's only deep-water port on the Indian Ocean. This could pave the way for increasing petrochemical capacity as well as establishing Iran's first LNG port.
Furthermore, Iranian and Indian negotiators are reported to be close to signing a major energy deal by March 2017. The deal is about Farzad B, a major offshore Iranian natural gas field in the Persian Gulf, which was discovered by an Indian consortium in 2008.
Considering Iran has some of the largest natural gas reserves in the world, this could be a major development for both nations.
One final point to consider is that India is becoming a major refining hub, and many of its refineries were built to process Iranian grade crude.
Russia has also acknowledged the growing importance of Indian crude demand in the global marketplace. In what will be the largest FDI deal in India's history, Russia's state-controlled oil giant Rosneft took over Essar Oil, India's second biggest private oil firm. The $13 billion all cash deal is expected to close in first quarter of 2017.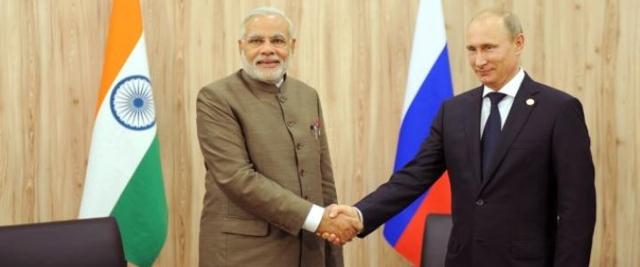 Source: oilprice.com
The deal includes Essar Oil's 20 million tonne refinery in Gujarat, which accounts for 9 per cent of India's total refining output, as well as the Vadinar port and more than 2,700 retail gas stations.
The India Times reports:
Rosneft, the world's largest listed oil producer by output, is looking at south Asia for downstream investments as it sees the region as becoming a fast-growing market for its oil.
Currently, Russia produces approximately 3.5 times more oil than it consumes while its presence in the third largest import market is relatively low. This deal should increased Russian presence in the region while achieving a stated Indian goal of diversifying sources.
Imports/Exports
While India is increasing crude imports, not all of that is going to meet domestic demand.
During the financial year of 2014-2015 Indian refineries exported 64 million tonnes of petroleum products. That number is set to increase dramatically in the coming years especially with the recent announcement of a $30 billion mega-refinery project on the West Coast. The complex will be able to produce 60 million tonnes annually with end products of petrol, diesel, LPG, ATF and feedstock for petrochemical plants.
This announcement comes after other projects which by 2022 are already set to raise its refining capacity by about 30 percent.
Currently, India has a refining capacity of 232.066 million tonnes, which exceeded the demand of 183.5 million tons in 2015-16 fiscal.
With refining capacity outpacing domestic demand for these products, India could become a major exporter which would benefit the crude tanker trade as imports are required for feedstock, but also the product tanker trade as the exports are sent overseas.
Conclusion
India will become an increasingly important region for both the crude and product tanker trade. With pipeline access from surrounding regions being virtually non-existent ships present the best option for imports and exports.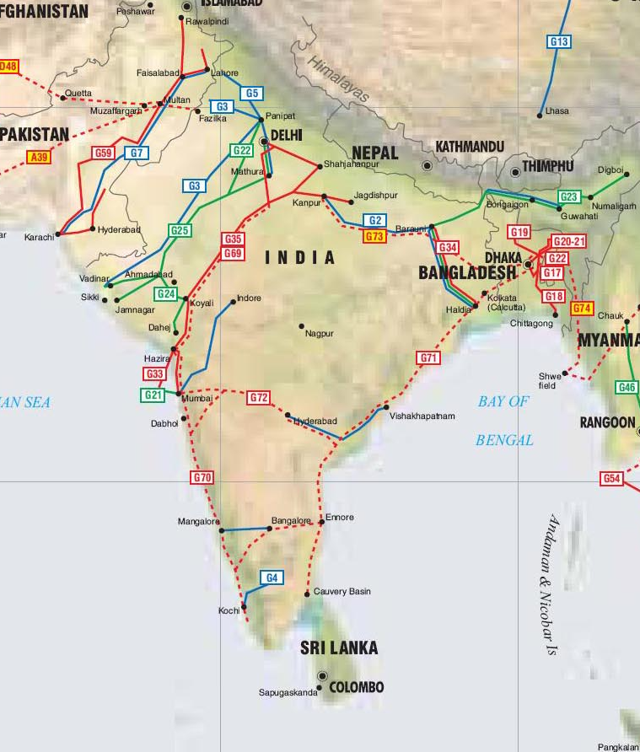 Source: theodora.com
While India has ample proven reserves that can be exploited they appear to be looking toward other nations that are more efficient in producing crude. This is illustrated by recent deals with major producers in an effort to strengthen ties, both economic and political.
India's goal of diversifying sources means that some crude may come from relatively nearby regions such as the Middle East, but longer haul voyages are also going to be an increasing part of the mix. This should contribute to some hefty ton-mile demand increases.
Finally, as refining capacity continues to increase, crude oil imports into the region won't only be designated to fulfill domestic demand. They will also to be utilized as feedstock for an increasing refined product segment which is increasing its presence in the export market. This dynamic should benefit both crude and product tankers.
Thank you for reading and I welcome all questions/comments.
If you would like to stay up to date on my latest analysis, I invite you to follow me on Seeking Alpha (click the "Follow" button next to my profile picture at the top) as I continue to cover all aspects of maritime trade.
Note: Value Investor's Edge subscribers receive a 72-hour advantage on all macro reports and trade ideas from James Catlin as well as exclusive research by J. Mintzmyer.
Disclosure: I am/we are long STNG, TNP-D.
I wrote this article myself, and it expresses my own opinions. I am not receiving compensation for it (other than from Seeking Alpha). I have no business relationship with any company whose stock is mentioned in this article.