The most dramatic market moves since the election did not happen in the stock market, but in the bond markets. The market believes that the Trump administration is going to result in economic stimulation through tax cuts and more spending (e.g. infrastructure) that could lead to higher inflation. The era of low interest rates may be coming to an end as a result. Although we are still a couple of months away from Trump taking office and not one single bill has passed, the market has spoken.
The benchmark 10-year Treasury bond has surged from 1.86% on election day closing to 2.33% today - a 25% jump. Even with this jump, the rate began 2016 at 2.27%, so we are really just back where we began the year - when we already thought rates were very low and poised to rise. At the end of 2014, the rate was 2.17%. The chart below shows the 2-year history of the 10 year Treasury bond rate: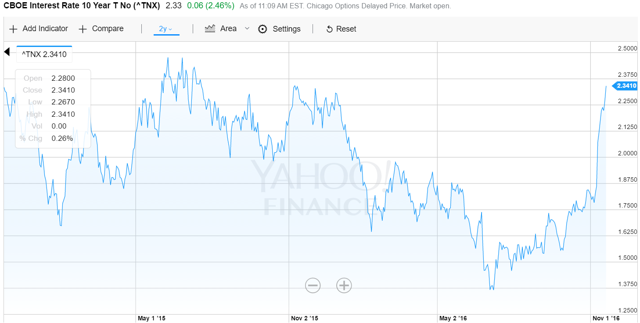 As most investors are aware, all else being equal, rising rates are bad for existing bond holdings, since the new prevailing market rates makes existing bond rates less attractive. However, each fixed income class reacts differently to rising rates. High-yield bonds have provided the best protection against rising interest rates in this most recent spike, which is not surprising.
In fact, since 1987, there have been 16 quarters where yields on the 5-year Treasury Note rose by 70 basis points (0.70%) or more; during 11 of those quarters, high-yield bonds had positive returns. In those five other quarters, high yield bonds fully rebounded in the subsequent quarter.
In the most recent yield spike, high-yield bonds again showed their resiliency to rising rates. The chart below shows performance for four fixed income asset classes over the past three months, although most of the action has taken place in November. Over this time frame, High-yield bonds, represented by the iShares iBoxx $ High Yield Corporate Bd (NYSEARCA:HYG) is down 2.2%; Investment Grade Bonds represented by the iShares iBoxx $ Invst Grade Crp Bond (NYSEARCA:LQD) is down 5.5%; Medium-term Treasury Bonds represented by the iShares 7-10 Year Treasury Bond (NYSEARCA:IEF) is also down 5.5%; and worst of all is Preferred Stock represented by the iShares US Preferred Stock (NYSEARCA:PFF), down 7.0%.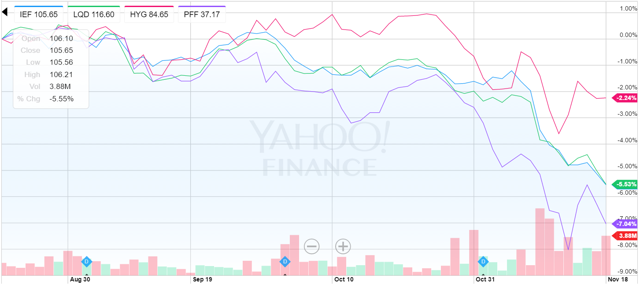 Although high-yield bonds declined by 2.2%, they are still up 10% for the year. Investment grade bonds have taken a beating in the last month and are still up 5.7% for the year, but a few weeks ago, they were riding a 9% gain so far in 2016. The 7-10 year treasury ETF has taken a bigger hit, taking what was a 5.6% return year-to-date through October down to 1.6% through November 18th. This decline represents about 2 years of yield wiped out in less than three weeks. Probably not what investors expected from this so-called "risk-free" investment.
Treasuries have been a dangerous investment for a while now, with many investors not appreciating the risk of locking in historically low yields for 7 to 10 years. My article from September 19th titled "Treasuries are Scary" articulated how Treasuries were poised to decline. (In this same article, I suggested 5-year Apple (NASDAQ:AAPL) bonds rated AA+ and yielding 1.6% as an alternative to 10-year Treasury bonds yielding 1.7%. Apple bonds are also down over this same time period, but by only 2.5% versus 5.5% for Treasuries; Apple bond holders also have only 4.75 years to wait until maturity).
The worst performer of all has been preferred stock, which was also a disaster waiting to happen. Accepting a fixed rate of return in perpetuity during a ultra-low interest rate environment is a glaring risk which many investors ignored. Issuers have been pumping ever lower yielding perpetual preferred stock into the hands of mostly retail investors for the past few months. For example, Public Storage (NYSE:PSA) issued 4.9% yielding preferred stock E in early October, what looks to be its lowest rate ever offered for its many classes of preferred stock; Investors purchased $350 million of this stock, enticed by a solid A3 rating.
But interest rate risk was the key risk here, and it came to burn investors with a vengeance. PSA-E is now trading at $21.24 resulting in a 15% decline in about one month, and yields 5.76% now. We can be sure that PSA will never redeem this issue of preferred stock and of course there is no maturity date, so investors who bought are stuck with a sharp decline that will take years to make up for with yield alone.
Perpetual preferred stock remains a strong avoid in my opinion as prevailing interest rates still remain low (remember, they are simply back to levels in early 2016). Much better to invest in something that has a maturity date. (A few preferred stock issues with very high yields that are more about credit quality can be considered.)
Why has high yield stood up better this time, and performed well in previous interest rate spikes? For several reasons:
All else being equal, the higher the yield, the more insulated from interest rate rises. This makes intuitive sense. If your bond yields 2.5%, a 0.50% rise in rates is significant. If your bond yields 6%, the relative impact is lower.
High-yield spreads over treasuries are around 4.9% versus 1.8% for investment grade bonds (BBB). Similar to the first bullet point, the effect of a rise in treasury rates still leaves high yield with a much larger spread.
High-yield durations are generally lower, a key factor in reducing interest rate risk. The effective duration of HYG is 4.1 years with average maturity of its portfolio at 4.8 years. LQD portfolio duration is 8.2 years and average maturity is 12.3 years. Again, locking in low rates for 12 years is fraught with risk.
High yield is more impacted by credit risk than interest rate risk. With the high yields that this asset class offers, it is far more important to choose solid credits, as movements in credit quality will generally have a greater impact on high yield bond values compared to prevailing interest rate movements.
Rising rates often go hand-in-hand with economic growth, which is generally good for corporate borrowers. Since credit quality is more important for high yield than any other fixed income asset class, this economic cycle is better for high-yield bond issuers. In a way, rising rates are offset by lower recession risk, benefiting high yield bonds.
What's the key conclusion? It all comes down to duration. Even with the rise in rates in the past few weeks, rates remain historically low. Rates could easily rise to well above 3% (although no one knows; they may go back down below 2% also at any time) - which would still be historically on the very low side, so more of the same pain to fixed income can easily happen. Short duration has been my key guiding factor for the past several years, with a realized goal of maintaining average portfolio duration below 5 years.
If an investor prefers higher credit quality, it's best to accept lower yields with shorter maturities, do not chase yield by extending maturities (on the opposite spectrum, do lock in your fixed rate mortgage for the long term, assuming you plan to be in your house for the long term). If you invest in bond funds, check duration and maturity; many funds pump yields with long dated bonds (especially on the muni bond side). If an investor seeks great yield, then consider high-yield bonds, preferably by owning individual bonds and performing close credit analysis on each investment.
Author's note: Please consider Downtown Investment Advisory's subscription service through Seeking Alpha, The High Yield Bond Investor. The newsletter offers deep analysis of three recommendations per month, focused on yields in the 6-8% range, with maturities of four to seven years, for the buy-and-hold investor, as well as regular exclusive insights on this asset class as well as related investments such as Exchange Traded Debt and Term Preferred Stock. We seek to uncover undervalued and "off the radar" opportunities. Read subscriber reviews here. Please see our profile page for important disclaimers.
Disclosure: I/we have no positions in any stocks mentioned, and no plans to initiate any positions within the next 72 hours.
I wrote this article myself, and it expresses my own opinions. I am not receiving compensation for it (other than from Seeking Alpha). I have no business relationship with any company whose stock is mentioned in this article.