Federal Reserve Governor Jerome Powell gave a timely speech last week titled, "The Global Trade Slowdown and Its Implications for Emerging Asia." It was jam-packed with charts and details that hint how we may be a few months from a serious trade war. While that wasn't his main thrust, it was our main take-away.
Americans voted to be tough on trade. China warned the US not pick a fight. According to the Fed China has a strengthening position. A US-China trade war in 2017 could cause inflation and a global slowdown. This is looking very real. This would be a stock market negative (SPY, DIA).
Let's Review Some Key Charts In Last Week's Fed Speech On Trade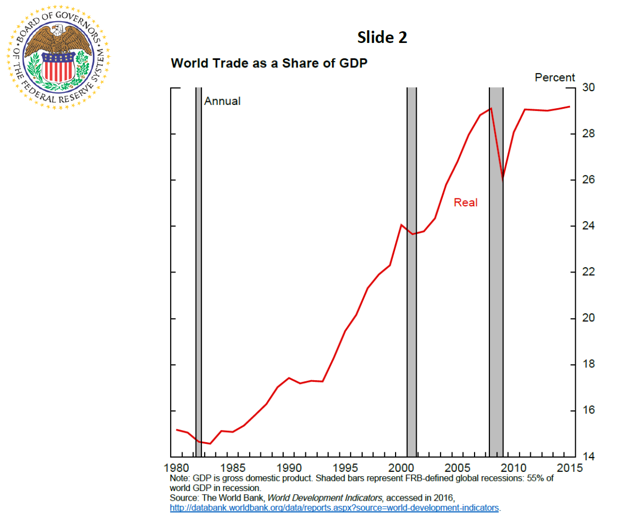 Source: Federal Reserve Speech By Fed Gov. Jerome Powell
Above you see the red line going flat. That means global trade as a percent of total global GDP has slowed. Global GDP has been slowing and global trade has been slowing even faster to now match GDP growth.
Don't Worry It's About To Get Worse. The Next Two Charts Confirm We Are About To Enter A 2017 Trade War.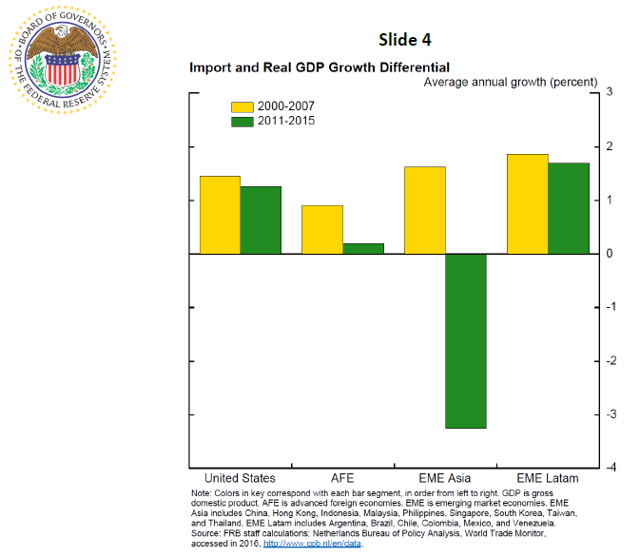 Source: Federal Reserve Speech By Fed Gov. Jerome Powell
The above chart takes two time periods. In those time periods it compares GDP growth versus import growth. For EME Asia you see that GDP accelerated passed import growth. EME Asia had less need for imports. They would export but importing slowed drastically as a percent of their overall economy.
In comparison, the US didn't change very much. EME Asia includes China, which is the main driver of that group. This is what's bothering President-elect Donald Trump. China's economy has been marching along but trade into China has been slowing. The reason for this is China is increasingly becoming self-sufficient. It is less dependent on trade. Let's see: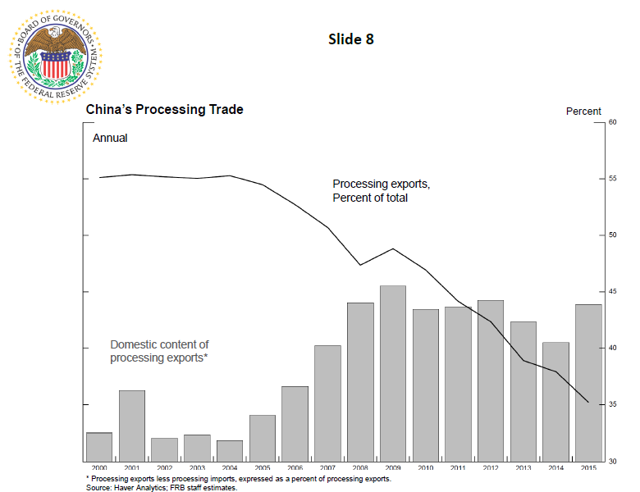 Source: Federal Reserve Speech By Fed Gov. Jerome Powell
The descending line in the chart above shows the share of imports used to make China's goods. It's been a straight line lower. China needs the world less. They are producing their own inputs and supplies.
Fed Governor Powell said:
One manifestation of this phenomenon is the higher domestic value-added in Chinese exports in recent years.
China is producing more at home and importing less.
Fed Governor Powell goes on to say:
China is moving away from its export-led model of economic growth and rebalancing its economy toward domestic demand.
China doesn't need us as much. They don't need exports as much. They are less dependent on trade than they were 10-15 years ago.
China has warned the new administration about playing hardball. The reason China can be so tough with the US is that they don't need the US as much as they once did.
Fed Governor Powell said this,
For China, the shift away from trade dependence is partly a reflection of policy choice, with rebalancing seen as a way to sustain growth in the face of some exhaustion of the heavy export/investment model.
China has specifically made the decision to adapt their economy to be less dependent on global trade. It's a safer position to be less dependent on others especially when they saw exports slow. With the share of trade as a percent of global GDP decreasing China is adjusting to ensure sustainability and longer term growth.
If the US does play tough on trade China may see it as an opportunity to strengthen their self-dependency. While nobody wants a trade war China may look at it as an opportunity to increasingly sure up their position at home.
Stagflation
The report by Fed Governor Jerome Powell said that 30% of global GDP is related to international trade. He said the number jumped through the decades with NAFTA and China's acceptance into the WTO.
We saw in the very first chart way above that the pace of trade as a percent of GDP has slowed to now match GDP growth.
The pace of current rhetoric could get that line to start turning down where global trade could soon grow slower than total GDP growth. That has already started in China and Emerging-Asia.
It's fair to say that the pace of global trade helped spur total GDP. The slowdown of global trade helped slow GDP. A decline in global trade could therefore cripple global GDP.
Along with that though comes the inefficiency of trade blocks. Free trade allows for low prices to find their way into supplies, inputs, good and services. The blocking of trade hinders that ability. Low-priced goods do not find their way into goods so easily. That adds to prices, which is inflationary.
The combination gives us stagflation; stagnating growth and inflation. That is the worst of both worlds and obviously a market negative.
More inflation requires more central bank tightening. That would be an about-face from the historic easing period we've seen in the last eight years.
Slowing GDP negatively affects earnings which have already been unimpressive. A trade war could lead to a dangerous double-whammy. Higher interest rates and slower earnings is a recipe for down stocks.
Conclusion
Fed Governor Jerome Powell had a timely speech on global trade with a focus on Asia. China may feel as though they are in a stronger position to manage through a trade war. They may even see it as a strengthening exercise. If the US plays tough China will too. That will slow growth and jump inflation. The combination is a stock-market negative.
PRO TRADER: Price rise December 1. Free two-week trial.
Get in before we raise rates 15% on December 1st.

Directional calls on stock market, stocks, gold, oil, bonds, currencies, indexes and more.

Click here for a free trial or send us a direct message to find out more.
Author's note: If you want Elazar's analysis on Seeking Alpha, scroll to the top of the article and hit "Follow." Elazar also writes real-time pieces as news is reported. If you want to be among the first updated check the box for "Real-time alerts on this author" under "Follow."
Disclaimer: All investments have many risks and can lose principal in the short and long term. This article is for information purposes only. By reading this you agree, understand and accept that you take upon yourself all responsibility for all of your investment decisions and to do your own work and hold Elazar Advisors, LLC and their related parties harmless. Any trading strategy can lose money and any investor should understand the risks.
Disclosure: I/we have no positions in any stocks mentioned, and no plans to initiate any positions within the next 72 hours.
I wrote this article myself, and it expresses my own opinions. I am not receiving compensation for it (other than from Seeking Alpha). I have no business relationship with any company whose stock is mentioned in this article.