In 2007, only months before the global financial crisis flared up - then Citigroup (NYSE:C) CEO, Chuck Prince, made an often-quoted observation in a Financial Times interview:
When the music stops, in terms of liquidity, things will be complicated. But as long as the music is playing, you've got to get up and dance. We're still dancing.
We all know how that famous dance ended - with Citigroup shareholders losing over 90% of their investment.
It is a sober reminder where irrational exuberance can lead investors to - but is it time to stop dancing for Bank Of America (NYSE:BAC) investors?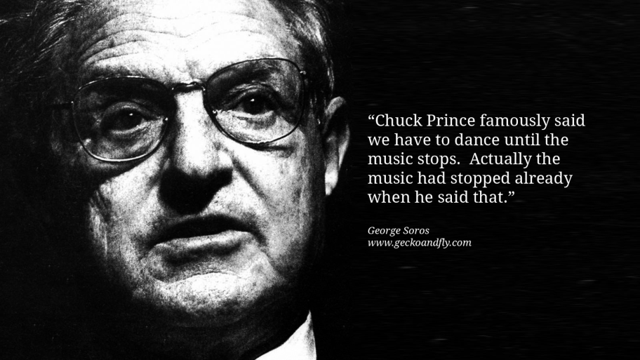 Bank Of America rapid ascent
Bank Of America has been on an absolute tear recently with the share price up strongly on the Trump reflation trade.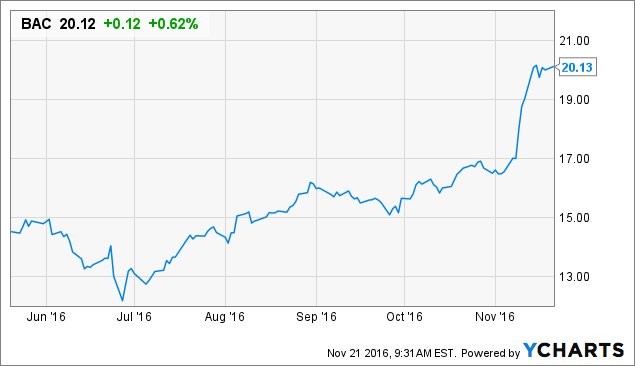 It is indeed a perfect storm for BAC - let us explore the key themes.
Interest rates are perking up
I have covered this topic extensively in a recent article - to recap, BAC is the most interest-rate sensitive large U.S. bank. A parallel move up of 100 basis points should deliver in excess of $5 billion of pre-tax income to its bottom line.
Important to note, BAC does not need to do anything extra to earn this $5 billion - rather this will simply fall to the bottom line.
U.S. tax cuts
Under President Trump and a Republican-controlled congress, it is widely expected that the Federal Corporate Income Tax rates will reduce materially (from 35% to anywhere between 15%-25%).
For a U.S. focused bank (especially on the Consumer and Wealth side), it is simply a windfall. In essence, BAC investors will get an immediate and material boost to EPS and various other return metrics.
Regulatory pendulum swinging back
There has been much discussion on the possible repeal of the Dodd-Frank act. Personally, I don't believe that is likely to be materially rolled-back. I think it more likely that the regional and community banks will obtain further reprieve from complying with some of Dodd-Frank's more onerous parts of the legislation.
For the large U.S. banks, the main easing is likely to be in the CCAR space. Given the 'fresh' political climate (including the imminent departure of the Fed's Daniel Tarullo) - I believe the U.S. banks now have a clear runway to implement much higher payout ratios.
The Fed's approval of Citi's mid-cycle request this morning is a clear signal that ever-larger payouts are now contemplated.
How about the risks?
The key near-term risk is a retracing back of the Trump reflation trade - specifically, interest-rates to drop again, Fed's backing off of further rate hikes and deflationary forces setting in once again.
Is it likely to materialize?
Mr. Market clearly does not think so but only time will tell.
Longer term, of course, one must watch out for obvious signs of a recession and the inevitable turning of the credit cycle. Let's hope the next one is a garden variety recession rather than a severe one brought about by "Trumponomics."
Final thoughts
BAC's trading businesses (i.e. Global Markets) are great beneficiaries of a rising interest rates environment. It looks like volumes and margins have already significantly picked up in the 2nd half of 2016. It is important to note that these trading business, are to a large extent, fixed cost base operations - as such, I suspect the positive operating leverage will largely surprise investors and sell-side analysts (who pronounced the premature death of FICC).
Finally, it is worth noting that the large U.S. banks are at a great competitive advantage to the rest of the world (and especially their European peers). I cannot see Washington D.C. having any incentive to change the dynamics in favor of European or Chinese banks.
I provide quality and completely independent research on the large U.S., European, Canadian and Asian banks. I will be continuously updating developments with large U.S. and European banks; if interested in this topic, do subscribe as a "real-time follower" at the top of this article.
Disclosure: I am/we are long C, BAC.
I wrote this article myself, and it expresses my own opinions. I am not receiving compensation for it (other than from Seeking Alpha). I have no business relationship with any company whose stock is mentioned in this article.