MannKind (NASDAQ:MNKD) investors got the good news that the cash situation has had a reprieve of sorts, but the situation remains eerily similar to what it has been for months. The company is in a race against time and has precious few ways to buy more.
MannKind was able to renegotiate some deals and extend terms over the past week or two, but the company has been unable to tap "new" cash in any meaningful way. It is one thing to negotiate with entities that you already have a relations with, it is another to get new outside money through the doors.
This past week sales of Afrezza remained below the 300 mark. This makes the sales trajectory over the re-launch essentially much flatter than investors would like to see. Adding insult to injury, the major holidays are now upon us making it difficult to drive in new business.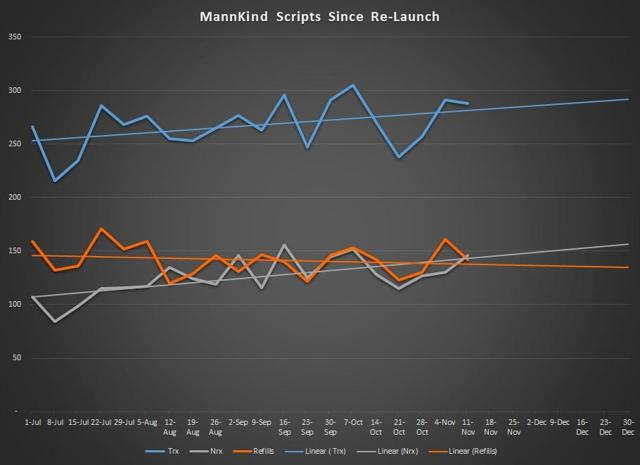 Chart Source - Spencer Osborne
On a quarter-over-quarter basis, we have Afrezza sales showing a very modest 7.3% gain. This type of gain is indeed in positive territory, but given the reality that sales are way below what is needed to impress the street, modest gains seem to mean very little. Combine this situation with the reality that the end of the year is a difficult time to drive sales growth, and you will see an equity that will trend down over time unless compelling news is delivered.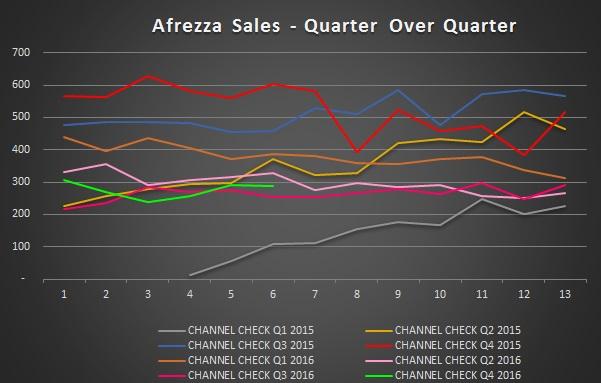 Chart Source - Spencer Osborne
On a year-over-year basis, we are still seeing tough comparisons. Sales in Q4 of 2016 are pacing about 53% lower than what was delivered in Q4 of 2015. Drops such as this are never good. MannKind has indicated that by the end of December it anticipates new scripts to be in line with what was happening a year ago. There is a major problem with that. When new scripts are free, or substantially discounted, it is easy to deliver some good upfront numbers. The issue is not the ability to give away product. The issue is getting people to buy the product after trying it. Last December, new scripts were at about 174. Currently, new scripts are in the 140s. When management makes a statement like, "we anticipate new scripts being the same as the year prior by the end of this year", investors take that as "awesome news". When you look at what is really being promised, the news is not so awesome after all. That being said, the year-over-year data will show some improvement as time passes. Afrezza sales have been coming in above the trend line on the yearly chart, and that is a small positive.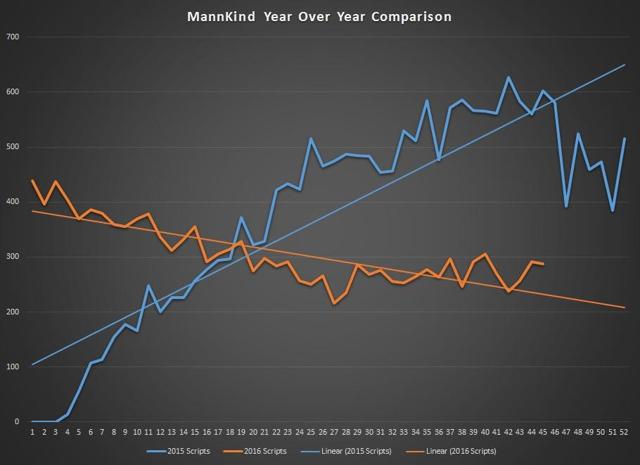 Chart Source - Spencer Osborne
From a cash standpoint, the company has bought itself a bit more time. As stated above, MannKind was able to re-negotiate some terms on deals which gave the company about 6 additional months of cash. The key question is whether the company can deploy that cash in such a way as to drive sales.
For simplicity, I have made the assumption that the cash associated with the re-negotiated deals is in hand. I estimate that MannKind had $63.6 million in cash remaining as of November 11th. In addition to the cash, MannKind has a credit line of $30.1 million. Lastly, the company has an ATM facility that could allow another $50 million into the coffers via dilution.
I estimate that cash burn is roughly $2.09 million per week. This essentially means that there is enough cash to last through Q2 of 2017. The problem with the math here is these numbers have no consideration for a direct to consumer advertising campaign or a much needed increase in the size of the sales force.
Advertising and sales reps cost money. In my opinion, MannKind could tap into the credit line to drive some numbers, but such a move could bring risk to the covenants that Deerfield holds on the company. In essence, the company solved some of its cash problem, but did not solve it to the extent that gives the street a warm and fuzzy feeling. The added cash has not solved the drivers of poor sales.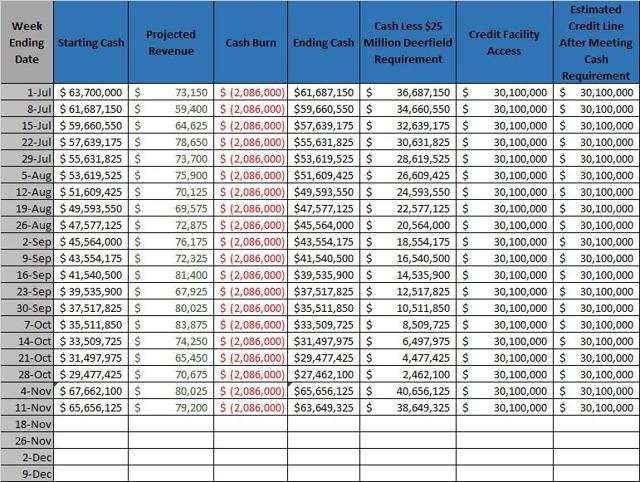 Chart Source - Spencer Osborne
The next point of discussion is the NASDAQ listing issue. MannKind has until March 13th of 2017 to get its stock price above $1 for 10 consecutive days. The company can seek an extension, but that does not resolve the matter. It simply extends the issue.
The misconception that many have about the potential de-listing is that it is not a big deal. The reality is that maintaining listing status is a very big deal. MannKind needs to bring in lenders, partners, or deals. It is very difficult to negotiate good deals when the company is not in compliance with listing regulations.
Management at MannKind indicated that it felt the news of added cash last week would solve the listing issue. Thus far, it has not even come close. In my opinion, with just 76 trading days left, the situation is pointing to a reverse split. In fact, any potential deal that MannKind might make could easily insist upon getting into compliance as a stipulation.
By the end of 2016, the window of trading days for gaining compliance will be down to just 48. That is not a lot of opportunity to deliver 10 consecutive days of being above $1.00 per share. In my opinion, management will initiate a reverse split rather than seek an extension. This will happen either of its own accord, or because the company has negotiated some form of deal.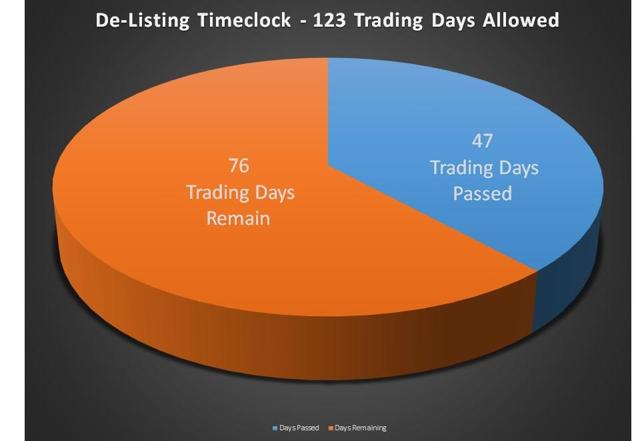 Chart Source - Spencer Osborne
The last point of discussion this week are projections. I have taken the liberty of projecting sales out trough the end of Q2 of 2017. At this stage, I have not developed a low/middle/high estimate. Instead, I simply outlined where I currently think things may go based on data and assumptions. I am making an assumption that the company increases its sales force, and also making an assumption that a modest advertising campaign will develop some time in late February or early March.
When I made my initial projections for the Afrezza 2.0 re-launch, there were many readers that felt my estimates were way too low. The reality is that my estimates were actually too high. I anticipate that there will be readers that will be critical of my new projection as well. At this stage, I am cautious in my estimates. I will continue to assess the situation and may shift estimates accordingly at the beginning of next year.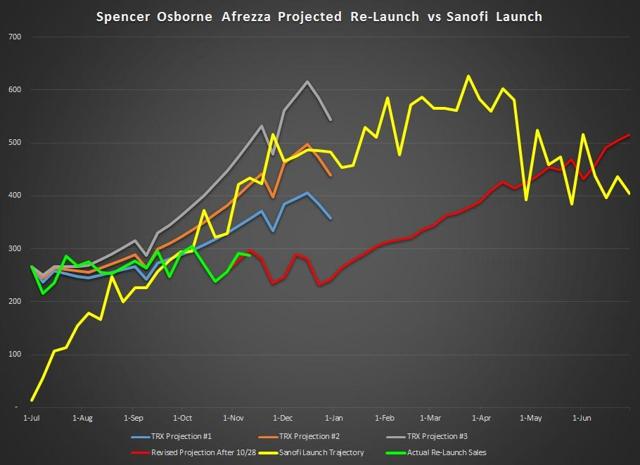 Chart Source - Spencer Osborne
The bottom line is that MannKind is having a very difficult time selling Afrezza. The most concerning metric I see is the refill rate. It seems consumers are simply unwilling to refill this drug in numbers that allow better growth to happen. MannKind is spending money in the samples strategy in hopes of seeing a return on its investment. Thus far, not enough people are compelled to stay on the drug or use it on a regular basis. There are some patients that have great results, love the drug, and remain on it. The problem is that such patients are rare and hard to find.
Investors should remember that Afrezza sales in the U.S. are being watched closely by other countries. Less than impressive sales here do impact the sentiment of the possibilities overseas. I fully grasp that anything is possible, but savvy investors deal in what is probable. MannKind remains speculative. If it can turn the story around, a small investment in this equity could be rewarding. If things continue to drag out, investor frustration could be exacerbated. Stay Tuned!
Disclosure: I/we have no positions in any stocks mentioned, and no plans to initiate any positions within the next 72 hours.
I wrote this article myself, and it expresses my own opinions. I am not receiving compensation for it (other than from Seeking Alpha). I have no business relationship with any company whose stock is mentioned in this article.
Editor's Note: This article covers one or more stocks trading at less than $1 per share and/or with less than a $100 million market cap. Please be aware of the risks associated with these stocks.