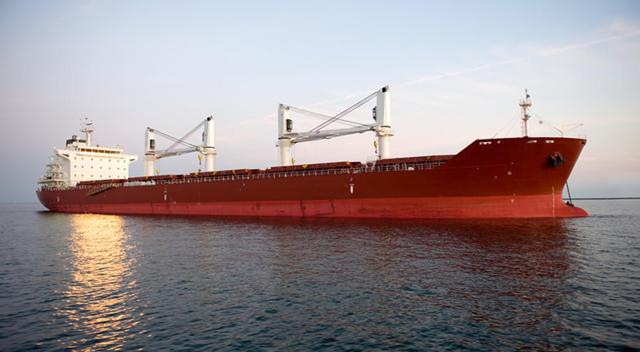 In the last couple of days, I've written on how DryShips (NASDAQ:DRYS) has fallen prey to death spiral financing and how Panamaxes are going the way of the Dodo bird. This is happening in the context of a dry bulk mini-bubble, which affected the stocks of several companies, including not just DryShips but also Eagle Bulk Shipping (NASDAQ:EGLE), Safe Bulkers (NYSE:SB), Genco Shipping & Trading (NYSE:GNK) and Navios Maritime (NYSE:NM), among others.
What these companies have in common is that they've been disastrous investments, crashing by 90% or more from their previous peaks in 2013, and even worse from their 2007/2008 peaks.
Those past peaks, especially the 2007/2008 peak, were brought about by large increases in dry bulk shipping rates as temporary ship shortages mated with China's demand for bulk commodities made for ideal market conditions. However, the shipping market is deeply cyclical, and soon the other side of that coin, along with the leverage natural to the business, made itself felt.
Of course, this mini-bubble was prompted by something. In this instance, it was prompted by the recent and steep rally in dry bulk shipping rates, as illustrated by the Baltic Dry Index: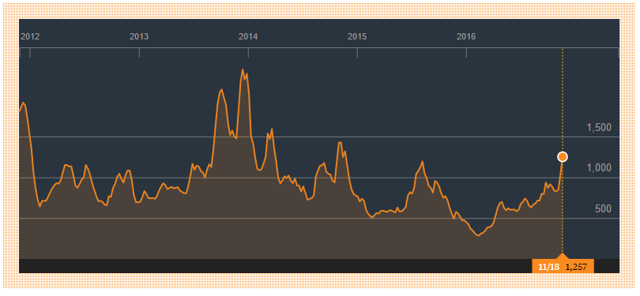 Source: Bloomberg.com
However, the market scares easily. We have seen spikes like those in the Baltic Dry Index quickly turn around and crash. This happened in 2013 and was what killed the previous rally. This time, speculators learned something. The something was not "not to participate." Instead, it was to "sell faster."
Here, though, I'm going to say something interesting: this time might be different! What might be different? The spike in rates might last further. Here's why…
We Might Be Into Another Structural Up Cycle!
While the rally and crash on those dry bulker shares was tremendous, I have something surprising to say. We might be into another up cycle for the dry bulk market. There are two main fundamental reasons for me saying this:
China's iron ore imports are climbing rapidly (up 8% year-on-year in September, 7% year-on-year in October). There might be a fundamental reason for this: Chinese iron ore producers are higher cost and lower grade. As iron ore prices plunged below their cash costs, domestic production had to be curtailed and so the market had to rely more on imported iron ore. Furthermore, with coking coal rallying, the effect was doubled, as higher-grade imported iron ore was better suited to use less energy (and thus less expensive coal). While the coal rally is likely to fade, the iron ore price is unlikely to go up enough to prompt increased iron domestic production. So more ore has to be imported, so more ships have to be used to ship it.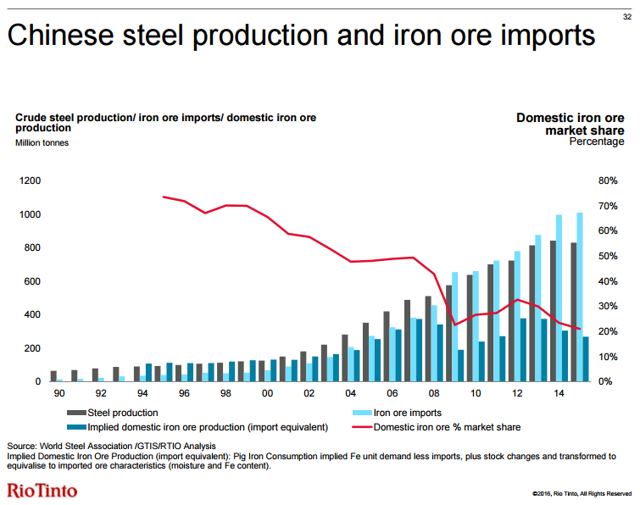 Source: Rio Tinto Chartbook. Notice domestic producers' falling share of the market and rising imports. This accelerated with the 2016 coal rally.
Dry bulk ship scrappage increased significantly with "the death of the Panamax" as well as market conditions. While 2016 is still set for net capacity growth, this capacity growth is now being outpaced by China's iron ore import growth (with China accounting for 70% of the world's seaborne iron ore trade). Also, ordering for new ships dried up along with financing, so this situation where demand runs ahead of supply is likely to last, helping strengthen a temporary shortage. As the shortage manifests itself, of course, rates go higher and will prompt new building. But building ships takes time, so the shortage will last for a while (perhaps as long as a full year).
There's a temporary risk, though. This comes from iron ore inventories at Chinese ports being at two-year highs. That said, one would more or less expect this since imported iron ore is now representing a larger share of the overall iron ore consumed in China.
Conclusion
I draw the following conclusions from this exercise:
Dry bulk shipping companies went through a quick boom and bust cycle in the past couple of weeks.
Fundamentals for dry bulk shipping, however, have materially improved. Rates are rallying and I believe this rally has fundamental underpinnings.
If I am right, contrary to past spikes on the Baltic Dry Indexes, this one will have more staying power. As a result, the fundamentals of the dry bulk shipping companies will improve over the coming year, and the stocks which rallied and crashed this time might yet turn around and rally higher again.
Of course, each company is different, and each needs to be seen in the context of the fleet it has, how much debt it has, and what it needs to reach profitability.
I believe, from the work I've done, that some of the dry bulk shipping companies will, indeed, reach profitability. I can't say which, because I might be a buyer in some of them as well (and the work is ongoing to establish on which).
Disclosure: I/we have no positions in any stocks mentioned, and no plans to initiate any positions within the next 72 hours.
I wrote this article myself, and it expresses my own opinions. I am not receiving compensation for it (other than from Seeking Alpha). I have no business relationship with any company whose stock is mentioned in this article.
Editor's Note: This article covers one or more stocks trading at less than $1 per share and/or with less than a $100 million market cap. Please be aware of the risks associated with these stocks.