Monday November 28th marks the shopping day known as Cyber Monday. It is anticipated to be the largest shopping day not only of the Thanksgiving weekend, but of the entire year. According to Adobe Digital Insights, it is expected to be the largest online shopping day in history! Consumers' fixation on the election the first week of November has caused Adobe to trim its online forecasts for the holiday season from 11% YOY growth and $91.6 billion in total holiday online sales. But those figures could be easily revised up over the Thanksgiving holiday as consumers play "catch up".
The graph below demonstrates the dramatic growth in Cyber Monday sales over the last decade (2005-2015), growth at a 16.8% CAGR. That pace has accelerated over the last five years to 24.7%.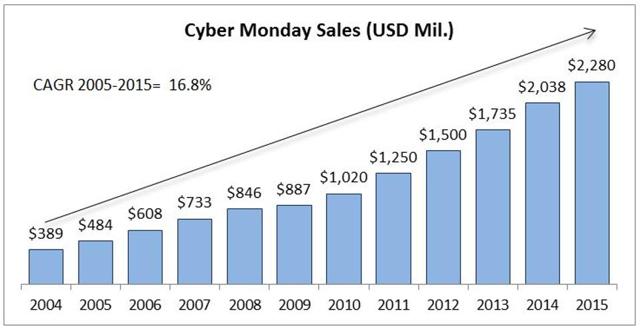 Source: CMO by Adobe Digital Insights/Fung Global Retail & Technology
The latest quarterly report of retail e-commerce sales came out on 11/17/16 revealing that e-commerce sales climbed to 8.4% of total retail sales, up from 8.1% a quarter ago. Online retail remains an impressive pocket of sales growth in retail. This percentage still represents a small percentage of total retail sales, but it is where the growth is!

Visa projects that 47% of consumers will shop online this holiday season just a small increase over last year, but the projected increase in online spending is expected to be 18%. Furthermore, 22% of Millennials will be doing their shopping online.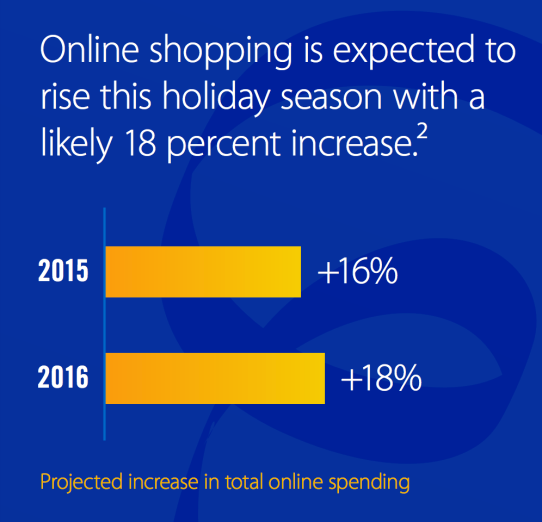 Source: Visa
While the investment performance of traditional brick-and-mortar retailers has been mixed at best, online retail stocks have posted strong results, resulting in significant relative outperformance. Just compare the performance year to date of the EQM Online Retail Index (IBUYXT), the index tracked by the Amplify Online Retail ETF (NASDAQ:IBUY), and the S&P Retail Select Industry TR Index (SPSIRETER) the index tracked by the SPDR S&P Retail ETF (NYSEARCA:XRT).
Year to date through 10/31/16, the EQM Online Retail Index posted a total return of 6.49% vs. the negative 1.46% return for the S&P Retail Select Industry TR Index, outperforming by 7.95%.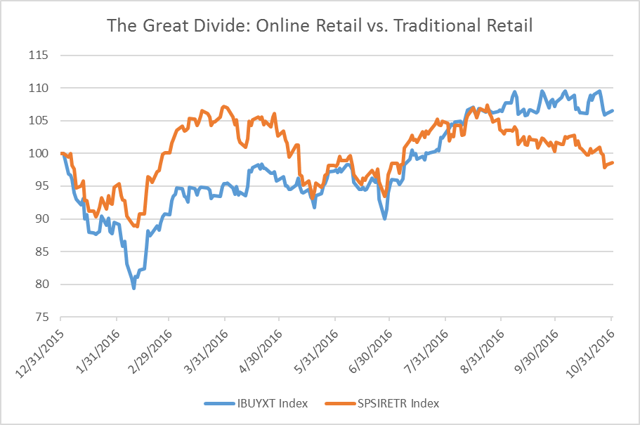 Source: Bloomberg
So what trends are driving the relative outperformance in retail?
Looking at the retail sales report compiled through 9/30/16 by the U.S. Census Bureau, sales for non-store retailers are up 11% on a year-over-year basis. Contrast that to department stores, whose sales are down 4.8% and electronics and appliance stores down 2.8%.
While there are some pockets of strength in areas such as building materials stores and drug stores, these are traditionally areas of retail without as much online competition. Most people don't buy lumber online and excluding prescriptions, over-the-counter drugs are often purchased in-store on an emergency basis.
When people think of online retailers, of course giants like Amazon (NASDAQ:AMZN), eBay (NASDAQ:EBAY), and Alibaba (NYSE:BABA) come to mind. But there are many opportunities among the smaller players in the industry. Year to date, the top-performing names in the EQM Online Index include names like Shopify (NYSE:SHOP), GrubHub (NYSE:GRUB), and Etsy (NASDAQ:ETSY). While the large e-commerce behemoths are also in the index, there is diversified global exposure to 42 companies.
In order to be included in the Index, 70% of revenues must be derived from online commerce. Companies involved in traditional online retail, online marketplace, and online travel are eligible for inclusion provided they meet liquidity, price, and size constraints.
With online retail currently comprising only 8.4% of total retail sales, there is still huge upside potential for industry growth. According to Forrester, the percentage of online sales is expected to climb to 11% of total retail sales by 2018.
There are many factors supporting the growth of online retail. Consumers shop online for convenience, selection, and competitive price. But digital commerce also has huge competitive advantages for the retailer as well. There is a reason that Wal-Mart (NYSE:WMT) recently expanded its presence in e-commerce by purchasing Jet.com. The lower cost structure of online retail is very attractive. In particular, with the minimum wage rising, smaller footprints with fewer employees offer a more cost-effective retailing solution for the 21st century.
Online retail is here to stay as "clicks" continue to beat out "bricks" in the retail space. This trend has certainly played out this year, rewarding investors in the online retail space with attractive returns, as the retail divide continues to widen. And if the projections for Cyber Monday are correct, there appears to be more outperformance to come.
Disclosure
EQM Indexes is the creator of the EQM Online Retail Index, which has been licensed to Amplify Investments as an ETF. It is not possible to invest directly in an index. Exposure to an asset class represented by an index is available through investable instruments based on that index. EQM Indexes does not sponsor, endorse, sell, promote or manage any investment fund or other investment vehicle that is offered by third parties and that seeks to provide an investment return based on the performance of any index. EQM Indexes makes no assurance that investment products based on the Index will accurately track index performance or provide positive investment returns. EQM Indexes is not an investment advisor, and makes no representation regarding the advisability of investing in any such investment fund or other investment vehicle. A decision to invest in any such investment fund or other investment vehicle should not be made in reliance on any of the statements set forth on this website. Prospective investors are advised to make an investment in any such fund or other vehicle only after carefully considering the risks associated with investing in such funds, as detailed in an offering memorandum or similar document that is prepared by or on behalf of the issuer of the investment fund or other vehicle. Inclusion of a security within an index is not a recommendation by EQM Indexes to buy, sell, or hold such security, nor is it considered to be investment advice.
Disclosure: I am/we are long IBUY.
I wrote this article myself, and it expresses my own opinions. I am not receiving compensation for it (other than from Seeking Alpha). I have no business relationship with any company whose stock is mentioned in this article.