Although some retail stores have been challenged to achieve comp store sales increases recently, there are some bright spots in the sector. For example, Macy's (NYSE:M) comp store sales decreased 2.7% in Q3. Target (NYSE:TGT) and Stein Mart (NASDAQ:SMRT) ended Q3 with a 0.2% decrease and a 4.6% decrease in comp store sales respectively. One of the bright spots in retail has been Foot Locker (NYSE:FL).
Foot Locker's 4.7% comp store sales increase and 13% increase in non-GAAP earnings for Q3 led to the company's 27th consecutive quarter of meaningful sales in non-GAAP profit growth. The performance shows the resiliency and effectiveness of the company's stores and product mix. I expect Foot Locker's stock to perform well over at least the next year as sales and earnings continue to rise.
Foot Locker is doing well in managing its stores. While the company is closing underperforming stores, they are adding total square footage as they remodel and relocate stores. The company's new location at 34th Street in New York City, the SIX:02 store, is a great example of how Foot Locker is locating stores in prime locations that are conducive for strong sales. The SIX:02 stores offer the hottest styles, appealing to consumers who like the latest sporty trends. The SIX:02 concept is a top performer for the company which achieved a double-digit comp store sales increase.
The company's success is driven by what Foot Locker refers to as the sneaker culture. This means that its customers have a love for sneakers, which means different things to different consumers. The customers are looking for cool or stylish sneakers with plenty of choices. Foot Locker drives sales to its customers by offering a variety of the latest brands and styles. Foot Locker showcases its variety of offerings at its 34th Street store and in stores with similar concepts.
Foot Locker is benefitting from the hot style offerings from leading brands such as Nike (NYSE:NKE), adidas (OTCQX:ADDYY), VF Corporation's (NYSE:VFC) Vans shoes, as well as Puma and Clydes brands. Actually, the companies producing the brands and Foot Locker are helping each other. Foot Locker gives these brands more exposure in their stores, while the footwear producers are creating the styles that consumers are demanding.
Solid Fundamentals
For the past twelve months, Foot Locker achieved a gross margin of 33.9%, an ROE of 21.6%, and an ROIC of 20.6%. The gross margin increased modestly for the past two years, rising from 32.8% in 2014. The ROE and ROIC also increased over the past two years. The high returns demonstrate that Foot Locker gets a great return on its money. This helps drive strong earnings growth, thus driving the stock to outperform.
Compare that to competitor, Finish Line (NASDAQ:FINL), which has a gross margin of 30.3%, an ROE of 2.45%, and an ROIC of 2.45% for the past twelve months. Foot Locker also beats out DSW (NYSE:DSW), which has a gross margin of 28.2%, an ROE of 10.6%, and an ROIC of 10.4%.
Foot Locker is expected to grow revenue at 4.8% for FY18. DSW and Finish Line are expected to grow revenue at 4.3% and 2.4% respectively for the same time period. Therefore, Foot Locker could have an edge over its competitors if the company achieves its top line estimates, allowing the stock to outperform.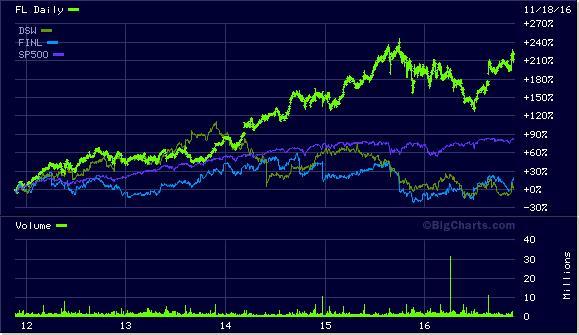 Valuation
At 13.7X expected EPS for FY18, Foot Locker is priced 22% below the Textile-Apparel Footwear & Accessories industry, which is trading at 17.5X next year's expected earnings. Here's how Foot Locker stacks up against DSW and Finish Line:
| | | | |
| --- | --- | --- | --- |
| | Foot Locker | Finish Line | DSW |
| Forward PE | 13.7 | 13.6 | 15 |
| EV/EBITDA | 7.3 | 7.7 | 7.3 |
Data Source: Seeking Alpha, 4-traders.com.
You can see that Foot Locker is similarly priced to its retail competitors. Although Foot Locker doesn't have much of a valuation edge as compared to these retailers, the company is valued below its industry and below the S&P 500 (NYSEARCA:SPY), which is trading at 17.8X next year's expected earnings. Foot Locker, Finish Line, and DSW have some room for PE expansion if they meet/exceed estimates over the next year. So, the stocks of all three have the potential of moving higher than earnings growth due to the lower-than-market valuations.
Conclusion
I think Foot Locker has a slight advantage over Finish Line and DSW with higher expected revenue growth. I like the comp store sales increases that Foot Locker is achieving. Foot Locker is doing the right things with its stores. The trendy SIX:02 concept is likely to help spur sales going forward.
With the valuation at an attractive level and with earnings expected to grow at 10% for FY18, Foot Locker's stock could increase about 11% to $80 by the end of 2017. That would be approximately in-line with earnings growth plus a 1% boost from PE expansion.
Disclosure: I/we have no positions in any stocks mentioned, and no plans to initiate any positions within the next 72 hours.
I wrote this article myself, and it expresses my own opinions. I am not receiving compensation for it (other than from Seeking Alpha). I have no business relationship with any company whose stock is mentioned in this article.
Additional disclosure: If you like my analysis, click on FOLLOW at the top of the article near my name. That will allow my articles to display on your homepage as they are published. The article is for informational purposes only (not a solicitation to buy or sell stocks). I am not a registered investment advisor. Investors should do their own research or consult a financial advisor to determine what investments are appropriate for their individual situation. This article expresses my opinions and I cannot guarantee that the information/results will be accurate.