Background
Back in 2015, El Nino brought the United States a record warm winter, suppressing natural gas demand in an already oversupplied gas market. Natural gas (UNG, UGAZ, DGAZ, UNL, BOIL, KOLD) prices in Henry Hub crashed, reaching a rock bottom of $1.60/mmbtu by March 2016.
Prices have since rallied based on the structural deficit caused by a reduced gas supply, increased LNG feedstock demand from Sabine Pass and a higher demand from new gas-fired power plants coming online.
An exceptionally hot summer this year fueled the rally, with November Henry Hub natural gas contract prices reaching a high of $3.30/mmbtu in October. Amidst a semi-euphoria in the natural gas market, people started talking about a cold winter this year, that prices may potentially rise to $4, $5 or even higher.
Reality soon slapped bulls in their faces. Exhausted buying after price reaching $3.30 has coincided with a maintenance period in the Sabine Export Plant, along extremely mild weather in the Fall. The lack of LNG feedstock demand and the mild weather have suppressed demand. Together with high storage, prices were abruptly reversed.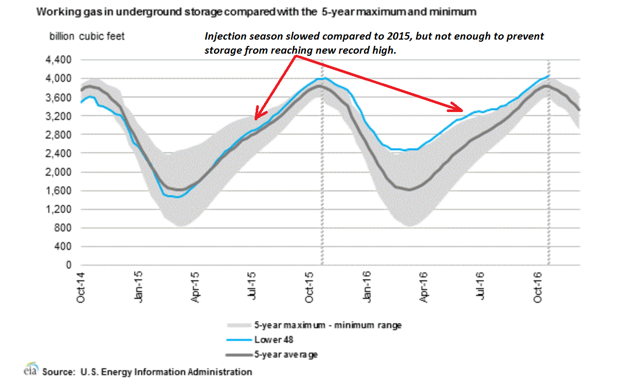 Memories of record storage and mild winter in 2015, which knocked prices down to as low as $1.60, are still fresh among many participants in the natural gas market. Market began to sell off; prices kept falling on a daily basis, causing even more people to panic and unwind their long positions.
The bulls were slaughtered. December Henry Hub natural gas contract collapsed from $3.55 to $2.55 in just a matter of a few weeks. Prices have since recovered to $2.93 at the time of writing.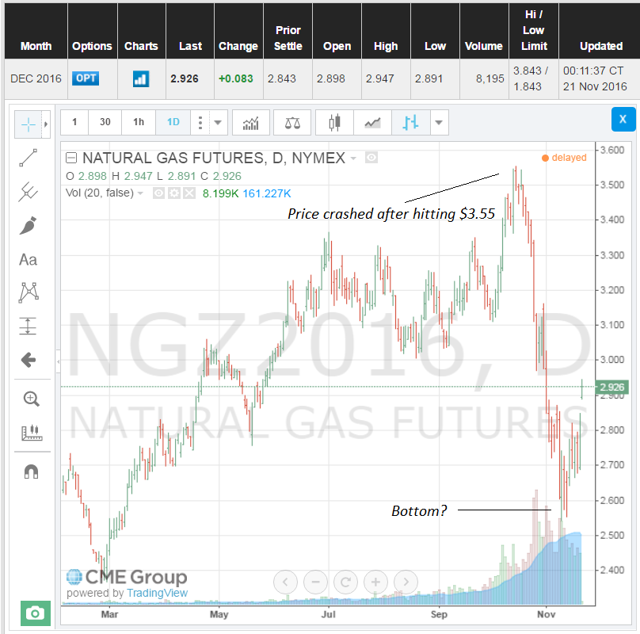 What's Next?
Let's think about this. Why did prices collapse so much? Have the fundamentals changed during the past 40 days?
Not really. According to the latest EIA natural gas weekly report, production is still down compared to last year. Baker Hughes natural gas rig count continues to show a lack of robust drilling activities that are required to meaningfully ramp up production.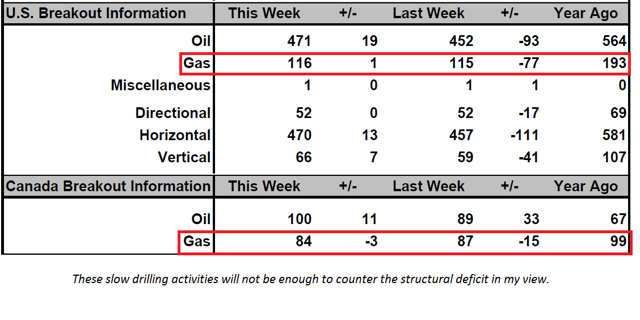 Demand is still going up, and in the future 2017-18 period, there will be more gas-fired power plants that would be purchased online. Natural gas demand from the Sabine Pass LNG export plant will continue to grow. The structural deficit observed since March is still intact.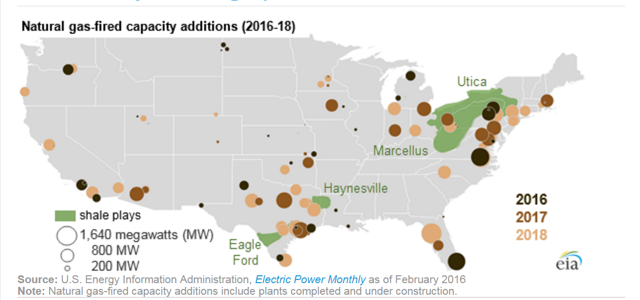 Source : EIA
From my perspective, this dramatic price collapse is the result of a forced liquidation of a long position in natural gas market, rather than a real shift in natural gas supply and demand fundamentals. The latest CFTC commitment of the traders report shows bulls unwinding most of their long positions in the past three weeks, along with the price crash.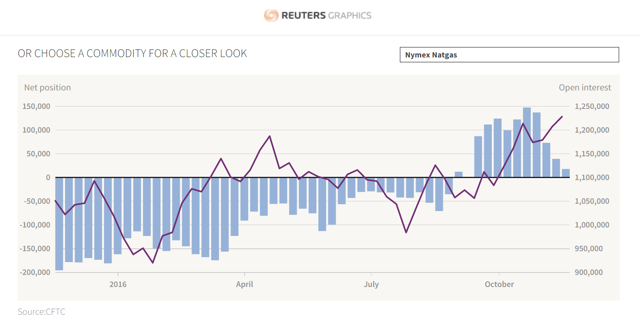 Net Position of Managed Money
Source : Reuters, CFTC
I think it is likely that prices will trade within $2.5-3.0 and eventually move higher from this point onwards.
Conclusion
Can natural gas prices move lower from here? Absolutely. If winter turns out to be significantly warmer than last year, bulls will once again be disappointed.
Given the above scenario, I believe long position represents better risk/reward opportunity than short in the next six months. The market has rallied nearly 400 points since its low of $2.55, so bulls might consider to wait for a better price before buying.
Disclosure: I am/we are long NATURAL GAS FUTURE, APRIL 2017.
I wrote this article myself, and it expresses my own opinions. I am not receiving compensation for it (other than from Seeking Alpha). I have no business relationship with any company whose stock is mentioned in this article.