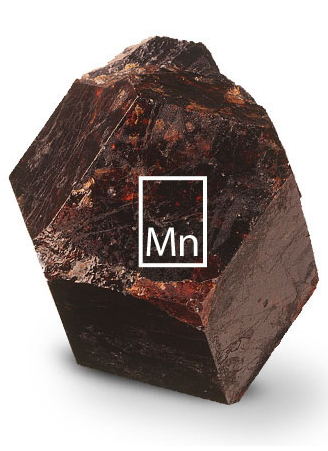 Manganese is the fourth most widely used metal in the world and an essential steel-making input. Nearly 90% of manganese output is used in the steel industry but can also be used in the manufacture of fertilizers, animal food, cars and glass.
Antares Capital Management in a recent file note following a research trip to China reported that Manganese inventory has been reducing, partly due to mine and smelter closures contributed to by pollution and environmental concerns. The relationship between Manganese ore prices and China port stocks is captured in the following chart from South32 (OTCPK:SOUHY) (OTCPK:SHTLF):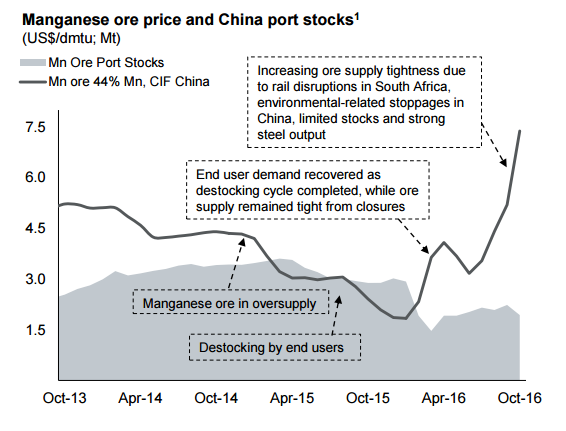 Production and Pricing
China accounts for 16% of global Manganese production, and the downturn in local manganese production is leading to a rising in the commodity price, providing opportunities for other producers. The major Manganese producers ex-China include Brazil (10%), Ukraine (24%), South Africa (22%) and Australia 16%.
The Manganese ore price in USD had dropped significantly over the 18 months to December 2015, and the outlook for the price moving forward was quite bearish, being dependent upon China's ongoing crude steel production.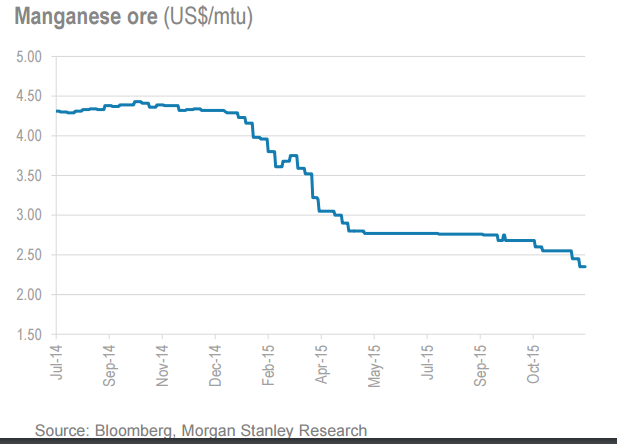 Following further reductions in the spot price, the price has arisen since the start of 2016 given the downturn in production in China, with prices improving as inventories decrease. Manganese ore trade flows are outlined in the following chart from South32: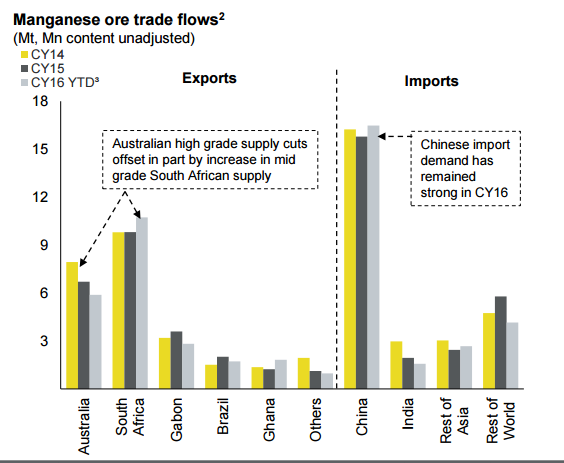 The recent increases in price are potentially likely to remain in the near term, providing opportunities for well-established manganese producers with low cost to extract supply lines.
Vale (NYSE:VALE) through operations in Brazil and South32 through operations in South Africa and Australia are best positioned to meet short to medium-term commodity demand in proximity to China.
Vale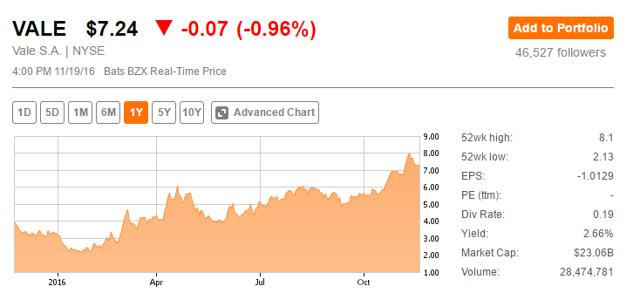 Vale is the largest manganese producer in Brazil accounting for 70% of the country's market, with the Azul Mine in Pará responsible for 80% of output. A further enhancement to its supply line has been the development of a technology by Vale, which has made it possible to reuse small ore particles deposited in tailings ponds after processing. Consequently, the tailings pond at the Azul Mine is no longer considered a waste material deposit - but as a mineral reserve, meaning a place that has ore of suitable conditions and quantity to be exploited economically. This is the first tailings pond in Brazil to receive this classification.
South32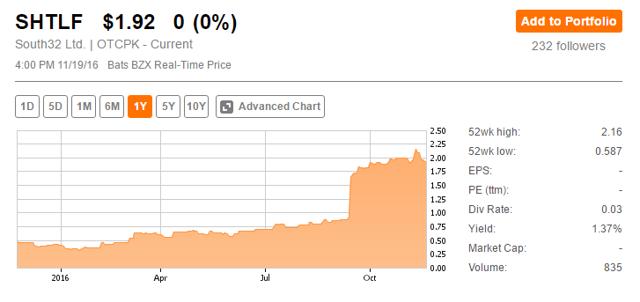 South32 (spun off from BHP Billiton (NYSE:BHP)) has manganese operations including an open-cut mine in the Northern Territory, ranked as one of the world's lowest-cost manganese ore producers, and a manganese alloy plant in Tasmania. In South Africa, the company has operations in Hotazel in the Northern Cape within South Africa, situated in an area with the world's largest known deposits of manganese ore.
Opportunity
Both Vale and South32 offer opportunities to gain access to reputable resource companies with exposure to a near to medium-term rally on the manganese ore price. While Vale is the much bigger diversified miner to the BHP Billiton spinoff in South 32, one area where South32 looks appealing is it has invested in positioning itself financially over the last 12 months to take advantage of acquisition opportunities and expansion should it present. Vale has a debt to equity ratio of 80.49 compared with South32 at 9.69 and asset value has increased by 91.03% over the last 12 months for Vale compared with 165.09% for South32. Investors wishing to acquire either would need to consider the bigger liquidity of Vale over the smaller market for South32, taking into consideration the longer-term price outlooks beyond manganese ore for iron ore, coal and nickel.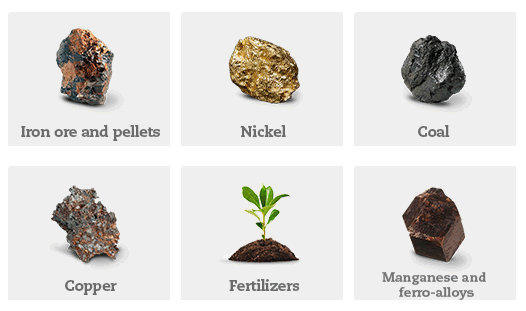 Disclosure: I am/we are long SHTLF.
I wrote this article myself, and it expresses my own opinions. I am not receiving compensation for it (other than from Seeking Alpha). I have no business relationship with any company whose stock is mentioned in this article.
Additional disclosure: This information is of a general nature only and has been provided without taking account of your objectives, financial situation or needs. Because of this, you should consider whether the information is appropriate in light of your particular objectives, financial situation and needs.