Anyone familiar with the history of Orion Energy Systems (NYSEMKT:OESX) has known the company to be a huge disappointment to investors since its IPO in 2007, as the chart below illustrates.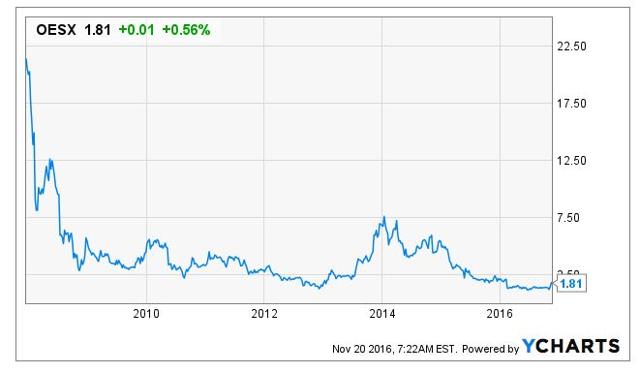 I have written previous SA articles on OESX beginning in 2014 and have been following the company since 2013. An obvious question that can be raised is an assumption of falling in love with a stock and holding on for an extended period of underperformance. Most weak holders abandoned OESX as the stock was pushed down under $1.20 in a long, wrenching process. Such a process tries the patience of investors and requires a greater and greater level of knowledge, understanding and patience to remain in a stock. The purpose of the current article will be to consider some of the reasons for staying with and doubling down on Orion.
Founded in 1996 and located in Manitowoc, Wisconsin, OESX originally supplied retrofit lighting fixtures and controls which reduced energy consumption for its clients, mainly industrial entities. In the age before LED adoption, the company supplied florescent lighting fixtures and controls that offered superior performance to reduce energy consumption, booking revenue to clients that included about 180 Fortune 500 companies. By 2012, the company risked extinction as LED adoption began, which changed the industry in multiple ways. With LED, lighting could be designed in an infinite variety of configurations (instead of linear/fixed configurations common in florescent) which began an explosion of LED product development and offerings.
Due to its declining prospects, the OESX board, near the end of 2012, made a decision to implement sweeping changes and a major restructuring of the business, which included a demotion of the former CEO/founder as well as other management changes. The management changes ultimately resulted in the departure of the former CEO as well as extreme employee turnover throughout the ranks.
In addition to management changes, the entire business structure was totally inept to compete in the LED space. At the time, the company also maintained a division that fabricated structures that were supplied in solar energy installations. The company had no LED product lines, with no in-house research, engineering or design capabilities. The company had built its business largely in the industrial space, with the majority of revenue focused on high-bay lighting. It sold its products either on a direct basis to national accounts or through contractors termed energy service companies (ESCOs).
In summary, Orion was totally unprepared for the transition to LED which was beginning adoption. Ultimately, management faced challenges of exiting the legacy businesses, conceiving, designing and launching new LED products, sourcing LED raw materials, and a complete reset of its marketing/distribution system. The entire business had to be rebuilt to transition into LED. During the extended restructuring that lasted over three years, multiple charge-offs and write-downs were recorded as the legacy business was shed and facilities were repositioned for the future. When beginning to supply its initial LED lighting products, the company was forced to source LED components at unfavorable acquisition costs, starting from a zero base. All of the foregoing resulted is severe financial underperformance for over three years, which put the stock where it is today.
Beginning in 2013, management set in place a strategic plan to restructure the business and transition to LED. In spite of the challenges discussed above, the company has executed to completion several key targets against its strategic plan, which are listed below:
1. Implemented its plan to transition from florescent to LED lighting which resulted in LED lighting revenue of 81% of revenue reported in Q2.
2. Acquired Harris Lighting Company, which was a troffer lighting supplier in office and commercial markets, which expanded the market from industrial into office and retail, expanding its addressable market many-fold.
3. Set up an innovation hub in Chicago staffed with lighting/LED experts to bring design/engineering in-house and advance innovation.
4. Created and launched a full suite of LED lighting products and options. To view the Orion product line, a link to its summer 2016 catalog is given here (321 pages, takes time to open).
5. Achieved the highest lumens per watt available worldwide for its flagship ISON-class high-bay luminary at 214 LPW.
6. Expanded its distribution channel to include agency/lighting distributors, which expanded the company's addressable market to 75% of the business.
7. Navigated the business to improved financial metrics, with growing margin improvement and positive cash flow.
8. Positioned both the organization and assets for leaner operations and better financial performance.
Although not yet showing up significantly in the numbers, the above accomplishments give evidence that management has the ability to execute, which should ultimately show up in financial performance.
The company and stock today:
Some current financial metrics for Orion are illustrated in the table below:
| | | | | | | | |
| --- | --- | --- | --- | --- | --- | --- | --- |
| MktCap | RevTTM | GrossMgn | Price/Sls | Price/Bk | RevQ/Q | EPS YoY | FCF YoY |
| $42MM | $67MM | 24.% | .63 | .98 | 19.1% | 42.9% | -$5.1 to +.4 MM |
| | | | | | | | |
(Source: Finviz.com and company reports, as of 11-11-16)
As illustrated above, the market is currently ignoring the growth parameters and, further, the prospects for OESX in the high-growth LED lighting business. A price to sales ratio of .63 depicts a business that is in a state of decline, not growth. Gross margin is low at 24.4%. However, margins have continued to grow by quarter and reached 33% in Q2. Revenue and EPS have shown significant improvement as the company turned cash flow positive, which is further documented in the table below with quarterly numbers. The quarterly numbers reveal a company that has shown continual improvement, albeit with fits and starts. The numbers show a company that has reduced risk with increased cash and dwindling long-term debt. In addition to low debt, OESX had a current ratio of 2.6 at the end of Q2, maintaining a strong balance sheet.
| | | | | | | |
| --- | --- | --- | --- | --- | --- | --- |
| | Q1 63015 | Q2 93015 | Q3 123115 | Q4 33116 | Q1 63016 | Q2 93016 |
| RevMM$ | 16.6 | 15.7 | 16.8 | 18.6 | 15.6 | 18.7 |
| GrossMgn% | 22.7 | 15.7 | 28.1 | 24.9 | 25.8 | 33.0 |
| EPS | -0.13 | -0.84 | -0.07 | -0.39 | -0.11 | -0.03 |
| FCF MM$ | -1.3 | -5.1 | -1.0 | -3.9 | -2.4 | +.4 |
| Cash MM$ | 17.9 | 13.4 | 17.4 | 15.5 | 14.1 | 18.7 |
| LTD MM$ | .7 | .4 | .3 | .3 | .3 | .2 |

(Source: Company Reports)
The quarterly numbers also show that Q3 and Q4 revenues typically have run higher in comparison to Q1 and Q2 as industrial customers increase spending near the end of their budget cycles. During the back half of last year (2015-2016) revenues came in very light due to decreased business spending (confirmed by lower ISM indicators) at $16.8 million and $18.6 million for Q3 and Q4, respectively. The $18.6 million was slightly exceeded in Q2.
Although performance has shown some deviation by quarter, it should be considered that Orion's business has mainly consisted of supplying capital equipment to industry, which can fluctuate significantly by quarter. As traction gains in commercial and retail, the company will diversify its revenue stream by industry and business cycle. Recent economic indicators that have been reported appear to indicate that the economy is picking up steam, which should be accompanied by improved business spending. Further, LED adoption has not gained large scale traction in industrial and commercial, which muted revenue gains in the immediate past. An acceleration of the economy, coupled with increased business spending, should move Orion to much higher revenue. Lastly, the company has significant product and service advantages that will enable it to meet the competition and, more likely, exceed it.
No discussion of Orion would be complete without mention of its impressive customer base. It has done business with over 180 Fortune 500 companies with its legacy lighting products, which offers a runway to the LED lighting market. An illustration of some of its client list is given below.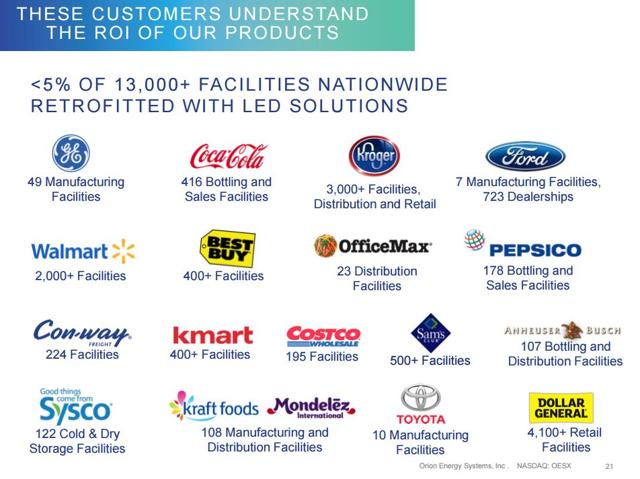 (Source: Company presentation)
While OESX stock has been in an extended downturn as noted in the long-term chart illustrated earlier, the chart below shows an impressive breakout since the beginning of November, and it appears the market is beginning to recognize the potential upside and excellent prospects. Still, at $1.81 a share, it has likely just begun.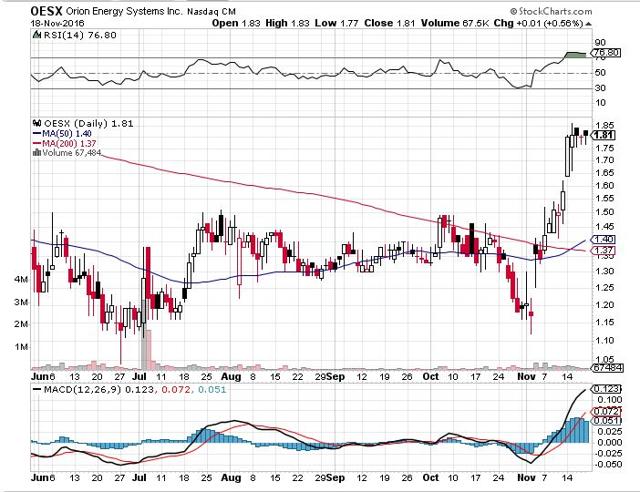 (Courtesy: StockCharts.com)
From November 2 to November 18, OESX rallied an impressive 54.7%, from $1.17 to $1.81. The rally paralleled a rally in the Russell 2000 (RUT) in the same time frame. However, the Russell recorded a gain of 13.2% from 1162.52 to 1315.64. The beginning outperformance of OESX could signal outperformance for an extended period as the stock moves from a very small base. Whether it continues depends on continued financial improvement and recognition by the market of its improving prospects.
R&D and smart technology/smart buildings:
Before the transition to LED, Orion maintained a strong position as a leader in lighting and energy management controls. Since retooling the company to LED occupied most of the resources of the company, development of controls took a back seat to the LED transition. On the Q2 earnings conference call CEO John Scribante addressed a question concerning potential new products for smart technology - smart building controls. In essence Mr. Scribante stated that the company, in most of its history since 2007, had been a leader in building controls and energy efficiency management. Due to the LED transition, the company has recently partnered with third-party sources to supply smart technology components. According to Mr. Scribante, the company intends to invest in smart technologies where it makes sense in the overall financial performance of the company, without spending millions to compete in an already overcrowded space.
Near-term expectations:
As the recent stock price and breakout seem to indicate, Orion should perform well as it completes the back half of the fiscal year ending March 31. Since Q3 and Q4 typically exceed first half revenue, and management continued guidance of revenue increases ranging from 10-20%, fiscal 2017 should end well. The back half will be further bolstered by a recent new contract award from Toyota to install Orion high-bay fixtures at an 8.1 million square feet facility in Kentucky which, according to management, will book 70% of its revenue in Q3-Q4. It must be further pointed out that management guided that the 33% gross margin achieved in Q2 will not be likely achieved in Q3-Q4 and that it expects gross margin to be in the range of 30% due to business/product mix. Management further stated that while margins can increase to the mid-30% range beyond Q3-Q4, some lumpiness in margins will likely occur as the business proceeds in a ramp up.
Long-term expectations:
As LED adoption continues to build momentum, especially in industrial and commercial applications, Orion revenue and profits will likely accelerate. With the company operating near breakeven, earnings should show significant gains beyond the level of meeting fixed costs, enabling a ramp-up in profits and the stock price. The company has exhibited an ability to execute significant changes in the business and, at the same time, control costs. There appears not to be a competitor operating in its specific market, retrofit LED lighting for industrial and commercial, that offers a comparable array of fixtures and performance. Once revenue and profits begin ramping, the stock price will likely track with a long upward trajectory beyond $1.81.
The company has an enviable product lineup with product and service advantages beyond most of the competition. GE (NYSE:GE) and Flex (NASDAQ:FLEX), likely Orion's most notable competitors when it comes to bidding projects, possess financial resources much larger than Orion, but are lacking in focus notable with Orion. In addition, as Orion gains traction, it will surely gain attention from other big players in the market, which could position it as an acquisition target. With a current market cap near $50 million, it may already be on the radar screen of bigger operators. Cree (NASDAQ:CREE), which announced in July the sale of its Wolfspeed division for $850 million in cash, could be a likely suitor. At the time of the announcement, Cree management stated publicly that it will be in the market for complimentary acquisitions.
As the LED lighting market continues to gain traction, there will be many beneficiaries like the companies previously mentioned. Orion stock, however, could be a huge beneficiary.
Risks:
Orion Energy Systems has experienced ongoing losses for multiple years, which could continue. The company competes in a market populated with much bigger players like GE, Flex, Phillips, Eaton (NYSE:EV), Osram (OTCPK:OSAGF), Cree and others. The company has limited resources by comparison. Its current lineup of product advantages could be upended by competitors with much deeper pockets to fund R&D and product development. Lastly, technological leaders in the smart building arena could develop superior lighting configurations and, coupled with a strong suite of smart technologies, secure an advantage.
Conclusion:
Orion Energy Systems appears to be well positioned to become a major player in the LED lighting market, with potential revenue and profit gains along the way. In addition, the company has expanded its addressable market many-fold to capture its share of LED revenue, which is expected to reach $94 billion by 2020, growing at an annual CAGR of 13% between 2016 and 2020. While it remains a tiny company in a universe of much larger players, OESX has the potential for outsized gains in appreciation, but with increased risk compared to large counterparts. Investors are encouraged to let risk tolerance be their guide.
Disclosure: I am/we are long OESX.
I wrote this article myself, and it expresses my own opinions. I am not receiving compensation for it (other than from Seeking Alpha). I have no business relationship with any company whose stock is mentioned in this article.
Editor's Note: This article covers one or more stocks trading at less than $1 per share and/or with less than a $100 million market cap. Please be aware of the risks associated with these stocks.