Rarely does a stock exist that is mostly unknown to the general market, yet the company has many well-established partners. In the case of Xenetic Biosciences (XBIO, XBIOD), a recent uplisting to the NASDAQ and a funding by healthcare institutional investors places the stock in that unique position.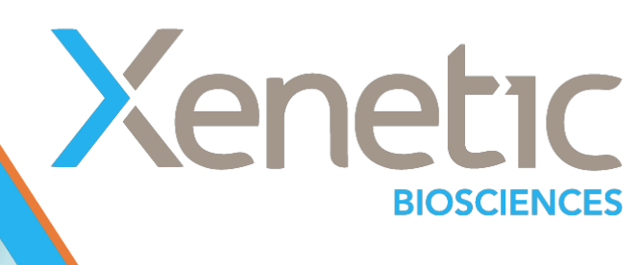 The stock trades around $3.50 for a fully diluted market value of up to $57 million. The opportunity though exists for investors to discover the stock and reward shareholders for a multitude of reasons including most importantly a very developed drug pipeline.
What Xenetic Does
Xenetic Biosciences is a biopharma company focused on oncology therapeutics and out-licensing programs with an impressive development pipeline including drugs and drug delivery programs. The company has a large patent portfolio with commercialization opportunities. As well, Xenetic has an impressive management team including a recent board of directors addition with a winner of the Nobel Prize Laureate in Chemistry.
Maybe most importantly, the biotech has an impressive list of partners and institutional shareholders. With a small biotech, the partners, associates, and shareholders are as big a key to the investment thesis as the drug pipeline considering the risk involved with small biotechs having drugs in clinical trials prior to Phase 3 results.
Impressive Pipeline
Due to the small valuation of the stock, investors would typically expect a limited drug pipeline possibly consistent of a potential plan to initiate one Phase 1 trial. In the case of Xenetic Biosciences, the biotech has multiple near-term clinical and regulatory milestones.
The real question is where to start with drugs like Virexxa and OncoHist obtaining orphan drug status or focusing on the drug delivery platforms that have big partnerships including BAX826 that is partnered with Shire (NASDAQ:SHPG). The later actually participating in a fund raising a couple years back.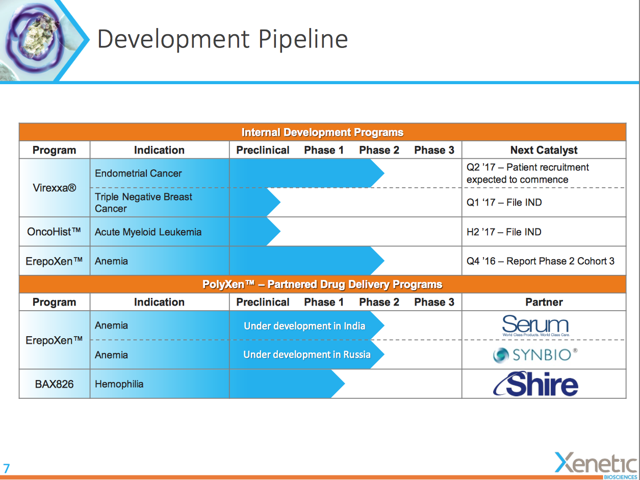 Source: Xenetic Biosciences presentation
Virexxa - Orphan Status
The most promising drug candidate is Virexxa targeted at endometrial cancer. The drug has already been granted orphan designation in the U.S.
While endometrial cancer isn't one of the top cancers from the standpoint of instances or deaths, the tumors are not less deadly to those afflicted. A large unmet medical need exists for tumors that reach Stage III or IV and other remedies like surgery and chemotherapy have failed.
According to the Huffington Post, well-known journalist and anchor Gwen Ifill recently died of endometrial cancer after being diagnosed less than one year ago. The cancer has a higher survival rate than most, but the more aggressive cases are deadly and no cure exists.
Dr. Ursual Matulonis, director of the gynecologic oncology at Dana-Faber Cancer Institute and a professor at Harvard Medical School, made the following remark regarding the cancer:
We don't have as many tools as [we do with] other cancers. This is a significant problem for women, and we need to do a better job treating our patients. We need more research around it.
Even more alarming for a cancer with only progesterone FDA-approved is that obese women are at three times the risk as a healthy weight person to get the disease. As society in general puts on more weight, endometrial cancer incidents are likely to grow at an alarming rate.
Virexxa has shown promising results in initial tests leading up to the current enrollment of Phase 2 trials. The company plans to enroll 72 patients to test the drug in conjunction with progestin therapy in patients with hormone resistant endometrial carcinoma.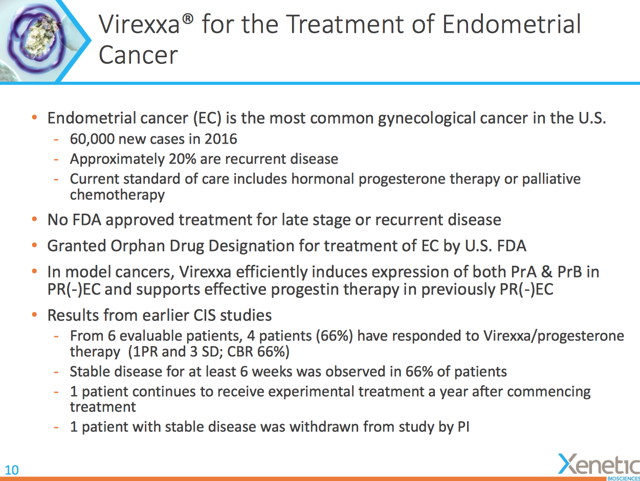 Source: Xenetic Biosciences presentation
As well, Xenetic is working on Phase 1/2 studies for Virexxa on triple negative breast cancer. In addition, the small biotech is working on Phase 1 trials for treatment of relapsed/resistant acute myeloid leukemia. Initial results show a group of patients tolerated OncoHist with several patients seeing positive observations.
These drugs all have smaller market opportunities with the normal standard of care in the $500 million range. The drugs aren't targeted at billion dollar opportunities, but the market potential adds up.
Drug Delivery Platforms
The item that probably leaps out and grabs an investors attention is the work with Shire on the PolyXen platform. The large biopharma via Baxalta invested $10 million back in 2014 to develop a novel series of polysialylated blood coagulation factors utilizing the PolyXen technology.
The platform is designed to improve the clinical efficacy of most protein and peptide drugs. The goal being to reduce the amount of injections required for patients.
The company has a licensing agreement with Shire for the BAX826 program being evaluated in a Phase 2a trial in the U.K. for the treatment of hemophilia. Shire has up to a 50% market share in the hemophilia market where a competitive landscape exists with current drugs that require twice weekly dosing. A drug that could shift to weekly or less doses would reduce the burden on patients.
Xenetic has an agreement with the potential to receive up to $100 million for hitting certain regulatory and sales milestones along with royalty payments on sales. Normally, a company the size of Xenetic only hopes to sign a similar licensing agreement, yet this company has one already in place with one of the largest pharmas.
The encouraging part for Xenetic is that Shire is facing pressure (via Reuters) on the hemophilia drugs acquired from Baxalta. The hematology product sales fell 6% suggesting that Shire has the incentives to aggressively move forward on the PolyXen platform testing.
If that platform wasn't enough for Xenetic, the company has the ErepoXen platform for predialysis patients. The goal being to again reduce the injection frequency for patients relative to prevailing products on the market.
Recent clinical results suggest the drug candidate can be administered once a month with a design of reaching up to two months. The current standard of care are doses every two to four weeks.
Institutional Shareholders
The company recently raised $10 million in preferred stock financing with OPKO Health (OPKO) leading the fund raising. PJSC Pharmsynthez is the leading shareholder now holding 4.4 million shares. The Russian company is a large pharma in that country and combined with SynBio and Shire provide a solid list of institutional shareholders.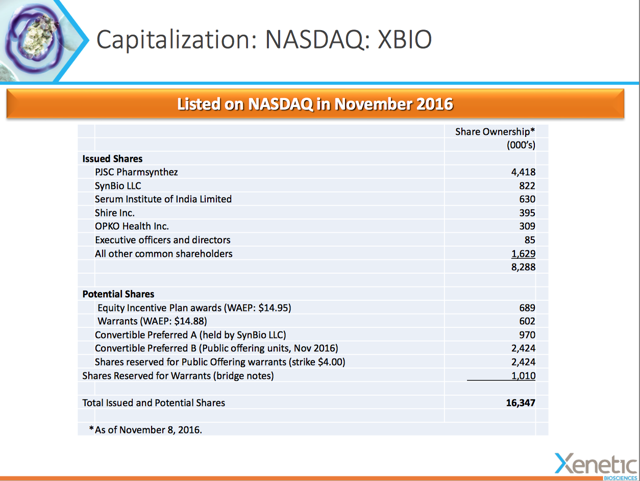 Source: Xenetic Biosciences presentation
Xenetic reported a net loss for Q3 of roughly $2.5 million. The recent financing will support funding the company for the next year at the current spend rate. As these different drug candidates and platforms advance, the company will likely need more funding typical of a small biotech.
With the diverse development pipeline and institutional shareholders, more financing shouldn't be a huge problem. The risk though always exists that funding in the sector will dry up or that negative clinical trial results will reduce investor appetite.
A biotech like Advaxis (NASDAQ:ADXS) recently got a $30 million funding prior to reporting positive Phase 2 clinical trial results for cervical cancer. The biotech has a similar partnership with a large biopharma and a orphan drug approval, yet the company has a market cap in excess of $300 million.
Huge Risks
While Xenetic clearly has an appealing market valuation due to relatively unknown status from the recent stock uplisting, the risks are always enormous in the biotech sector. A large partner like Shire could lose focus on the work with a small biotech like Xenetic. As well, the drug delivery platforms have to not only obtain FDA approval, but also convince doctors and patients to shift treatments from a drug already proven to work.
The drug candidates show promising initial results for unmet needs in oncology, but the clinical trials are still in early stages. The rate of approval is still low regardless of the orphan drug status.
Despite several impressive shareholders and partners, the company faces biopharmas with deeper pockets and committed financial resources. The risks are always large without large piles of cash on the balance sheet and FDA approved drugs on the market.
Takeaway
The key investor takeaway is that the recent uplisting to the NASDAQ should eventually grab the attention of the market. The sum of the development pipeline could easily warrant a higher stock price.
The level of institutional shareholders and partners around the globe is impressive for such a small biotech. The risks of losing partners and disappointing drug trial results always suggests limiting a position to diversified portfolios that can handle risk and potential loss of capital.
Disclosure: I/we have no positions in any stocks mentioned, and no plans to initiate any positions within the next 72 hours.
I wrote this article myself, and it expresses my own opinions. I am not receiving compensation for it (other than from Seeking Alpha). I have no business relationship with any company whose stock is mentioned in this article.
Additional disclosure: The information contained herein is for informational purposes only. Nothing in this article should be taken as a solicitation to purchase or sell securities. Before buying or selling any stock you should do your own research and reach your own conclusion or consult a financial advisor. Investing includes risks, including loss of principal.
Additional disclosure: XBIO is a member of the Seeking Alpha Corporate Visibility program. Learn more
Editor's Note: This article covers one or more stocks trading at less than $1 per share and/or with less than a $100 million market cap. Please be aware of the risks associated with these stocks.