Since last Friday, each subsequent model update has been bullish for natural gas. HDDs for the week of Dec. 9 will finally be above the 10-year average for the first time since January of this year. The week of Dec. 2 will also be colder, but warm on a relative basis. That week's (Dec. 2) injection figure should highlight what the difference in the structural imbalance is currently in the market. If one has access to the current structural imbalance and the forecast production growth, it's hard to be bearish in the medium term.
Looking at the position disclosure last Friday, natural gas bears have benefited from record net-long positioning going into November, and with this being one of the hottest Novembers on record.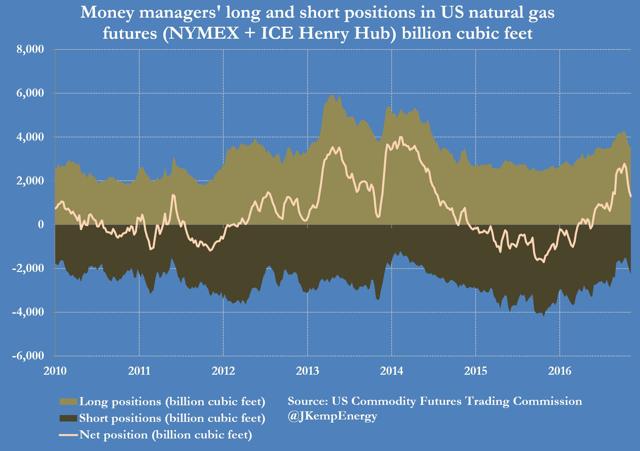 The sell-off in natural gas prices was largely fueled by money managers cutting positions at a record pace. The bearish start to November, coupled with record positioning, certainly didn't help sentiment as some traders thought it could be a repeat of the 2015-16 winter. Bears took advantage of the sell-off to point out how an "extreme" weather event could continue and the prospects of natural gas (December contracts) could fall to even $2.25/MMBtu. While the first three weeks of November will see bearish relative injections and 11/18 could boost natural gas storage to an all-time high, our injection forecasts in December are materially lower (draw) than the five-year average.
The worrisome thing for the bears now is whether "extreme" bearish weather will continue. That's the only probabilistic scenario right now for natural gas prices to stay under $3/MMBtu. When we originally wrote an article titled, "Natural Gas Bears Are Grasping At Straws," our logic was that all the bulls needed was normal weather, while the bears needed "very bearish" weather, and that we think betting on extreme weather is no different than grasping at straws. Here's precisely what we said: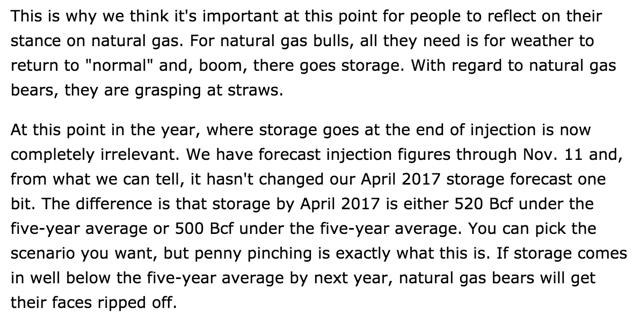 The very bearish start to November has now seen our April storage forecast move up to 1.46 Tcf, and while that's a pretty material move from our forecast earlier, it's still materially below the five-year average. Natural gas prices won't be around this level if storage is that much lower than the average by March of next year.
For those evaluating the natural gas market, here's what you should expect:
Very bearish weather = Bears win, natural gas prices drop.
Bearish weather = neutral as injections are still lower than the five-year average.
Normal weather = bullish as injections will be materially lower than the five-year average.
Bullish weather = well, we don't need to explain that.
Now, the above scenarios aren't very scientific as they depend on deviations in temperatures. But November's temperature chart resembled a blowtorch, so unless weather for the next several months resemble blowtorches, the odds are in the bulls' favor.
We posted our injection forecast for the next four weeks for premium subscribers today. If you are interested in getting updates, please sign up here.
Eight- to 14-Day Outlook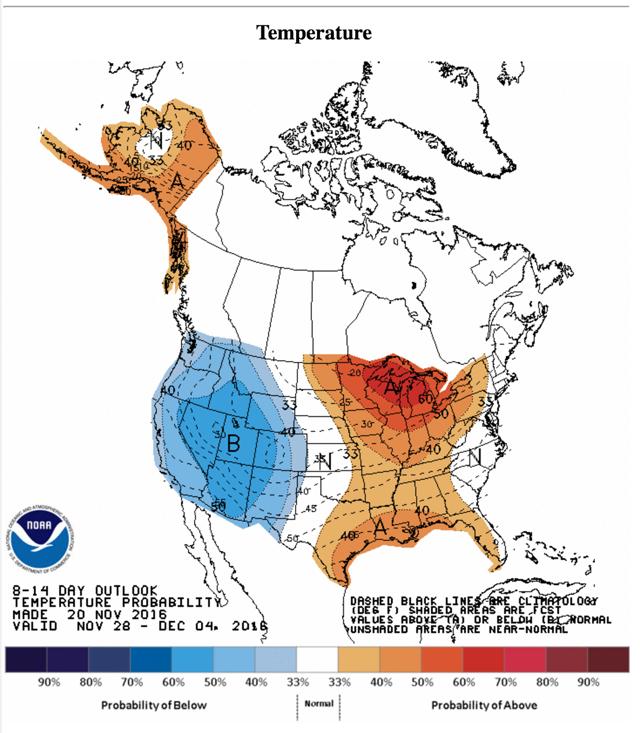 Disclosure: I/we have no positions in any stocks mentioned, and no plans to initiate any positions within the next 72 hours.
I wrote this article myself, and it expresses my own opinions. I am not receiving compensation for it (other than from Seeking Alpha). I have no business relationship with any company whose stock is mentioned in this article.