Baytex (NYSE:BTE) shares have taken a pummeling over the past couple of years, dropping from a 2012-high of more than $50 a share to a current price of less than $4 a share. Investors in BTE have taken it on the chin for the past four years.
Low oil prices and an ill-timed acquisition of assets in the Eagle Ford are the culprits with many concluding Baytex balance sheet strains would sink the company. That has not happened.
As it turns out, Baytex's very capable management have taken key steps to ensure adequate liquidity and engineered credit with little in the way of mandatory principal repayments until after 2020.

Source: Baytex November 2016 presentation
The company is concentrating its available capital on its Eagle Ford assets which are expected to deliver the highest returns on capital expenditures in the Baytex portfolio of assets and contribute a 50% plus rate of return on oil prices as low as $45 per barrel.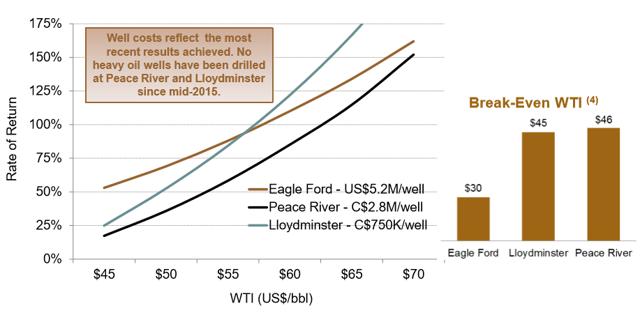 Source: Baytex presentation
The steep slope of the return curve illustrates just how much leverage Baytex has to improved oil prices. With the prospect of an OPEC production cut and potentially a faster growing U.S. economy under a new president whose policy statements suggest policy changes will favor domestic production, Baytex is well positioned to benefit.
Baytex is a high-risk and high-reward bet on higher oil and gas prices. Baytex should generate somewhere around $200 million cash flow at current oil prices (the company reported cash flow of $72 million Canadian in Q3 2016 or about $50 million U.S.) and has an enterprise value of $2 billion. At a price of just under $4 per share, the company trades at an enterprise value to EBITDA multiple of about 10 times which is rich for an oil and gas producer.
I have calculated this ratio using my projected EBITDA for the next 12 months of roughly $220 million U.S. Baytex calculates its "bank" EBITDA for the past 12 months at $380 million Canadian or about $290 million U.S. (See footnote 3 of Baytex presentation on page 9). My forecast is based on a bit lower oil prices in Canada and less benefit from commodity hedging.
Debt of $1.5 billion ($1.9 billion Cdn) is the biggest issue, but with maturities several years away the debt is not a current problem.
In my view, a small holding in Baytex should add value to every well-diversified energy portfolio despite the longer-term solvency risk. Investors are well-advised to temper enthusiasm with a touch of caution and not get over-weighted into high-risk plays, but don't omit them either. If the commodity price rallies in the next couple of years, Baytex will be a big winner.
I am long the name.
Disclosure: I am/we are long BTE.
I wrote this article myself, and it expresses my own opinions. I am not receiving compensation for it (other than from Seeking Alpha). I have no business relationship with any company whose stock is mentioned in this article.