I thought the concept of open innovation was just theory. When a behemoth, Microsoft (NASDAQ:MSFT), just took another step closer to fully embrace openness, I was surprised.
Open innovation is the concept of freely allowing access to knowledge resources and other factors that can benefit a firm. However, this form of innovation can be described as collaborative innovation.
Collaborative innovation allows firms such as Microsoft to pursue innovation outside of its boundaries. According to the article, it appears that Microsoft used to be tightly held. For instance, no one would have expected Microsoft to have Google (NASDAQ:GOOG) (NASDAQ:GOOGL) on its .NET Foundation technical steering committee. This strategic alliance can be beneficial for both firms as the learning and knowledge transfer take place between both companies. Since both companies tend to compete in the same space, the strategic alliance can be considered a form of related diversification, where the synergies between both companies should be realized. The only negative thing to worry about is the size of both companies could hinder the progress if the internal cultures in the alliance do not mesh (I can cite hundreds of academic studies on this paragraph alone, but it will confuse you more than help you).
Typically, to stay relevant, companies need to keep innovating their business model. Most of the time, it is not feasible because the costs of R&D and the short product lifecycle make consistent innovations difficult to pursue.
Jim Zemlin's quote says it all:
There's just too much software to be written for any organization to it by themselves. We need to collaborate on these things.
It appears that Nadella's leadership is responsible for this organizational shift. So far, under his reign, the stock has nearly doubled. However, we do not want to concern ourselves with the stock price since it is a short-term indicator.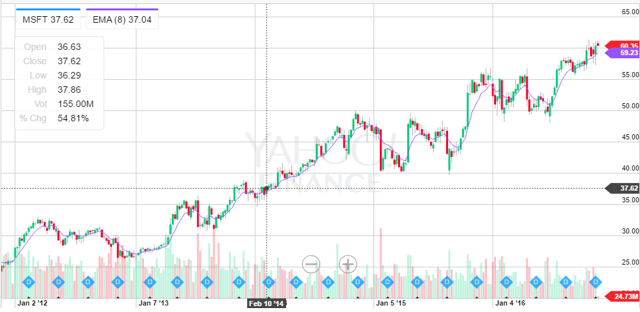 Source: Yahoo Finance
The difference in language between Nadella and Ballmer is of a different tone. Ballmer was quoted saying how much of a cancer Linux was.
Note that openness is a form of business model innovation. Business model innovation generally leads to enhanced stock prices. Ultimately, I do believe the shift towards a more open business model will positively affect Microsoft in the long run due to the reduction in R&D spending.
However, with the positives of openness, there is the dark side. Being extremely open can result in too much knowledge transfer from Microsoft and result in the loss of core competencies and even loss of control over the business. What Microsoft has done was slowly build trust with Linux. It did that by changing the organizational culture within the company. Unless the organizational culture is changed, an alliance will not be accepted by the firms involved. This is similar to the "not made here" syndrome. Recall Ballmer and Gates were not fans of being open.
Thus, a balancing act is required, however, since Microsoft is competing in a high velocity environment. Openness has its advantage due to the quicker time to market versus being closed. Hence, my belief that more openness will continue to benefit Microsoft.
Options
It is hard to predict where the stock will be over the long term. For those of you who held the stock since its 1999 high, I understand your frustration. That is why an alternative to purchasing the stock with your hard-earned money is using options to bet small. Long-term in the options world is a six-month time frame. Thus, the June 2017 monthly options satisfy this criterion.
Naked Call Buying
You do not want too far out of the money. Looking at the current open interest can help you decided which option to pick. We will want to buy the options with the largest open interest, which is currently at the 65 strike (It is a myth that selling an option is safer. Buying and selling are equally risky). The thinking is that as the stock moves higher and the open interest increases, it confirms that the stock will continue to trend higher. The downside to this strategy is that annoying theta decay that eats away at your potential profit. However, the beauty of the long-term option is the time decay does not take effect until one to two months before expiration. Plus, your risk is limited. 1 option controlling 100 shares will cost you approximately 200 dollars versus buying 100 shares of the actual stock at 60 dollars a share.
Debit Spread
I prefer debit spread over credit spread since the loss is a lot less. For this strategy, you want one leg to be out of the money and one leg to be in the money. The reason for this is to increase your odds of success. If you do a debit spread where both legs are out of the money, then you indirectly did a pure directional play. Because the debit spread will drastically slow down the rate of time decay, you will be more likely to make a profit if the stock hits 65 dollars on expiration. Because of Microsoft's tendency to have moves of around 50 cents, you are better off using a debit spread than a naked call.
Disclosure: I/we have no positions in any stocks mentioned, and no plans to initiate any positions within the next 72 hours.
I wrote this article myself, and it expresses my own opinions. I am not receiving compensation for it (other than from Seeking Alpha). I have no business relationship with any company whose stock is mentioned in this article.