Applied Materials (NASDAQ:AMAT) reported revenues $3.3 billion (+39.2% YoY, $10 million below estimates), EPS of $0.66 ($0.01 above estimates) and repurchases and dividends of $279 million at its recent conference call.
Let's take a closer look and tie it in to some recent articles I've written in Seeking Alpha over the past year to provide color to AMAT's Q1 2017 guidance.
Earnings Summary
First, Table 1 shows a history of its earnings. In the past three years, the company has beat revenues for five quarters and missed by six quarters. EPS beat for seven quarters and didn't miss during the three years.
Table 1 - Earnings Summary Transcripts

Q4: 11-17-16

EPS of $0.66 beat by $0.01

Revenue of $3.30B (+39.2%) missed by $10.00M

Q3: 08-18-16

EPS of $0.50 beat by $0.02

Revenue of $2.82B (+13.3%) missed by $20.00M

Q2: 05-19-16

EPS of $0.34 beat by $0.02

Revenue of $2.45B (+0.4%) beat by $20.00M

Q1: 02-18-16

EPS of $0.26 beat by $0.01

Revenue of $2.26B (-4.2%) beat by $20.00M

Q4: 11-12-15

EPS of $0.29 in line

Revenue of $2.37B (+4.9%) missed by $30.00M

Q3: 08-13-15

EPS of $0.33 in line

Revenue of $2.49B (+10.2%) missed by $50.00M

Q2: 05-14-15

EPS of $0.29 beat by $0.01

Revenue of $2.44B (+3.8%) beat by $40.00M

Q1: 02-11-15

EPS of $0.27 in line

Revenue of $2.36B (+7.8%) beat by $30.00M

Q4: 11-13-14

EPS of $0.27 in line

Revenue of $2.26B (+13.6%) missed by $10.00M

Q3: 08-14-14

EPS of $0.28 beat by $0.01

Revenue of $2.27B (+14.6%) missed by $20.00M

Q2: 05-15-14

EPS of $0.28 in line

Revenue of $2.35B (+19.3%) in line

Q1: 02-11-14

EPS of $0.23 beat by $0.01

Revenue of $2.19B (+39.5%) beat by $130.00M
In a recent Seeking Alpha article, author Stone Fox Capital noted that, "For the full year, Applied Materials spent an impressive $1.9 billion on share buybacks," and provided the following graph: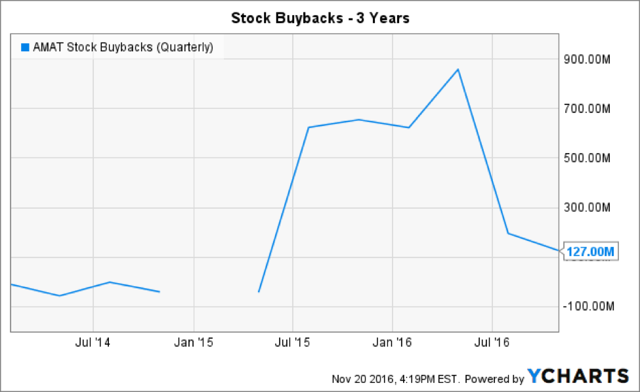 On the face of it, the two columns in Table 1 don't correlate. But if we tie in AMAT's extensive stock repurchases and recognize that share repurchase reduces its outstanding shares and increases EPS, then we can see how the company's financial strategy could have affected EPS.
If that is the case with AMAT and stock repurchases have dropped, EPS could be on the low end of the $0.62-0.70 guidance.
On the revenue side, in my Seeking Alpha article following the company's Q3 earnings report entitled "Applied Materials' Q3 Earnings Call - Separating The Hype From Reality," I wrote:
"I've published several articles on the 'spin' that AMAT gives in its reporting and the Q3 earnings report is another example."
In the article, I pointed out that several of the comments made in the Q3 conference call could not be substantiated when presented with statistics that conflict with AMAT's executive comments.
I also noted in a June 13, 2016 Seeking Alpha article that Applied Materials lost share in nearly all its core semiconductor equipment businesses in 2015. Yet, if we refer back to Table 1, EPS was in line during 2015, while revenues missed by huge numbers, as the company was losing market share. Again, disconnects in the reporting that could be explained by the buybacks.
Let's take a look at recent comments from AMAT's Q4 conference call for the two business segments - semiconductors and displays.
Semiconductors
CEO Dickerson noted:
"We now expect 2016 wafer fab equipment spending will be at least 5% higher than in 2015, driven by additional foundry capacity and incremental investment in 3D NAND."
According to The Information Network's report "Global Semiconductor Equipment: Markets, Market Shares, Market Forecasts," equipment revenues increased 6.6% for calendar YoY for the first three quarters, as shown in Table 2. Note these revenues are for semiconductor equipment only and do not include service. Revenues for foreign countries were converted to U.S. dollars based on the average exchange rates for 2015 and 2016. Also, note that AMAT's revenues are different by one month based on their reporting schedule.
My take - the semiconductor equipment industry has exhibited strong revenue growth this year, and so, CEO Dickerson is most likely correct that equipment spending in 2016 will be at least 5% higher.
Secondly, in the 3D NAND market, key technologies used in the production process are deposition and etch. AMAT competes against Lam Research (NASDAQ:LRCX) and Tokyo Electron (OTCPK:TOELF) in both technologies and against ASM International (OTCQX:ASMIY) in deposition. Based on revenue performance in Table 2, AMAT may have increased market share in 3D NAND equipment purchases.
Table 2 - YoY Semiconductor Equipment Revenues

Revenue ($M)

Q1-Q3 2015

Q1-Q3 2016

% Change

Applied Materials

4,689

5,500

17.3%

Lam Research

4,453

4,488

0.8%

ASML Holding (NASDAQ:ASML)

5,385

5,441

1.0%

Tokyo Electron

4,036

4,412

9.3%

KLA-Tencor (NASDAQ:KLAC)

1,606

1,823

13.6%

Screen Semiconductor Solutions

1,065

1,326

24.5%

Hitachi High-Technologies (OTC:HICTF)

715

697

-2.5%

ASM International

583

473

-18.7%

Canon (NYSE:CAJ)

300

320

6.9%

NuFlare Technology (OTC:NFTGF)

246

342

39.0%

Veeco (NASDAQ:VECO)

370

239

-35.5%

Axcelis Technologies (NASDAQ:ACLS)

214

180

-15.8%

Aixtron (NASDAQ:AIXG)

157

107

-32.3%

Nanometrics (NASDAQ:NANO)

114

136

20.0%

Ulvac

217

233

7.4%

Nova Measuring (NASDAQ:NVMI)

76

88

16.3%

Rudolph Technologies (NASDAQ:RTEC)

122

128

4.4%

Ultratech (NASDAQ:UTEK)

110

134

21.2%

Total

24,458

26,068

6.6%

Source: The Information Network
Display
CEO Dickerson also noted during the conference call:
"Display is also setting records with two inflections driving growth. The first is large format TVs driving investment in new gen 10 capacity. Large format TV units are expected to grow at 50 % to 20% annually over the next three year, compared to single digit growth rates for TV's overall. The second is OLED where investment is increasing as multiple customers start to ramp this technology and battle for leadership in next generation mobile screen."
With respect to Gen-10 LCD plants, that may be not be exactly correct. Market research firm IHS Markit reports that at least 28 LCD fabs in China will be on-line by 2018. However, both the Chinese government and LCD manufacturers have recognized the huge risk and narrow product mix available from Gen 10. Therefore, the focus has been primarily on Gen 8 investment.
For OLEDs, there is indeed a boom in OLED production for displays for smartphones. AMAT makes PECVD encapsulation equipment, which deposits a barrier coating on flexible OLEDs to keep out moisture. However, AMAT competes against other companies, and I noted in a September 29 Seeking Alpha article entitled "Samsung And LG Move To ALD For Flexible OLEDs, Could Push Applied Materials Out Of The Market" that ALD (atomic layer deposition) is being considered to replace PECVD.
Most telling is AMAT's November 17, 2016 earning press release. Display sales increased from $944 million in FY2015 to $1,206 million in FY 2016. However, while revenues increased QoQ from $313 million to $452 million in Q4 2016, new orders decreased QoQ from $803 million to $387 million in Q4 2016.
I noted in a Seeking Alpha article that Samsung (OTC:SSNLF), the largest OLED manufacturer in the world, would be cutting capex spending, which could push out equipment purchases for displays.
Investor takeaway
AMAT has outperformed competitors in the semiconductor equipment space YoY, and is probably gaining market share in 3D NAND equipment.
In the company's display segment, I see Dickerson's comments on Gen-10 fabs and OLED growth as less fact and more hyperbole - less than five Gen-10 plants will be cranking out large LCD displays for the next several years, and orders for encapsulation equipment for flexible OLEDs have slowed dramatically, as evidenced from AMAT's reported financials.
If the buyback chart is any indication, we may be seeing misses on EPS and revenue for Q1 2017.
Disclosure: I/we have no positions in any stocks mentioned, and no plans to initiate any positions within the next 72 hours.
I wrote this article myself, and it expresses my own opinions. I am not receiving compensation for it (other than from Seeking Alpha). I have no business relationship with any company whose stock is mentioned in this article.