Palo Alto Networks (NYSE:PANW) reported F1Q17 earnings this Monday, November 21st, after the close.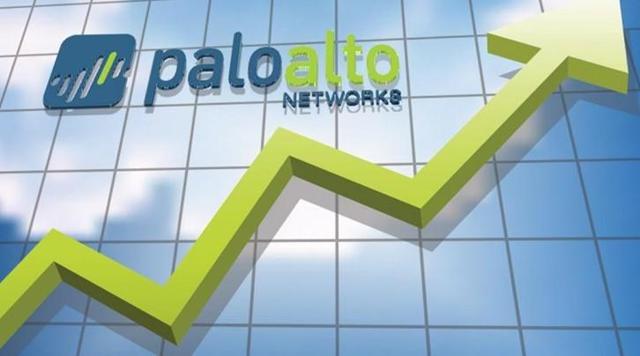 (Image Credit: bidnessetc.com)
Revenues of $398.1 million in the quarter barely missed consensus of $400.2 million and guidance of $399 million at the mid-point, representing a largely expected increase of +34% YOY that trailed last quarter's top line growth of +41%. Non-GAAP EPS of $0.55 beat expectations of $0.53 by two pennies. Management's full FY17 EPS guidance was not revised from what had been reported last quarter - $2.77 at the mid-point of the range. F2Q17 EPS Street consensus of $0.63 barely fit within management's guided range of $0.61-0.63, while revenue consensus of $439 million proved too optimistic against management's guidance of $426-432 million.
F1Q17 billings increased +33% YOY to $517 million, compared to +45% last quarter and +56% over FY16 - consistent with a natural slowdown in the overall growth rate of the business. CFOA (cash from ops) increased +39% YOY to $203 million, compared to an increase of +88% in FY16 - possibly frustrating investors who prefer to pay more attention to Palo Alto Network's cash generation versus its profit-generating abilities.
Profitability continues to be an item of concern as GAAP operating expenses remained stubbornly high. GAAP opex as a percentage of revenues amounted to 87.1% in the quarter versus FY16's 86.9% and FY15's 87.3%. GAAP gross margins of 74.6% in the quarter compared favorably to last year's 73.4%, but the resilience is unlikely to excite many investors, as GAAP operating loss increased from $32 million in F1Q16 to $49.9 million this quarter.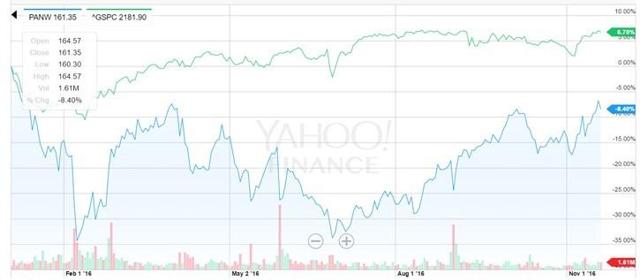 (Source: Yahoo Finance)
A quick glance at valuation and fundamentals
Let's quickly turn to peer comparison to evaluate a few of Palo Alto Network's key metrics on valuation and fundamentals - priced as of last Friday.


(Source: D.M. Martins Research, using data from Zacks, Yahoo Finance and SEC filings)
As the tables above indicate, PANW compares favorably to the peer group on a few key metrics, including short-term growth (EPS expected to increase 37% versus peer median 34%) and PEG (2016 non-GAAP P/E over growth of 1.6x versus peer median 2.3x). Adjusted for net cash, PANW's PEG still looks solid, at 1.5x. The stock also has de-risked significantly compared to the peer group, having come off its 52-week highs by 17% before Monday's trading session (versus peers' 7%).
But as many of my readers have appropriately pointed out, talking about earnings without considering the impact of SBC (share-based compensation) can be misleading and paint an overly rosy picture. On a GAAP basis, Palo Alto Networks delivered a loss in FY16 equivalent to 1.5% of market cap in a deteriorating trend compared to FY15. The company, in fact, has failed to print a GAAP operating profit - let alone a GAAP net profit - since the year ended July 2012, when operating profit was only slightly above zero. F1Q17 was not much different, as Palo Alto Networks delivered a GAAP operating loss of nearly $50 million in the quarter.
Post-earnings thoughts
Bulls might still have a good reason to hang on to Palo Alto's growth story. After all, as CEO Mark McLaughlin stated back in August, the company is "in a very large addressable market with high single-digit market share," which indicates that Palo Alto Networks has plenty of room to grow. In addition, as disclosed in the company's most recently-filed 10-K, less than 30% of its sales in FY16 came from outside the Americas region, suggesting potential for international expansion. Also, subscription services (i.e., recurring revenue) have been growing at a faster pace than overall sales, pointing to more sustainable and less bumpy top line growth in the future. Lastly, even though Palo Alto Networks failed to beat top line consensus this quarter, F1Q17 results came in largely within expectations, albeit a bit softer than many might have hoped for.
But bears also have their reasons to be skeptical about PANW, as the company continues to rely heavily on its sales infrastructure to fuel revenues, keeping Palo Alto Networks far from profitability. Despite CFO Steffan Tomlinson's commitment to "annual operating margin improvement of 100 to 200 basis points," sales and marketing costs have been growing at least as fast as revenues, and opex in general still eats up most of the sales that the company is able to produce (see graph below).

(Source: D.M. Martins Research, using data from SEC filings)
From a personal perspective, as I usually favor value over growth strategies, I find an investment in PANW somewhat speculative. I see the investment thesis being largely dependent on (1) the growth story picking up the pace over the next several quarters and, maybe more importantly, (2) management being able to slow down operating expenses fast enough to allow Palo Alto to finally start turning a profit.
I am a bit surprised to see shares trading down -13% to $140 in after-hours trading. Short-term traders might be tempted to jump in and buy on the possibly overdone sell-off. But looking beyond the next few hours or days, I believe the bar is still set too high for me to consider placing a bet on PANW at this moment.
Disclosure: I/we have no positions in any stocks mentioned, and no plans to initiate any positions within the next 72 hours.
I wrote this article myself, and it expresses my own opinions. I am not receiving compensation for it (other than from Seeking Alpha). I have no business relationship with any company whose stock is mentioned in this article.