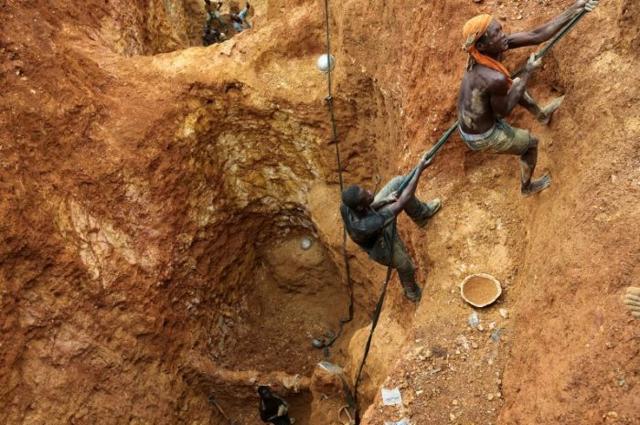 Source: .yaplakal.com
As I mentioned in my previous article dated October 18, 2016, "Gold May Drop To $1050 An Ounce by Year End", I reiterate my position. Commodities such as gold and oil are limited resources on this planet, and as such their prices have been highly volatile of late. While the collapse of oil prices has been caused by oversupply, supply and demand (simple economics) does not dictate the gold price. I briefly wrote about factors influencing the price of gold in my previous article.
Sentiment:
At the end of 2012, gold was trading at $1800 an ounce. Since then, gold has been trading in the downtrend direction (touching $1050 an ounce in December 2015) except for a small bounce to $1300 in the first half of 2016. Now we find that gold is trading in the downtrend direction once again with the most recent traded price being $1208 an ounce (November 20, 2016). Gold is down by 49% since then. Below you can see the commercial hedgers' short positions have hit another all-time record in the gold market, according to Kingworldnews. The sentiment is bearish.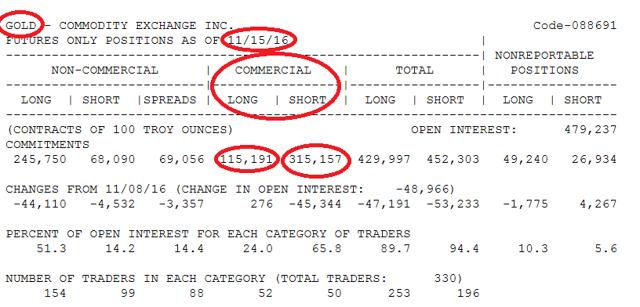 Source: cftc.gov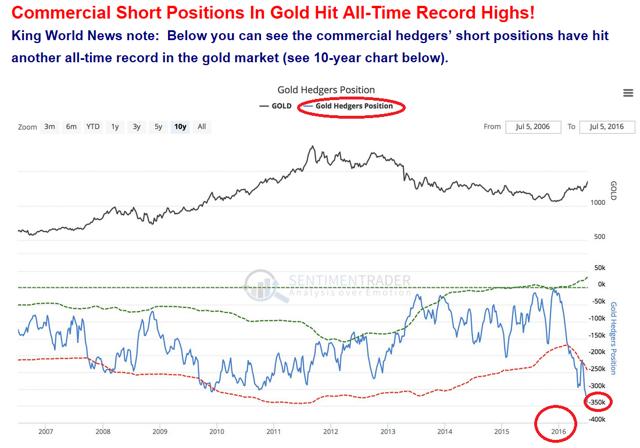 Source: kingworldnews
Manufacturing Cost of Gold:
The average cost of gold production for the top three mining companies is$1035 an ounce. The average cost has decreased by 6% compared to 2015 Q3.
Barrick Gold Corporation (NYSE:ABX)
Anglo Ashanti Limited (NYSE:AU)
Goldcorp (NYSE:GG)

Source: Created by Author (data obtained from Q3 earnings report)
Gold Production, Gold Stocks and ETFs: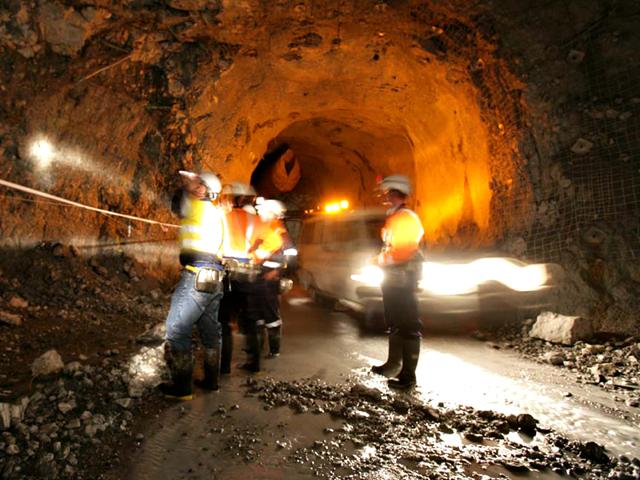 Source: Bullion Street
For the third quarter of 2016, Barrick gold produced 1.3 million ounces of gold. Anglo produced 0.9 million and Goldcorp produced 0.71 million ounces of gold. On average, gold production has decreased by 15%. Interestingly, the cost of gold production has decreased by 6%. The price of gold is declining; I would expect that gold production would decline further.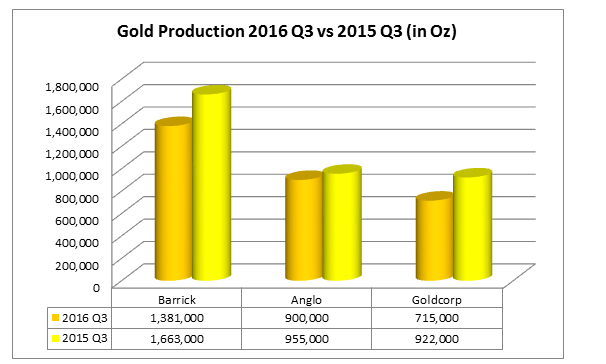 Source: Created by Author (data obtained from Q3 earnings report)
At the end of 2012, gold was trading at $1800 an ounce. Since then:
Gold is down by 49% ( from $1800 to $1208)
Barrick is down by 71% ( from $52 to $15)
Anglo is down by 76% ( from $49 to $11.50)
Goldcorp is down by 75% ( from $54 to $13.50)
Gold Consumption: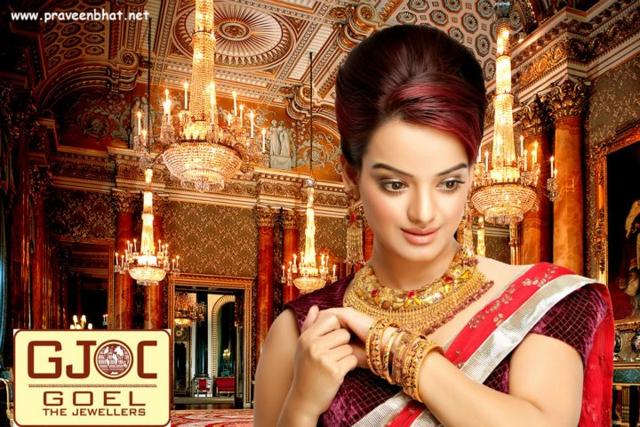 Source: Goel Jewellers
Jewelry consumption accounts for about 50% of world gold production. India and China are the two largest markets for gold jewelry, together representing over half of global consumer demand in 2015, according to gold.org. It further says as follows:
Part of the large appetite for jewelry in these countries is driven by the cultural role gold plays; it is considered auspicious to buy gold at key festivals and events. Limited access to financial assets means gold has an important parallel status as a store of value. In both India and China, gold jewelry is a desirable possession as well as an investment to be passed down through generations.
Jewelry consumption in Asia is expected to increase - by 2020 India and China combined will have one billion new urban consumers. These aspirational populations in Asia are also experiencing a rise in disposable income, which is driving gold demand.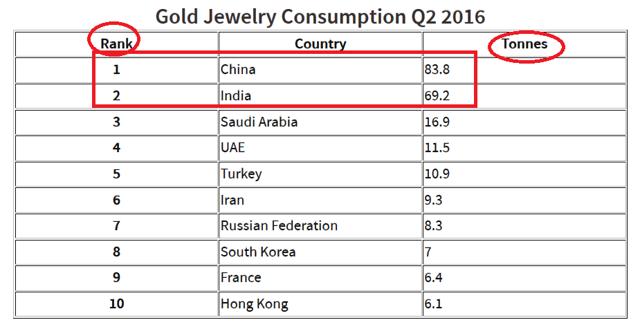 Source: Investopedia
Jewelry demand for Q3 has decreased by 21% while gold demand has decreased by 10%.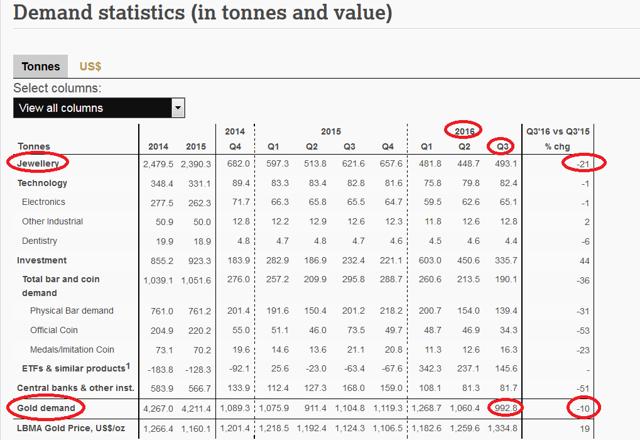 Source: gold.org
Conclusion:
During an economy recovery or in booming economy, investors leave gold and invest in stocks and the gold price goes down accordingly. Since gold is traded mainly in US dollars, if the USD is stronger, gold will be weaker. There is a 70% chance that the Fed will increase the interest rate by end of this year. If interest rates go up, the USD will continue to get stronger and will push gold into the $1050 range. As well, it will be more expensive for other countries to buy or invest in gold, so gold consumption and investment will decline accordingly.
It is safe to say that gold has not bottomed yet. Gold is trading closer to the breakeven point (manufacturing cost $1035). Gold production has declined in the third quarter of 2016 for the top three mining companies, and it follows that cheaper gold means less production. Obliviously, manufacturers don't want to lose money by continuously producing more gold at the cheaper price. Gold should bounce back once it touches the $1050 mark, and jewelry consumption should increase accordingly.
Based on my analysis, I recommend the gold stocks, ETFs as a SELL.
Here are the ETFs with the major exposure to the commodity gold: SPDR Gold (NYSEARCA:GLD); iShares Gold (NYSEARCA:IAU); ETFS Physical Swiss (NYSEARCA:SGOL); PowerShares DB Gold Fund (NYSE:DGL); Van Eck Merk Gold (NYSEARCA:OUNZ); DB Gold Double (NYSEARCA:DGP); Ultra Gold (NYSEARCA:UGL); VelocityShares 3x Long Gold ETN (NASDAQ:UGLD); UltraShort Gold ETF (NYSEARCA:GLL); DB Gold Double Short ETN (NYSEARCA:DZZ); Gartman Gold/Euro ETF (NYSEARCA:GEUR); Gartman Gold/Yen ETF (NYSEARCA:GYEN); X-Links Gold Shares Covered Call ETN (NASDAQ:GLDI); Power Shares DB Gold Short ETN (NYSEARCA:DGZ); VelocityShares 3x Inverse Gold ETN (NASDAQ:DGLD); ETRACS CMCI Gold Total Return ETN (NYSEARCA:UBG); Direxion Shares Exchange Traded Fund Trust (NYSEARCA:NUGT); Direxion Shares Exchange Traded Fund Trust (NYSEARCA:DUST); This is the list of other gold stocks: Newmount (NYSE:NEM); Randgold (NASDAQ:GOLD); Royal (NASDAQ:RGLD); Kinross (NYSE:KGC); Gold (NYSE:GFI); Pretium (NYSE:PVG); Harmony (NYSE:HMY); McEwen (NYSE:MUX); Alacer (OTCPK:ALIAF); Richmont (NYSEMKT:RIC); Gold (NYSEMKT:GORO); Golden (NYSEMKT:GSS); Vista (NYSEMKT:VGZ);
Disclosure: I/we have no positions in any stocks mentioned, and no plans to initiate any positions within the next 72 hours.
I wrote this article myself, and it expresses my own opinions. I am not receiving compensation for it (other than from Seeking Alpha). I have no business relationship with any company whose stock is mentioned in this article.
Editor's Note: This article covers one or more stocks trading at less than $1 per share and/or with less than a $100 million market cap. Please be aware of the risks associated with these stocks.