In January, I recommended buying Chesapeake's (NYSE:CHK) intermediate-term bonds at a steep discount over its stock. While both investments would have yielded a nice gain, the bonds outperformed by a large margin. A $10,000 investment would have gained about $2,500 with common shares. A bondholder gained $18,398 in the same time frame. In about 11 months, a gain of 24% and 183%, respectively. Even with the bonds' previous performance, they are now a worse investment than the stock.
Risk-Reward
The risk/reward has changed dramatically this year with Chesapeake's bonds and stock. Previously, the bonds offered a better opportunity with less risk. Chesapeake renegotiated its credit line, which put more of its assets up as collateral. This move took away some of the downside risk protection, because in bankruptcy, bond holders will likely receive nothing at this point. While risk went up, the bond yields are too low to make up for that risk. For a Chesapeake bull, the stock now offers a better risk reward. Mainly because the bonds have the same risk as the stock. If you are still holding the bonds, sell them (unless you are waiting to have long-term capital gains) and buy the common shares.
To give an example; if Chesapeake does not default, which is likely, $10,000 in 2021 bonds would lock in a gain of about $5,800 to hold to maturity or about 9.4% a year. Instead you could buy about 1,650 shares. For common shares to break even with bonds, in 2021, share price would have to be $9.57. I am quite confident of a double-digit share price by 2021. The risk reward is clearly in favor of shares over bonds.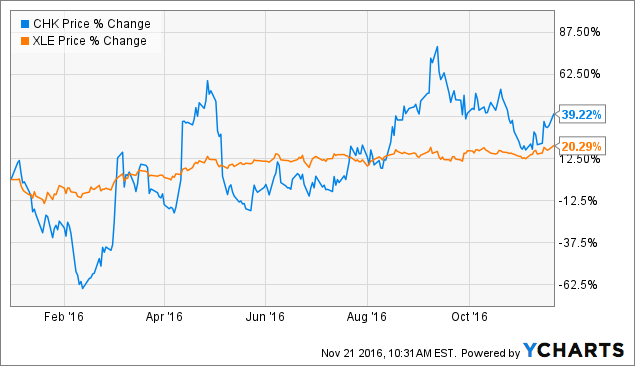 Chesapeake's common shares have been a bumpy ride this year compared to the general energy sector (NYSEARCA:XLE). Going into a Republican-controlled Congress and presidency, energy is a good choice. The sector is still down due to lackluster prices, which should continue to recover. For an investor who does not want to watch the volatility of Chesapeake, XLE presents a solid opportunity for growth and dividends.
Chesapeake is facing headwinds going into 2017. It has $344 million of senior notes maturing in January 2017, $902 million of contingent convertible notes that can be put to the company in May 2017, and $379 million of senior notes maturing in August 2017. The company will likely reorganize the debt over the longer term because currently it does not have the balance sheet to pay. In addition, it has sizable debts maturing in 2018 and 2019. Asset sales and reduced operating expenditures along with restructuring the debt should allow CHK to avoid bankruptcy.
Chesapeake has done well in cutting costs and holding out earlier this year when investors panicked. This newfound efficiency will add big money to the bottom line in 2017. Operating expenses are about 60% lower last quarter compared to a year before. Increasing liquid natural gas exports and a movement to natural gas fired electric plants are positives. 2017 could return Chesapeake back into double digits especially with natural gas heading back over $3. Any increases in commodity prices and Chesapeake will respond with a scaling of production. The flexibility and financial planning of the organization should reward shareholders going into 2017 and 2018.
Disclosure: I am/we are long XLE.
I wrote this article myself, and it expresses my own opinions. I am not receiving compensation for it (other than from Seeking Alpha). I have no business relationship with any company whose stock is mentioned in this article.