Background
PRGX Global (NASDAQ:PRGX) provides recovery audit services to businesses and government agencies in the United States, Canada, Latin America, Europe, Asia, and the Pacific region through the mining of clients purchasing and procurement environments to identify overpayments to suppliers. The company earns the majority of its revenue on contingency from a percentage of recovery of these overpayments and attempts to earn additional revenue by offering data transformation and advisory services.
The company is organized in three segments based on region and service (Americas Recovery Audit, Europe/Asia-Pacific Recovery Audit, and Adjacent Services)
In addition, two segments of customers are serviced: retailers (discount, department, specialty, grocery, and drug stores) and commercial (manufacturers, financial services firms, and pharmaceutical companies).
At the time of this article, PRGX's current price was $5.49 - after hitting a 52 week high of $5.81 on June 7 with a current PE of 39.51, a forward PE of 22.88 and a market capitalization of $119.75 million.
This analysis is based on information from PRGX public SEC filings, press releases, earnings calls and investor presentations from the scope period 1Q15 through 3Q16.

Net Income Improves Significantly
At first glance, year-over-year improvements are impressive, but further review notes that 3Q15 was an unusually weak quarter that included a $1.6 million loss from the write-down of a business divestiture. Revenues for 3Q15 were among the lowest in the period going back to 1Q14 and only two quarters (1Q15 and 1Q16) reported lower revenues. The exhibit below provides details to support this analysis.

However, improvements in the Americas and Europe/Asia-Pacific segments in 3Q16 are still noteworthy, albeit from a lower baseline. Both segments benefited from increased revenues as well as lower expenses as a result of cost optimizations. These resulted in substantial increases in both revenues and net income on both a year-over-year and sequential basis.
An income tax gain of $685,000 was also a significant boost to net income in 3Q16.
The exhibit below provides additional details. The first set of data presents revenue and expenses and also expresses the data in common size format as a percentage of revenue. The second set of tables compares 3Q16 results to 3Q15 and 2Q16.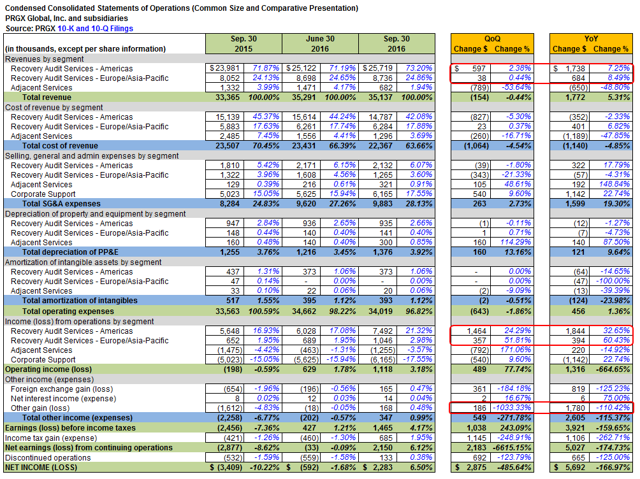 Operating income gains for the Europe/Asia-Pacific segment were very strong, but gains were obtained from a lower base.
In addition, the Europe/Asia-Pacific segment suffers from low margins due to differences in service delivery models, scale, and geographic fragmentation. The segment also has higher fixed costs as it serves fewer clients in each geographic market and on average generates lower revenue per client.
The CEO stated during the 3Q16 earnings call that the goal is to increase margin in the Europe/Asia-Pacific segment to the low 30s.
The table below details the disparity in the operating margins between the Americas and Europe/Asia-Pacific segment.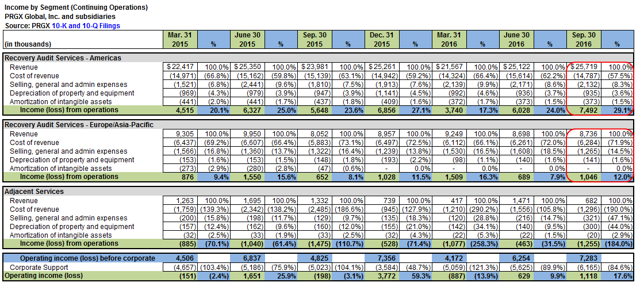 Adjacent Services Segment Continues to Perform Erratically
As noted in the tables above, the Adjacent Services segment reported another net loss from operations with the cost of generating revenue nearly double revenues.
Analysts on the 3Q16 earnings call were also perplexed with the volatile revenue. The CEO explained that the lumpiness in revenue due mostly to the fact that advisory services are a byproduct of the core recovery audit businesses.
The Adjacent Services segment consists of three divisions: advisory services, analytic offerings and supplier information management (NYSEMKT:SIM). Currently the advisory services division generates more revenues and the leads that drive analytic and SIM opportunities. Due to the advisory work being project-based, overall revenues are lumpy.
The CEO expects that investments in the analytic and SIM divisions will eventually transition these into the revenue and lead generators that will drive advisory projects.
Acquisitions Are Likely to Fuel Future Growth
Two acquisitions were announced in October. The first was an asset purchase agreement entered into on Oct. 6, 2016 for Cost & Compliance Associates (C&CA), a provider of accounts payable recovery and contract compliance audit services as well as advisory and data analytics services. C&CA has operations in the USA and UK and according to the CEO a blue chip client list. The purchase amount was $11 million and the CEO expects this acquisition to boost revenues for the commercial recovery audit business segments.
The other acquisition was completed on Oct. 31, 2016 for Lavante, a software-as-a-service-based procure-to-pay SIM and recovery audit services firm. This acquisition is expected to provide a more advanced set of SIM capabilities that will replace or enhance the current PRGX application and support a long-term growth for the Adjacent Services segment. The purchase amount was $4.25 million and the CEO stated Lavante has a "nice pipeline" of opportunities.
Per the CEO, these two acquisitions will dampen earnings by $250,000 to $350,000 for the next four to six months before becoming breakeven and then profitable, but 4Q16 is expected to continue the trend of year-over-year growth. The focus will be on closing the pipeline deals and getting projects up and running to generate revenue to minimize the short-term negative impact of the deals.
Activist Investors Could Be Catalyst for Change
An 8-K was filing on Nov. 10, 2016 reported that PRGX had entered into an agreement with Matthew Drapkin of Northern Light Capital Management. In exchange for a seat on the Board, Mr. Drapkin will retain at least 3% ownership in PRGX stock.
Other hedge funds have added to their positions in PRGX recently. The table below details the transactions. Institutional investors own approximately 64% of PRGX shares.

Conclusion
PRGX achieved strong gains in 3Q16 with additional growth likely as a result of two accretive acquisitions after quarter end.
Issues with income volatility in the Adjacent Services segment appear to be the result of unbalanced weighting of revenues to the project-based division within the segment and these issues should be mitigated as the Lavante SIM acquisition is integrated into the existing SIM division.
Finally, the recent stock acquisitions by hedge funds, in particular an activist investor, warrant attention. This may be the catalyst for a positive move in PRGX shares as the possibility exists that the company will be taken private.
With these factors in mind, PRGX appears to be a buy at the current time
Disclosure: I/we have no positions in any stocks mentioned, and no plans to initiate any positions within the next 72 hours.
I wrote this article myself, and it expresses my own opinions. I am not receiving compensation for it (other than from Seeking Alpha). I have no business relationship with any company whose stock is mentioned in this article.